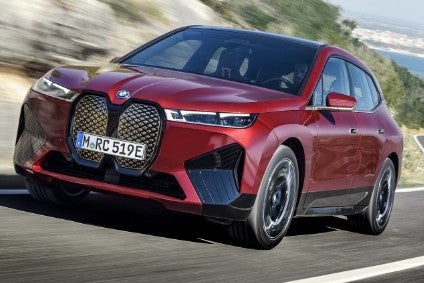 Eight years ago next month BMW began manufacturing its first electric car. The i3 is not only still in production but it's selling better than ever. Filling out the numbers between 1 and 8, which was slow at first, has lately accelerated and now includes SUVs too. This report looks at what's already available and what's to come.
Cars
The i Vision Dynamics, a concept at the 2017 Frankfurt IAA, was a preview of the i4. This car is BMW's answer to the Tesla Model 3 and can also be thought of an electric four-door 4 Series. A further concept was announced in March 2020.
The production model, revealed at a special event in March, will be built in Munich commencing in September. The i4's motors will produce 390 kW (530 PS) and the 80 kWh battery pack is claimed to weigh 550 kg. The stated range is 590 km (366 miles) on the WLTP cycle, and up to 300 miles (482 km) on the USA's EPA cycle.
A fully electric 5 Series is being developed and will be manufactured in China at BBA's Dadong plant. Few other details are known but some say this long-wheelbase sedan's powertrain will consist of three motors. The model name could be i5 or i5 L. A second generation model, which is due in 2024, will also be built in Germany at the Dingolfing plant.
BMW confirmed this project in July 2020: In addition to the BMW 7 Series, comprehensive electrification will be rolled out throughout the model line-up: Further examples of the "Power of Choice" will be the high-volume BMW X1 and BMW 5 Series, which will also be available in the future with all four drive train variants – fully-electric, plug-in hybrid, diesel and petrol with 48-volt technology.
Speaking at BMW AG's 2020 annual general meeting, Oliver Zipse reiterated that there would be a fully electric variant of the future 7 Series, in addition to other forms of propulsion.
"The next-generation 7 Series will be available with four drivetrain variants: petrol, diesel, plug-in hybrid and fully electric. All drivetrains will be based on a single architecture. And the top, most powerful 7 Series will be fully electric," said the CEO.
There was a further statement in November 2020 confirming this car and announcing other future electric BMWs. The name, which is not yet known, could be i7. The arrival of this big sedan is likely to lag the introduction of the next '7 by 9-12 months, so that should be in the fourth quarter of 2023.
Crossovers and SUVs
As the i3 has been expensive to build and until the last year or two, probably less than profitable, BMW should evolve its successor into an SUV called iX1 (people generally seem not to question why there is a price premium for such vehicles compared to hatchbacks/sedans). The name would also solve the problem of what BMW could call any future Subcompact/B segment SUV: the existing X1 has never been a small model in spite of its name.
BMW acknowledged this project in July 2020, naming an electric X1 as a future model. Four months later, Regensburg was confirmed as the place of build. The same facility would gain battery module assembly, BMW says. Production will likely start in 2022.
A plug-in version of the third generation X3 was being developed, BMW Group's then CEO Harald Krueger stated in an interview in September 2016. It would be available in relevant countries in 2020, he added. The iX3, revealed online last July and available in China from year end and in Europe from early 2021 (build commenced on 29 September 2020 – see PLDB link below for plant details), is aimed at the Mercedes-Benz EQC, Jaguar I-Pace and Audi e-tron. One key difference to most rivals is that the BMW is rear-wheel drive only.
What the company terms "fifth-generation BMW eDrive technology" is distinguished by being compact. The motor, transmission and power electronics are grouped into a single component, making it easier to integrate them into different vehicle architectures. Plus, their modular construction enables adaptation to required performance levels and available space. Another notable element is that the motor does not need any rare earths, which means the BMW Group is not dependent on their availability.
BMW USA told its dealers in January 2020 that it had put plans to offer the iX3 on hold. Prior to this announcement, the model had been expected to arrive in 2021.
The iX3's rear-mounted motor produces 210 kW and 400 Nm (295 lb ft), while an 80 kWh (of which 74 kWh is useable) 400 V battery gives up to 460 km (286 miles) of range according to the WLTP test cycle. The 518 kg pack's 188 prismatic CATL NMC 811 chemical process high-density cells are 80% nickel, 10% cobalt and 10% manganese.
BMW says charging at up to 150 kW is possible, and that will give the driver an 80% charge (of a drained battery) in 30 minutes and 100 km in 10 minutes. So as to save power, top speed is limited to 180 km/h and 0-100 km/h takes 6.8 seconds.
Due to the age of the X3 upon which the iX3 is based, the second generation of the latter is likely to arrive in 2024. There is, however, a chance that BMW will instead facelift the iX3 and extend its life cycle until 2027.
BMW showed a prototype of what it termed the iNext in September 2018. The production model, which is called iX, was revealed in November 2020, one year exactly before it is due to reach the first customers. As long and wide as an X5 but as low as an X6, this crossover will initially be sold in two forms: iX xDrive40 and iX xDrive50.
A range in excess of 600 km (373 miles) under the Worldwide Harmonized Light Vehicle Test Procedure is being aimed for, or 300+ miles when rated by the USA's EPA FTP-75 test procedure.
Although it has been developed with Level 3 autonomous driving in mind, BMW won't be drawn on when or even if the technology will be activated. This is due to a lack of clarity over collision liability litigation. The car is able to self-steer, brake and accelerate but it would alert the driver if they need to take back control. As for fully AD vehicles, this is said to be some years away for BMW, as the company remains cautious of potential safety problems in urban driving.
The power unit contains no rare earths and develops maximum output of more than 370 kW (500 hp) in xDrive50 form. Weight has not been disclosed but a 0 to 100 km/h (62 mph) time of "under 5.0 seconds" is claimed. The battery pack has a gross energy content of more than 100 kWh. Thanks to fast charging at 200 kW, the pack's reserve can go from 10 to 80 per cent of capacity in under 40 minutes.
Inside, there is a hexagonally-shaped steering wheel with embedded optic fibres which are illuminated when the driver needs to take control over any of the semi-autonomous features. Other distinctive touches include a glass roof, frameless doors, slim headlights and tail lights, flush door handles and the windscreen washer cap located under a hinged BMW badge on the (non-opening) bonnet. The large grille, which is transparent, covers cameras and sensors.
The iX uses a new BMW Group aluminium spaceframe with carbon elements. The 'Flex Architecture' is based on the existing 35up, also known as CLAR for Cluster Architecture. It supports electric, plug-in hybrid and internal combustion power applications. For an EV, the motor is at the vehicle's rear, while for a hybrid or combustion-only model, the engine is located at the front.
Production will take place at Dingolfing, BMW Group's largest plant in Europe. The iX will be made on the same line as other models which have PHEV or combustion-only powertrains. The life cycle will probably be eight years, which means a facelift towards the end of 2025.
Fuel cell vehicles
A limited production fuel cell X5, likely to be called i Hydrogen X5, is coming. This was suggested by the surprise appearance of a concept at the 2019 Frankfurt motor show and then confirmed six months later. In the latter statement to the press was this sentence: "This hydrogen fuel cell electric powertrain will be piloted in a small series based on the current BMW X5 that the BMW Group plans to present in 2022".
The i Hydrogen NEXT was based on the X5. However Oliver Zipse told reporters at the Frankfurt show that he didn't see series production of any BMW powered by a fuel cell until "2025 at the earliest". Therefore the production run of Hydrogen X5s will be low volume and likely to be lease-only. The concept had many blue accents as hydrogen-powered BMWs are part of the i sub-brand.
In January 2013, BMW and Toyota agreed to share their technologies and to jointly develop a fundamental fuel cell vehicle system. This, the companies stated, would include not only a fuel cell stack and system, but also a hydrogen tank, motor and battery, aiming for completion in 2020.
A small run of BMW Hydrogen 7 sedans were built between 2007 and 2008 but until the January 2013 announcement, the company had been quiet on fuel cell technology.
There have been suggestions that a future 7 Series powered by hydrogen is under development but as with the potential BMW i Hydrogen X5, should such a model appear, it would be low-volume. Finally, although it is still many years away, the second generation X7 should be offered in hydrogen fuel cell form from around 2026.
Reports for many other manufacturers' future models are grouped in the OEM product strategy summaries section of just-auto.com.
Future platform intelligence
More detail on past, current and forthcoming models can be found in PLDB, the future vehicles database which is part of GlobalData's Automotive Intelligence Center.
This is the third of six features in a series which looks at certain current and future models from BMW AG's brands. The first report was about BMW's next generation cars and this was followed by SUVs and crossovers. Next comes M models, then Mini and Rolls-Royce.