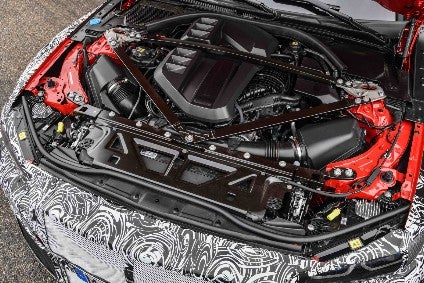 As with AMG for Daimler, M must be one of BMW Group's best money makers. While they sometimes chase the same customers, M tends to be more hard core, more exclusive: there are no equivalents for Mercedes-AMG's S-Class and GLS-Class, nor is there any electrification. That will change as emissions regulations challenge M's high-CO2 engines.
There isn't a Z4 M but Motorsport division does have a presence in the roadster's line up in the form of the M40i. This most powerful variant has a 250 kW (340 PS) & 500 Nm 3.0-litre six-cylinder turbo engine under its bonnet. An even faster car seems a certainty, though it may not appear until the Z4's mid-life facelift in 2022.
The project codes for the next M4 Coupe and M4 Convertible are G82 and G83. Each will have four-wheel drive and be offered in two forms, powered by BMW's S58 straight-six. In standard form, power will be 353 kW (480 PS) but in Competition spec this rises to 375 kW (510 PS). These are the same outputs produced by S58 in the X3 M and X3 M Competition. The same is said to apply to the next (G80) M3 Sedan. See PLDB for more details of the latter.
Sources indicate that the standard car will be called M4 Pure and come with a manual gearbox and rear-wheel drive. Four-wheel drive and automatic transmission will reportedly be standard for the M4 Competition. The faster, more powerful car isn't due to be available until late 2021, which means the 2022 model year for North America.
The M3 Sedan and M4 Coupé will be revealed in mid-September, BMW says.
F90, the current M5, was the first in the history of the series to come with all-wheel drive. Its engine is S63, a biturbo V8 which produces 441 kW (600 hp) and peak torque of 750 Nm. The motor show debut was at the Frankfurt IAA in September 2017, although the car was revealed a few weeks prior to the show at an event in Cologne.
Although the M5 is sold only as a standard wheelbase sedan, there is also a Competition variant. This is powered by a 460 kW (625 hp) version of the 4.4-litre engine with the same 750 Nm of torque as the M5.
A facelifted 5 Series Touring and standard wheelbase sedan range was announced in May with images of corresponding updates for the M5 and M5 Competition revealed to the press last month. Power and torque are unchanged.
A new engine is rumoured. An electrified V8 called S68, it will likely have a smaller capacity than S63 and be reserved for a theoretical M5 CS. Such a car which would be positioned above the M5 and below the Competition.
There has been speculation that BMW will make the next M5 – due in 2024 – fully electric, with three motors and a combined output of around 750 kW.
The M8 was confirmed as being under development and then announced to the media in June last year. Both Coupe and Convertible are powered by a 441 kW (600 PS) biturbo V8 with a 460 kW (625 PS) version for the Competitions. Torque for all cars is 750 Nm (553 lb ft) and AWD is standard.
The 8 Series Coupe, a rival for the Mercedes-Benz S-Class Coupe, was announced by BMW just ahead of the appearance of a concept version. The design study was revealed in May 2017 at the Concorso d'Eleganza Villa d'Este. A day later, an M8 prototype covered in camouflage was shown at the Nürburgring 24-hour race.
The market release of the 8 Series coupé commenced from November 2018.
The M8 GC was previewed by the Concept M8 Gran Coupe, a prototype which was displayed at the 2018 Geneva motor show. The M8 Gran Coupe would go into production during 2019, BMW stated at the 2018 Geneva show. The car was a world debut at the LA auto show in November 2019. Both RWD and AWD are available, with the six M8s as follows: Coupé, Competition Coupé, Convertible, Competition Convertible, Gran Coupé and Competition Gran Coupé.
All cars are due to be facelifted in 2022 and depending on how they sell, potentially replaced in 2026. As with the next M5, there will be electrification; potentially fully electric drive.
The X3 M (F97) and X4 M (F98) were announced by BMW in September 2018, each revealed at a DTM race at the Nürburgring but wrapped in camouflage. Full details were then publicised in February 2019 two months ahead of their world debuts at the Shanghai motor show. Both are powered by a 352 kW (479 PS) 3.0-litre biturbo in-line six with 598 Nm (442 lb-ft) of torque. There is another option for each: the more powerful X3 M Competition and X4 M Competition. Their version of the same engine produces 375 kW (510 PS) with unchanged torque. Facelifted variants should be launched next year and replacements in the second half of 2024.
Even though BMW doesn't do M versions of all its smaller SUVs, the ones above the X3 and X4 are certainly eye catching. That's definitely the case with the X5 M50i and X7 M50i. These big SUVs, announced in May 2019, are powered by a 4.4-litre biturbo V8 with outputs of 390 kW (530 hp) and 750 Nm. More details can be found in PLDB, along with specifications and life cycle timelines for the X2 M35i and other SUVs, along with cars not mentioned in this report such as G87, the future M2.
Reports for many other manufacturers' future models are grouped in the OEM product strategy summaries section of just-auto.com.
Future platform intelligence
More detail on past, current and forthcoming models can be found in PLDB, the future vehicles database which is part of GlobalData's Automotive Intelligence Center. That includes various M models not reported on above.
This, the third of six features exploring the passenger car brands of BMW AG, follows a look at what's ahead for the BMW brand's cars and SUVs. Next comes BMW i; MINI; and finally, Rolls-Royce.