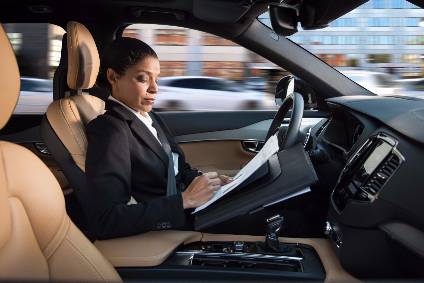 Predictions as to when the first autonomous vehicle will be available vary depending on who we talk to and, for that matter, how we define it. Continuing just-auto/QUBE's research snapshots, this one reviews how close we are to the holy grail of autonomous vehicles.
With testing in the pipeline, when could we expect to be ferried around in an autonomous vehicle? The exact definition can be confusing given the mix of terms often used, such as self-driving, driverless, automated, autonomous, semi-autonomous and self-piloting. Small wonder that consumers are bewildered, according to this research report.
We recently referred to the Society of Automotive Engineers' (SAE) definition of six levels of driving automation, spanning from 'no automation' (you do all the work, level zero) to 'full automation' (sit back and be driven, level 5). These levels as defined by the SAE are also referred to as key stages towards automated driving, namely feet-off (L1), hands-off (L2), eyes off (L3), and brain off (L4). So let's stick to these definitions, for now.
Who is helping who?
Although we are nowhere near experiencing the joys of being chauffeured around in an L5 (steering wheel optional), we have reached some sort of 'tipping point' in the shape of an Audi. The carmaker claims that its next A8 sedan will be the first production vehicle to be equipped with L3 technology aka AI traffic jam pilot system. The technology handles the task of driving in traffic jam or slow-moving highway traffic up to 60km/h (37.3mph). With traffic jam pilot engaged, drivers no longer need to continuously keep their eyes on the road but must take over when the system prompts them. Yet the ADAS technology fitted to the A8 has some limitations. For example, it is only intended to be activated in relative slow-moving traffic and only on divided roads where a physical barrier separates vehicles driving in the opposite direction, i.e. a motorway/freeway. However, Audi has higher speed ambitions for its 2019 A8.
Audi is not alone in its L3 aspirations. The 2018 Cadillac CT6 will feature GM's Super Cruise technology, offering hands-free driving for highway speeds (whereas the A8 system will shut down above 37 mph). Unlike other driver assistance systems, Super Cruise uses a driver attention system and precision LiDAR map data. These systems are added to the network of cameras and infrared sensors in the CT6, providing a more data-rich approach to driver assistance.
An analyst note from Deutsche Bank has raised its rating for GM shares to buy from hold, maintaining that the company is ahead in the race to deploy AVs and will gain a large market share of the autonomous driving market. Last month, analyst Rod Lache explained in the note that GM's AVs will be ready for commercial deployment, without human drivers, 'much sooner than widely expected and that could it be 'within quarters, not years' and potentially years ahead of competitors. It is hardly surprising then to learn recently that GM plans to test vehicles in fully autonomous mode in New York state early next year, according to governor Andrew Cuomo. The planned testing by GM and its self-driving unit, Cruise Automation, will be the first by a L4 AV in the state, Cuomo said in a statement cited by Reuters.
Meanwhile, Volvo is reported to have stated that it will make an L4 XC90. The carmaker currently has 100 autonomous cars testing on Beijing roads.
Ford also now has its sights set on L4. The carmaker has previously claimed that it is aiming to have an AV (L4) in commercial operation by 2021 and wants to have 'high volume' (over 100,000 units a year) to maximise the business opportunity via ride-hailing or ride-sharing. Ford sees a major opportunity to exploit 'transportation as a service' in urban areas during the 2020s and by 2030 it forecasts that AVs will account for 20 percent of all vehicle sales.
Last August, BMW and Intel signed a memorandum of understanding with the intention for Fiat Chrysler Automobiles (FCA) to be the first automaker to join them in developing an autonomous driving platform for global deployment. In July 2016, BMW Group, Intel, and Mobileye (the latter is now owned by Intel) announced that they were joining forces to make self-driving vehicles a reality by collaborating to bring solutions for highly automated driving (L3) and fully automated driving (L 4/5) into production by 2021. Since then, they have been designing and developing a scalable architecture that can be used by multiple automakers around the world, while at the same time maintaining each automaker's unique brand identities. The partnership between BMW and Mobileye has also seen Continental join (last June) and, this month, Magna.
Other automakers, including Toyota, Tesla, Volvo, Mercedes-Benz, Renault-Nissan and Hyundai-Kia are also pushing back the technical boundaries.
One small step for man …
Although a L4 car is just surfacing, a L5 AV – that neither needs nor wants your help – is a giant leap for mankind. Few, if any, automakers have set out a firm timeline for such cars to hit the road. During the most recent consumer electronics show (CES), Toyota's Research Institute CEO, Dr Gill Pratt said that full autonomous driving (L5) is not even close. He used a speech at the carmaker's press conference to emphasise the complexities are manifold and will take quite some time to overcome, explaining: "None of us in the automobile or IT industries are close to achieving true level 5 autonomy. It will take many years of machine learning and many more miles than anyone has logged of both simulated … and real-world testing to achieve the perfection required for level 5 autonomy."
While you can pick up a car today that will take control of the steering and braking – buying you time to make a few notes ahead of a meeting – there is nothing (yet) available that will allow us to take a nap at the wheel, however you define it.