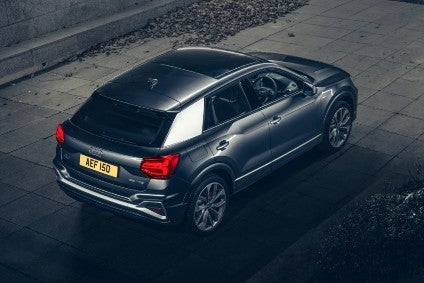 Four months ago, Audi AG gave us the first details of a facelift and other revisions for the Q2, exactly four years on from the start of production. Now the revised versions of its smallest SUV are reaching showrooms. How much longer will Mercedes and BMW, never mind Lexus, Volvo, Hongqi, Land Rover, Cadillac and others leave Audi to enjoy all the spoils of this global segment?
Yes, Jeep is present in the 3.9-4.3 m long SUV class but is the Renegade really a premium product? Certainly the brand can be considered so in some countries.
Compared to the smallest Audi crossover, the Renegade is really in a different class. AWD gives it an advantage over the Q2 yet that also makes it more of an SUV, while aside from the new 4xe (PHEV) variants, pricing tends to be lower.
Audi's record year
Audi also offers this model in extended wheelbase and EV forms although that's only in China, these things settings it apart from any potential rival. The model has also just been singled out as a factor in the brand's record worldwide deliveries for any quarter: 505,583 and the first time more than half a million Audis had been delivered in any three-month period. The made-in-China Q2 enjoyed a 34% surge in Q4, helping the marque to achieve record sales in 2020.
Q2 – 100,000+ global deliveries
The little FWD-only model doesn't sell too well in its home market, only 13,251 having been delivered to German customers in 2020. Compare that to the 27,345 examples of its VW equivalent, the T-Cross. And yet, considering how many Q2s were delivered to buyers all across Europe and then adding in China's Q2L and Q2 e-tron, we're talking somewhere more than 100,000 worldwide during what wasn't exactly a great year. Considering that level of success, how can Audi's rivals continue to ignore the B-premium crossover class, particularly when, outside China, there isn't even an electrification option for the model?
Size matters
So what makes the Q2 so appealing? Size has got to be a major factor, the length being only 4,191 mm, not to mention how handily slim it is. What a joy to have any press car which slides so easily into the too-small parking bays of Britain (but yes, agreed, to those who would counter that so very many cars are excessively long and wide). Even though it's in the B segment, to get an idea of the size, a VW Polo, which isn't that small, is 14 cm shorter.
Audi has put the wheels fairly close to the corners and that's allowed the wheelbase to be 2,601 mm long (a Polo's is only 2,564). Which means, combined with the Q2's height, this is an exceptionally roomy crossover. It's also not too heavy (1,380 kg without a driver) thanks to the lack of a rear differential or e-axle, another pay-off being extra space for the shoes of anyone perched on the middle of the back seat. As for the the boot, that's a commodious 405 litres, and up to 1,050 with the backrests flopped. The as-tested car came with a space saver tyre at a cost of GBP125.
Safety bonus – no virtual HVAC controls
Up front, the dashboard is the usual classy affair we can always expect from Audi and bonus, penny-pinching masquerading as newer and better screen-only controls isn't present: there are lots of proper physical controls to prevent eyes being off the road. You even get a real key which slots into an ignition barrel. The electric parking brake works perfectly well, as does the transmission selector, the precise action of which serves as an example to the silent, vague and dangerous limbo which some brands' cars can leave you when shifting from D to N to R and back.
The dimply-covered steering wheel is just the right size and call me spoiled but the press tester's had no heating. Still, the seats can be optionally (GBP310) specified with that luxury.
Does it need quattro drive?
The steering itself doesn't give much kick-back when the throttle pedal is given a firm push so the lack of quattro drive won't be too much of an issue for most owners. The 1.5-litre petrol turbo only develops just 250 Nm so torque-steer would be hard to generate anyway especially with what is a well matched seven-ratio DSG. Power, by the way, is 110 kW or if you prefer, 150 PS.
Sum-up: thumbs up
The Q2 is one of those models which took me a while to warm to but now with the facelift I've changed my opinion of it. Upon seeing one for the first time at the 2016 Geneva motor show I wasn't sure. It was mostly to do with that thick D pillar being silver if the paint was a dark colour. Now, it sort of reminds me of a Citroen IS/DS and that's a very good thing. Plus, the updated range of wheels are an improvement and the car stands out, looking neither derivative (as some accuse the e-tron of being) nor aggressive (much as they appeal to me, the Q7 and Q8 aren't universally loved).
Audi really was clever to create the Q2's segment and deserves the resultant success. Those in charge of other premium brands will likely look back and ask themselves why they took so long to come up with models to challenge the pioneering leader of the class.
What's next for Audi's smallest Q?
We may see the German firm launch a Q2 e-tron in Europe or at least a PHEV to take advantage of the surge in sales of such vehicles. And how about a Q1? Don't rule out a 3.6-3.9 m long crossover for later in the 2020s, even if it's only for China and Europe: the Q2 isn't available in the US or Canada so an even smaller Audi likely wouldn't be either.
The Audi Q2 35 TFSI 150 PS S line S tronic costs from GBP30,420. Combined consumption is 44.8 mpg and CO2 is 144 g/km.