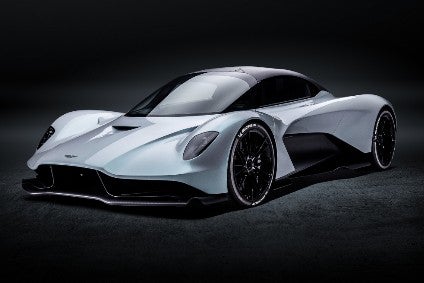 Aston Martin Lagonda's recent announcement that it no longer expects a GBP20m payment for IP from Detroit Electric sent the share price into a steep decline. Speculators continue to short the company, with many seeing GBP850m of net debt and lease liabilities as a major concern. AML is determined to ride out the current financial storm though, trusting in a business plan which includes several high priced future models.
Aston Martin
The Vantage is now just over a year old. A roadster should be announced soon to join this 4,465mm long coupe. The car's engine is a 375kW (510PS) and 600Nm version of AMG's 4.0-litre V8. Top speed is claimed to be 314km/h (195mph). An eight-speed ZF automatic is standard with a Graziano-supplied manual option added during the fourth quarter of 2018. The Vantage AMR was announced in May. A Vantage Roadster as well as a Vantage AMR Roadster are expected soon. All these cars should have a mild facelift in 2022 and then be replaced in 2026.
One of many positive changes made by CEO Andy Palmer has been a policy of bringing multiple new models to market. That means that the DB11 is now the oldest car in the range. This replacement for the DB9 had its world premiere at the Geneva motor show in March 2016, the first deliveries of this 2+2 coupe taking place six months later.
Initially, the DB11 was powered solely by a 5.2-litre biturbo V12 which is codenamed AE31. Like the 5.9-litre AE28 V12, this is made by Ford Werke at its Niehl foundry in Cologne. The self-developed (i.e. not a modified Mercedes-AMG unit) engine produced a claimed 600bhp (447kW) and 700Nm of torque. Top speed was said to be 200mph and the 0-100km/h figure stated as being 3.9 seconds. The V12 has cylinder deactivation and stop-start. An eight-speed ZF automatic transmission is standard, with drive sent to the rear wheels only.
A 630bhp (470kW) version was announced in May 2018. This is for the DB11 AMR. As well as the 30 additional brake horsepower, top speed rose to 208mph and the 0-62mph time falls to 3.7 seconds. Torque is the same 700Nm as for the less powerful 5.2-litre V12.
A DB11 with a 510PS and 675Nm four-litre biturbo AMG engine was announced by Aston Martin in June 2017 and had its world debut days later at the Goodwood Festival of Speed. It went on sale worldwide from late 2017. The V8, being lighter and more compact than the V12, contributes to a claimed saving of 115kg and a kerb weight of 1,760kg. The 3,982cc capacity enables the DB11 V8 to slip below a key tax threshhold in the Chinese market.
Exterior differences between the V12 and the V8 include wheels, plus, for the 4.0-litre car, dark headlamp bezels and two bonnet vents instead of the V12's four.
The DB11 Volante was announced in October 2017. For the moment, the convertible is available only with the V8 engine. A V12 will follow later in the lifecycle of the car and there might be an AMR version too. A facelift is expected in 2020 with a successor due towards the end of 2023.
The replacement for the Vanquish S was revealed to the media in June 2018. The public debut of this car, the DBS Superleggera, took place a few weeks later at the Goodwood Festival of Speed. A DBS Superleggera Volante (convertible) was added in April.
This 4,712mm long 2+2 has carbon fibre body panels and is powered by a 5.2-litre biturbo V12. Outputs are claimed to be 725PS and 900Nm of torque. The top speed is quoted as 211mph and 0-62mph is said to take 3.4 seconds. The gearbox is a ZF eight-speed torque converter automatic.
Each of these cars is due to have a mid-cycle facelift in 2022 with the successor for the DBS Superleggera being planned for release in 2025, and followed a year later by the next generation DBS Superleggera Volante.
A mid-engined model was announced by Andy Palmer at the 2017 Geneva motor show. Powered by a V6, it is intended to be a rival for the McLaren 720S and Ferrari F8 Tributo. Originally said to be due for release in 2020, this car, which will be positioned above the DSB Superleggera, has been delayed until 2022.
The model code of AM9 was listed in AML's 2018 annual report, which became available in February this year. The Vanquish model name is expected to return and be used for this car. The previous Vanquish S went out of production in February 2018 and was replaced by the DBS Superleggera. The Vanquish Vision concept was revealed at the Geneva motor show earlier this year.
Aston Martin is about to start manufacturing 155 units of the RapidE, an electric version of the former Rapide. The firm has worked with Williams Advanced Engineering to bring the car to production. Customer deliveries are due to commence in the fourth quarter.
This big hatchback will be built at AML's St Athan factory in Wales. There are two rear-mounted motors with the 65kWh battery pack positioned where the engine and gearbox would otherwise be. It has one thing in common with the Porsche Taycan too: an 800V charging system. That is claimed to mean up to 80 per cent of the range can be restored in half an hour. Power is quoted as being "over 610PS" with 950Nm of torque.
It has been almost four and a half years since Aston Martin told the world about its plans to launch an SUV but still we haven't seen a production-ready model. It won't be too long until we do, though. The model name will be DBX, AML stated last November, which was also what a concept which premiered at the Geneva motor show in March 2015 was called.
Build will take place at a new plant in South Wales, to the west of Cardiff airport. Aston Martin is using the site's existing buildings, which are two Super Hangars. St Athan in Glamorgan is a former Ministry of Defence facility. The conversion of the hangars commenced in April 2017. Series production will commence in Q2 2020, the company's annual report, issued in February, stated. The car will be revealed to the media by year-end, with Andy Palmer also recently stating that he believes an average of 4,000 will be sold annually over the life cycle.
The DBX will be mainly for the US and China, Aston Martin says. It will use an Aston architecture. As for engines, there are no firm facts as yet. However, any V12 would be supplied by Ford Werke in Cologne, while a biturbo 4.0-litre V8 could be sourced from AMG and an in-line six from Mercedes-Benz.
Andy Palmer stated in an interview in late 2018 that the DBX would not be revealed at a motor show but at a bespoke event.
The Valkyrie, a hypercar with the project code of 001, was announced by Aston Martin in March 2016. Images of a scale model were revealed to the media three months later. The car is a collaboration with the ex-McLaren and Red Bull Formula 1 team engineer Adrian Newey. A total of "between 99 and 150" road cars will be built, as well as 25 track cars which are called Valkyrie Pro. These have the internal code of 002. The Valkyrie is expected to weigh just 1,030kg and production should commence during the second quarter of 2020.
Multimatic, which makes the Ford GT at its plant in Canada, will supply the carbon monocell, while Cosworth will be the source of the 6.5-litre V12. A seven-speed transmission will come from Ricardo. The normally aspirated engine's outputs are claimed to be 1000hp and 740Nm (545 lb-ft). Cosworth and AML claim it will rev to 11,200rpm. Combined with the motor, power rises to a stated 1,160bhp with 900Nm of torque.
Croatia-based Rimac will supply the lightweight hybrid battery system; Robert Bosch will be the source of the ECU, traction control and electronic stability program systems; while Wipac is responsible for the LED headlamps and tail lamps.
Aston Martin is planning a post-Valkyrie hypercar for 2021, it announced in September 2018. The project's original code was 003. Since changed to AM-RB 003, this will be the third hypercar for Aston Martin after the Valkyrie and Valkyrie AMR Pro. The AM-RB 003 concept at this year's Geneva motor show provided strong guidance for the production model's looks.
The company intends to build 500 units of this mid-engined coupe with the first examples "arriving to market in late 2021". The car will be "built around a lightweight structure and powered by a turbocharged petrol-electric hybrid engine". Both right- and left-hand drive cars will be available and the engine will be a turbocharged V6 of Aston's own design. The model name, Valhalla, was confirmed in June.
Lagonda
In May 2018, Aston Martin confirmed that it would "unveil" an electric Lagonda SUV in 2021 and that this would be the brand's first new model in some years. The vehicle would be styled as an "evolution of the Lagonda Vision Concept revealed at the 2018 Geneva motor show".
Until the February 2019 publication of its annual report, the company had not stated when it will begin building this model. Although no production location has been named, it was restated that the model is set to be built from 2021.
Aston Martin appears to be trying to position Lagonda as a marque which sells battery-electric vehicles to people who might also be considering a Bentley or a Rolls-Royce.
The cover was pulled off the All-Terrain Concept, reportedly a preview of the production model, at the 2019 Geneva motor show. Just days after the company's annual report had stated 2021 as when the 'Ultra-luxury EV SUV' would be on sale, AML's media release gave the model's date of production as being 2022. There was no explanation.
The 'Ultra-luxury EV sedan', a Lagonda Taraf and RapidE replacement, is also claimed to be under development. It too featured in AML's most recent annual report on a slide which listed a Lagonda 'Ultra-luxury EV sedan' as being due for introduction in 2022. The SUV will likely be launched ahead of the sedan, with the latter possibly even being pushed back into 2023.
Reports for many other manufacturers' future models are grouped in the OEM product strategy summaries section of just-auto.com. That also includes more information on past, current and next generation Aston Martin Lagonda vehicles.
Future product program intelligence
More detail on past, current and forthcoming models can be found in PLDB, the future vehicles database which is part of QUBE.
The next OEM to have its future models strategy examined will be General Motors. That includes features on Baojun, Wuling, Chevrolet, GMC, Buick, Cadillac and Holden.