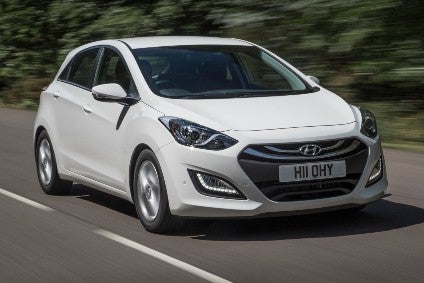 It's been six months since series production of the new i30 started in Europe. Hyundai's regional sales performance reflects the arrival of this fresh C segment hatchback, ACEA data showing an 8.2 per cent rise in May when the market rose by 7.6 per cent.
No Kona. No problem.
Hyundai's EU+EFTA volume is only up by 3.5 per cent and yet when you consider that the brand has no B-SUV, that's a remarkable achievement.
Year-to-date, Hyundai's EU+EFTA volume is only up by 3.5 per cent and yet when you consider that the brand has no B-SUV, that's a remarkable achievement. The Kona has just been announced but it won't be available across Europe until later in the year.
Hyundai sold 46,860 vehicles in Europe (as ACEA defines it) during May. Another 543 and it would have been one car ahead of Nissan, even if the Japanese brand remains some 40,000 vehicles in front over the first five months.
In Britain, it's also good news for the Korean brand. May registrations number 7,321 vehicles and year-to-date, the total is a strong 42,135, so Hyundai is catching Kia (42,678) and in fact outsold its sister brand in May. It is also steadily closing the gap to Toyota, year-on-year.
On sale in UK since 1 March
The third generation of Hyundai's rival for the Golf, Astra, Focus and others in that size class was revealed to the media in September 2016. This was only a few weeks ahead of its public debut at the Paris motor show. The three-door bodystyle was not replaced, though there will be a sort-of successor in the form of a four-door variant. More on that higher-margin model in a moment.
The new car uses an updated version of the second generation's platform. The five-door hatchback is 4,340mm long, 1,795mm wide, and 1,455mm high. It might be mainly for Europe, but the i30 is to be sold in North America too. There, it becomes the 2018 model year Elantra GT, this car having had its debut at the Chicago auto show in February. As with the old-shape i30, it should also be available in South Korea.
The i30 Wagon had its world premiere at the Geneva motor show in March and it starts rolling into showrooms later this summer. That one is expected to be restricted to the European region.
Hyundai, like several of its rivals in the C segment, equips the i30 with a turbocharged 1.0-litre engine so as to pull in buyers for whom a low CO2 number is a major factor when it comes to petrol-powered vehicle choice. In this case, it has three cylinders and an official emissions average of 119g/km.
Petrol or diesel?
HMG's little engine feels quite different to, say, the 125PS version of Ford's 1.0 EcoBoost in the Focus.
HMG's little 88kW (120PS) engine feels quite different to, say, the 125PS version of Ford's 1.0 EcoBoost in the Focus. The i30 isn't an especially heavy car (1,194kg) but there just isn't enough torque and turbocharger lag is acute, especially when cold. You find yourself changing gear a lot. Balancing that out somewhat is the light and super-smooth gear change action. Yet there is no escaping the fact that people who have to do a lot of city driving would be better off with a diesel i30.
The 1.6 CRDi's torque output of 280Nm compared to only 171Nm for the 1.0 T-GDI says it all. Let's say you're about to make a rolling start from a traffic light which goes green as you're approaching. Try to pull away in second and an engine flat spot causes a hiatus. Which means a change down to first to get the revs up enough to wake the turbocharger. So, in the real world, you won't see the Official economy numbers. The three-cylinder engine is supposed to average a Combined 56mpg but unless you're super gentle and slow everywhere, it's going to be a more typical low to mid forties.
My advice would be to shun the 1.0-litre i30 and go for the diesel but if you must have the littlest power unit it's not all bad news. Wind this engine up on a B road and you have a fun driving companion, especially given how slick the gearbox is. Motorway travel is also good, even if you must really plan your overtaking. Yet at steady speeds, the 1.0-litre does deliver excellent fuel economy. You just need to take some time to build up momentum, and try not to lose it. If only you didn't need to slip down a gear or two so as not to get in the way of others when pulling out of the far left lane and into the middle or right one.
As good as a Golf inside?
Hyundai gives the i30 a handbrake and an ignition key, which is becoming unusual in many vehicle classes. The small-engine variant which I tried also had a standard spec that included soft and easily cleaned seat fabric as well as much grey plastic (see pic) but on pricier variants there is some relief from the second of these. At least the headliner and A pillars were covered in light grey fabric/plastic respectively and Hyundai has worked well with its supplier(s) to match these almost exactly. Impressive.
The car came with two 12V sockets in the centre console and another in the boot. Even more points are awarded for the space saver spare (not as good as a real wheel and tyre but so much better than a can of goo), supermarket bag hooks, and the reversing camera which quite a few so-called premium brand models fail to include in their standard equipment lists.
The first impression of the car isn't the best, and yet this could be easily fixed.
The first impression of the car isn't the best: fail to fasten your seatbelt before switching on the ignition results in the most awful, nagging beep. Clearly, and unlike the famously coveted steering wheel adjuster which is as smooth and silent as it was in the previous model, this needs an urgent fix.
Hyundai gains additional points for allowing the design team to place the hazard warning button right where it ought to be, not in the strange places where so many designers working for other brands are putting it. Here, it's in the middle of the centre console where both driver and passenger can quickly locate it. The doors unlock-lock button is there too – another function which should be in the same place on all cars.
These things really do matter when it comes to safety and convenience. If you want an example of a badly located emergency flashers control, try finding it in a Mustang. Ford might counter that the orange lights will pulse automatically immediately after a crash or during emergency braking. Sure, but what about when you see a Mexican wave of brake and hazard lights ahead and need to notify the vehicles behind you?
Pricing from under £17,000
The engine looks lost under the bonnet but that's not unexpected given that a unit with twice its capacity will become available soon enough. The 1.0 T-GDI, to give it its official name, produces 120PS. In base S trim it costs from GBP16,995 and comes with a six-speed manual gearbox, 15-inch alloy wheels, LED DRL, DAB radio with USB and aux connections, Bluetooth with steering wheel controls, electric front and rear windows and driver's seat height adjustment.
The 1.0-litre engine, which is new to this generation of the i30, is joined by a 140PS 1.4-litre petrol turbo plus a 110PS 1.6-litre diesel. Unlike the 1.0 T-DGI, these two can be ordered with a DCT dual clutch gearbox. This, I haven't tried but I do recall how good the diesel was in the old-shape car and its CO2 average is from just 99g/km.
Summary
Hyundai UK sold more than 70,000 units of the previous i30. The firm says it has "solid expectations" for the new car.
Hyundai sold more than 70,000 units of the previous model i30 in Britain and the sales division of the firm says only that it has "solid expectations" for the new car. It's a step forward, especially on the inside, where things which were already very good indeed.
Even with the class continuing to fragment and buyers now looking at all manner of alternatives, including larger and smaller SUVs, there should still be strong demand for a car as capable as this one. If only the T-GDI had more oomph.
What's ahead for the i30
Later in 2017 there should be a fastback (though some say it might instead be a low-roof sedan) to supplement the five-door hatchback and estate. This is Hyundai seeing if such a body style can lure some buyers away from rival brands' C segment SUVs and also bring people into a segment which might well be one with decent future volume.
The new i30 will also be available as a 'N' variant. This will gradually become what the company hopes could be an equivalent to VW's GTI cars. The i30N is due on sale later in 2017, powered by a 275PS version of Hyundai Motor Group's 2.0-litre four-cylinder turbo engine. A six-speed manual transmission will be standard and HMG's own eight-speed DCT optional. Hyundai will also offer the N in the fastback body style, which is the replacement for the old-shape three-door. The next generation Veloster will also be available in N form.
Prices for the new Hyundai i30 start at GBP16,940 and rise to GBP24,690 before options. The as-tested 1.0 T-GDI SE Nav manual costs GBP19,645 and has a 0-62mph time of 11.0 seconds. Top speed is 190km/h.