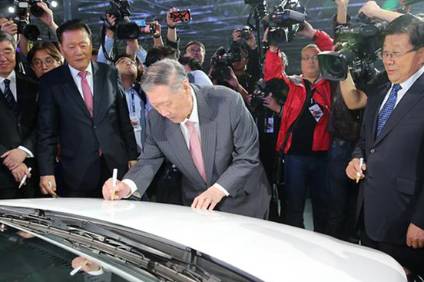 China has been a tough market for Hyundai and Kia in the last few years. The most recent data released by the Hyundai Motor Group, comprising the Hyundai and Kia brands, shows sales in the country fell by 22% to 343,383 in the first five months of 2019 from 438,364 units in the same period of last year.
This was a significant underperformance on the 13% drop in total vehicle sales in the country in this period – in a market that has come under increasing pressure from falling consumer and business confidence as the trade war with the USA continues to stoke economic uncertainty.
The introduction of minimum sales quotas for new-energy vehicles (NEVs) at the beginning of the year and new "China 6" emissions standards introduced in April are likely to have disrupted the overall vehicle market to some extent, with supply bottle-necks reported for some of the newest models. But on the whole there is substantial oversupply in China's automotive industry after twenty years of continuous investment.
Some local analysts believe that Hyundai and Kia, along with other high-profile South Korea companies, continue to pay the price for their government's agreement in 2016 to deploy the US THAAD missile defence shield. This decision was met with an "unofficial boycott" of many South Korean goods and services in China, with retailers such as Lotte and vehicle manufacturers such as Hyundai and Kia reporting sharp sales declines in 2017.
Hyundai's sales in China fell by 31% to 785,000 units that year and recovered only slightly to 790,000 units in 2018. Kia's sales fell by 44% to 364,000 units in 2017, and rose by just over 7% to 390,100 units in 2018. Their combined market share has fallen from 6.4% in 2016 to just over 3% so far this year.
Hyundai and Kia have been slow to respond to growing demand for SUVs, both globally and in China, which partly explains their recent underperformance. Local Chinese brands in the last two years have been successful in meeting rising demand for budget-segment SUVs and new-energy vehicles, particularly electric vehicles.
Hyundai-Kia's sharp sales decline has resulted in a significant rise in overcapacity in the country. At the end of June Kia will cease operations at one its plants in Yancheng, in China's Jiangsu province, and will sign over the facility's long lease to its local partner DongfengYueda. The brand's annual production capacity in the country will drop by 140,000 units to 750,000 units as a result of this transaction, but remains more than double its current output rate.
Hyundai has an annual production capacity of 1.65m units in China and its capacity utilisation rate has fallen from 50% last year to around one-third so far this year. The company has been considering halting production at its oldest plant in Beijing, which has a production capacity of 300,000 units.
Other foreign vehicle manufacturers have also struggled to keep up with the changing competitive environment in China in recent years, mostly notably Ford and to a lesser extent General Motors. With overall demand continuing to slow sharply in the world's largest vehicle market, and more capacity coming on stream among a new wave of electric vehicle brands, overcapacity will likely continue to rise.