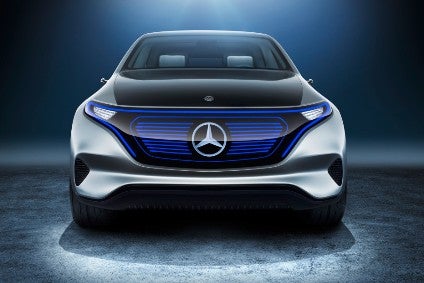 The final feature in just-auto's focus on Daimler's current and future passenger vehicles concerns Denza, Mercedes-EQ EVs, plus Mercedes-Benz hybrids, plug-in hybrids, EVs and hydrogen fuel cell vehicles.
Following the 29 May announcement by Daimler of electric vehicles for its Rastatt plant, the section below on EQ vehicles has been updated.
Denza
Shenzhen Denza New Energy Automotive is the name of a 50-50 JV which Daimler has in China with BYD. The venture, which has lost money in each of the three-years during which it has existed, has just been recapitalised.
BYD provides its electric vehicle know-how and batteries for the Denza 400, the partners' sole vehicle. Fewer than 2,300 were sold in China during 2016 and just 489 during the first four months of 2017.
The JV includes design, e-drivetrains, batteries, and components. The 400 is based upon the first generation Mercedes-Benz B-Class and while it looks like a five-door hatchback, it is a four-door sedan. It was revealed in concept form at the 2012 Beijing motor show. What was originally called simply 'Denza' went on sale in China in June 2014, with the first cars delivered three months later.
The Denza 400, announced in August 2016, offers upgraded battery, electric motor and electronics for an electric range of up to 400km (about 250 miles) on a full charge. The vehicles are manufactured on a special production line at a BYD plant in Shenzhen.
Due to the losses incurred by the current car, a replacement is by no means certain. If a successor does appear, it would likely be in 2019. To be successful, it will need to have an increased range and be more affordable than the 400. The model name would likely be Denza 500.
Hybrids, EVs and PHEVs
After a rethink, Mercedes-Benz now use h to denote hybrid vehicles, e for both electric and plug-in hybrids and f for fuel cell prototypes.
The smallest plug-in is the B 250 e. Originally called B-Class Electric Drive, this EV version of the B-Class is intended to be a rival for the BMW i3. A prototype had its global debut at the Paris motor show in September 2012. This plug-in version of the B-Class went on sale in the US, its first market, in July 2014. Sales in Europe and certain other markets then followed.
Daimler claimed the concept's electric motors developed a combined 100kW, with maximum torque of 310Nm. The pre-production model had its global debut at the New York auto show in March 2013. Build at the Rastatt plant commenced in April 2014.
The car's top speed is limited to 160km/h (100mph), while zero to 100km/h is said to take 7.9 seconds. A full recharge takes two hours using a standard 40-amp Level 2 charger.
The B 250 e (B250e in the US market) weighs 1,750 kg (3,858 lbs) and is powered by an electric motor generating 177bhp (132 kW) and 250 lb-ft (338Nm) of torque.
The next generation B-Class plug-in should have a significantly improved range so as to make it competitive with the slightly larger Tesla Model 3. The W247 B-Class is due in 2018 and will use the MFA 2 architecture.
In the larger C-Class model range, Mercedes-Benz offers both hybrid and plug-in hybrid cars. The C 300 h is a petrol-electric sedan or estate. The C 350 e meanwhile, is a plug-in hybrid (PHEV). It is sold in sedan form mainly in parts of the USA and certain Chinese cities, and there is also a wagon for certain European markets. The car's combustion engine is a turbocharged 2.0-litre four-cylinder petrol unit. It was revealed at the Detroit motor show in January 2015.
The C 350 e has a water-cooled 6.2 kWh lithium-ion battery pack weighing 100 kg (220 lbs) under the boot floor. This means the loss of 15 litres of cargo capacity so now it stands at 335 litres (sedan) or 350 litres (wagon). A full recharge takes 1h 45min from a 240V/16A source or two hours from a household 240V/13A socket. The EV range is claimed to be 19 miles (31 km). When running in hybrid mode, both body styles can return 112 mpg US (134 mpg UK or 2.1 litres / 100 km) with corresponding CO2 emissions of 48g/km. Combined power and torque are 205kW (279PS) and 600Nm.
Both C 300 h and C 350 e are due to have a mid-cycle update in 2018. The replacements due in 2021 should be on an updated MRA architecture.
The larger E 350 e is a plug-in hybrid version of the E-Class. It is powered by the same M 274 1,991cc four-cylinder petrol engine and electric motor as the C 350 e. However, at 220kW (299PS) its combined output is more, due to a higher output from the motor. Curiously, the torque total is only 550Nm; i.e. 50Nm less than for the C 250 e.
The M 274 engine is also what powers the GLC 350 e 4MATIC and GLC 350 e 4MATIC Coupé. In theses SUVs, the outputs are an identical 235kW (320PS) with torque of 560Nm. Mercedes-Benz announced the PHEV version of the GLC Coupé in March 2016 but it didn't go on sale until the fourth quarter of the year. Both models will have facelifts in 2020.
The next generation GLC 350 e 4MATIC and GLC 350 e 4MATIC Coupé are expected in 2023.
There is no hybrid or PHEV version of the GLS-Class, so the largest petrol-electric SUVs are part of the GLE and Coupé line-ups. Both GLE 500 e and GLE 500 e Coupé are powered by a 3.5-litre V6 and one motor, with combined outputs of 325kW (442PS) and 650Nm. Mercedes-Benz USA sells these PHEVs as the GLE550 and GLE550e Coupe.
The GLE 500 e was the effective replacement for the ML 300 BlueTEC Hybrid. The big engineering difference is the petrol engine, whereas the ML 300 BlueTEC Hybrid was diesel-powered.
As the GLE 500 e/GLE550e is based on a model which started life as the M-Class in 2011, a new model is due fairly soon. The second generation GLE 500 e/GLE550e should be out in 2018. The architecture will switch from W164 to the far more modern MHA. Unlike the PHEV version of the GLE, the more recently launched GLE Coupé is based on this younger platform.
As it has only been available since 2015, a facelift for the GLE 500 e/GLE550e should be released in 2019, with a GLE 550 e Coupé/GLE550e Coupe replacement due in 2022.
Returning to Mercedes-Benz sedans, the S-Class is available in three forms with a partially electric powertrain:
S 300 h & S 300 h L (four-cylinder diesel-electric hybrid in standard and long-wheelbase forms)
S 400 h & S 400 h L (3.5-litre six-cylinder petrol-electric hybrid)
S 500 e L/S550eL (3.0-litre six-cylinder petrol-electric plug-in hybrid)
Mercedes-Benz usually denotes a diesel engine in its models via a d in the variant's name but this does not apply to the diesel-electric version of the S-Class. Powering this big sedan – or sedans, as there are standard and long-wheelbase cars – is a 2,143cc four-cylinder engine and one motor. Their combined outputs are 170kW (231PS) and 500Nm.
The more powerful and expensive S 400 Hybrid and S 400 Hybrid L were part of the launch range of the latest S-Class, but their names have since been changed to S 400 h and S 400 h L. Both are powered by a 225kW/306hp 3,498cc V6 petrol engine + 20kW motor.
Facelifted versions of the diesel-electric and petrol-electric hybrid S-Class will soon be on sale in relevant countries. Their successors are due in 2020.
As for the plug-in hybrid S-Class, this had its global debut at the Frankfurt motor show in September 2013 but sales didn't start until August 2014. It is only built in long wheelbase form. The first cars for the US and China did not reach those countries until March 2015. In North America, the model name was to be S550 Plug-In Hybrid but this became S550e (S 500 e elsewhere).
The car is claimed by its maker to deliver fuel consumption of 3 litres per 100km (94.2mpg) as well as a CO2 average of just 69g/km. It is powered by a turbocharged 2,996cc V6 petrol engine and an 80kW electric synchronous motor. The S-Class plug-in hybrid is externally rechargeable via a socket on the rear bumper.
The power output is 245kW and 480Nm from the combustion engine plus 80kW and 340Nm from the motor. Top speed is 250km/h and zero to 100km/h takes 5.5 seconds. System output is quoted as 325kW (442PS) and 650Nm: identical figures to this powertrain as also featured in the GLE 500 e/GLE550e and GLE 500 e Coupé/GLE550e Coupe.
The mid-life facelift for the S-Class was announced recently, and a small model range has just gone on sale. So far, there is no official news on what updates there will be for the PHEV which is due out later in 2017. It should, however, have the option of wireless recharging. The replacements for the S-Class Hybrids and S-Class PHEV are expected in 2020. This is likely to be the first vehicle for MRA 2, a revised version of the MRA architecture.
EQ sub-brand electric models
There has been confusion over the name of a future plug-in crossover, which will be sized between the GLC-Class and the next GLE-Class. Originally expected to be called Mercedes-Benz EQ GLD-Class, it is now understood that the name will be Mercedes-Benz EQC. This will be a 4.7m long crossover and therefore a rival for the Jaguar I-PACE and Audi e-tron. The 5,037mm long and 1,999m wide Tesla Model X is too big and in many countries too expensive to be a true rival. Therefore a larger Mercedes-EQ electric SUV seems likely to follow.
The EQ sub-brand should have four models by the early 2020s. This should be a hatchback, one or two sedans and two SUVs, though more of the latter might well be added during 2021. Daimler CEO Dieter Zetsche continues to state that there will be ten fully electric Mercedes-Benz passenger vehicles in production by 2022. The Bremen and Sindelfingen plants in Germany will be the main production locations, with Bremen confirmed on 29 May 2017 as the production location for EQC, the first model. Build is due to commence there in 2019. The ten includes smart and Mercedes-Benz/Mercedes-EQ vehicles.
What Daimler termed 'Generation EQ' when revealing an EV concept at the 2016 Paris motor show is to be "the forerunner of Mercedes-Benz's new product brand for electric mobility, EQ. The name EQ is intended to mean 'Electric Intelligence'".
Daimler has developed an adaptation of MRA, its RWD/AWD architecture, as the basis for multiple future EVs. This platform, EVA, is scalable and usable across all models: the wheelbase and track width as well as all other system components, especially the batteries, are variable thanks to a modular system. The basic architecture, a multi-material mix of steel, aluminium and carbon fibre, is suitable for SUVs, saloons, coupés, cabriolets and other model series, Daimler's information to the media at the 2016 Paris show stated.
Daimler also intends to manufacture one or more models from its EQ range in China. It should also eventually be building electric vehicles at Tuscaloosa/Vance in the USA and at COMPAS (Cooperation Manufacturing Plant Aguascalientes) in Mexico.
Details of the EQ range's powertrains are not yet known but a two-motor system and all-wheel drive are expected. A range of 500km would be the minimum requirement if the EQ C and other models are to be competitive against Tesla, Jaguar, Land Rover, BMW and Audi.
Nine to 12 months after the debut of the Bremen-built EQC in the second quarter of 2019 should come another model, tentatively called EQD. This car is believed to be an electric sedan sized between the C- and E-Class. Production is likely to be on the same line as the EQC but there could also be build in Beijing. The D would logically compete with the production version of the Porsche Mission E concept rather than the larger Tesla Model S. It may look similar to the Mercedes-Benz Concept IAA from the 2015 Frankfurt motor show. There could also be a C or D segment hatchback to take on the Tesla Model 3 and a similarly sized crossover to tackle a rumoured SUV from the same firm. One or more compact (C segment) EQ models will be manufactured at Rastatt.
Few details of the other future EQ models are known but it would be logical to expect cars, crossovers and SUVs in the A (smart), B, C, D, E and F segments. The last of these should be a high-end limousine derived from the next S-Class, to be made at Sindelfingen. With ever more Mercedes-Benz vehicles being manufactured outside Germany, it is essential that Daimler's Supervisory Board sees that the company is investing in the latest technology for the models it makes in the home market.
Another way of keeping its unions on side is the news that cells for EQ models as well as future electric smart and Mercedes-Benz models will be sourced from the ACCUmotive battery factories in Germany. Ground was broken on a second facility last October. The €500m plant is being erected in the town of Kamenz which is some 40km north-east of Dresden. ACCUmotive is a Daimler subsidiary. There was a further ceremony on 22 May, this time in the presence of federal chancellor Angela Merkel.
Hydrogen fuel cell model
Daimler, a long-time leader in fuel cell R&D, has decided that electric cars hold more promise for a faster return on investment than hydrogen vehicles. This is a recent development and follows the success of various Tesla models, especially the enormous waiting lists for that company's Model 3. Advances in battery chemistry means that the major advantages of hydrogen cars over EVs – fast refilling and a 500+km range – no longer really exist.
Even though the idea of a whole range of fuel cell models for the 2020s has now been placed on hold, Daimler will still go ahead with the planned release of the GLC 300 h.
This speculatively named hydrogen fuel cell powered version of the GLC-Class is due for launch in Europe, North America and elsewhere from late 2017.
The vehicle's fuel cell system will charge a 9kWh battery. When the tank is full, the range should be around 310 miles (500 km). Unlike other hydrogen vehicles, the battery of the GLC 300 f will able to be plugged in and recharged, in the same way as an EV or a PHEV. Daimler will likely build only a small number of these vehicles for just a few years. No replacement is expected.
Future model plan reports for other manufacturers can be viewed in the OEM product strategy summaries section of just-auto.com.
Future product program intelligence
Additional data on vehicle lifetime and future product plans, such as model code names, are available in PLDB from QUBE.
The next OEM in this series will be BMW Group.