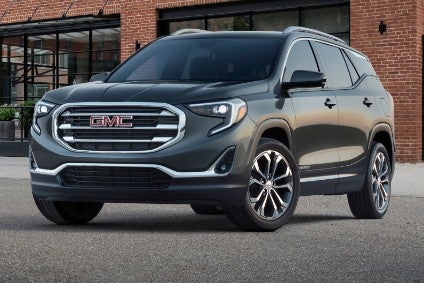 GMC is General Motors' second largest division by sales volume in North America. While traditionally a truck brand, it continues to evolve, with smaller and more fuel efficient SUVs and crossovers added in recent years. That strategy is working well, with sales for the year to the end of May reaching 221,741 units, a year on year gain of five per cent.
Crossovers & SUVs
Is there a sub-compact SUV in GMC's future? It does seem possible, especially with vehicles such as the Jeep Renegade still selling well in North America and Ford planning to export the EcoSport from India to the US and Canada commencing in early 2018.
The potential for a small crossover or SUV for GMC goes back more than seven years.
The potential for a small crossover or SUV for GMC division goes back more than seven years: a concept turned up at the Detroit motor show in January 2010. No details of the architecture were given but the 103.6-inch wheelbase dimension stated by GM was identical to that of the first generation Opel Meriva. A small minivan/SUV crossover would have been an unusual move for the GMC brand and reports at the 2012 Detroit motor show said that there was no future for the Granite concept.
There have been reports out of the US that GM might introduce at least one new product smaller than the current Terrain. This may well be an SUV based on the Chevrolet Trax or Opel Crossland X.
GM has applied for an extension of its trademark of Graphyte as a vehicle name, it was discovered in January 2016. A GMC Graphyte could be a logical model to launch in North America, giving the division added reach at a time when interest in small SUVs remains on the rise. A release date of late 2018 is rumoured. Production would likely be either at Bupyeong in South Korea or at San Luis Potosí in Mexico.
The 4,630mm long Terrain is currently GMC's smallest model. The current generation of this SUV uses GM's Global Delta platform. Production commenced in May with the first deliveries to US dealers taking place a few weeks later. The 2018 Chevrolet Equinox is closely related to this vehicle.
The D2UG Terrain had its global debut at the Detroit auto show in January, new for North America's 2018 model year. There are three turbocharged engines: a 1.5- and 2.0-litre petrol/gasoline units and a 1.6-litre diesel. Model grades in the USA, the main market, are SL, SLE, SLT and Denali. The petrol engines are each linked to a standard nine-speed automatic gearbox.
There was a shock to the workforce in the town of Ingersoll when GM Canada announced that Terrain production would take place at San Luis Potosí in Mexico rather than at the CAMI plant in Ontario. The reason given was a planned expansion of Chevrolet Equinox build at the Canadian plant.
The Terrain should be facelifted in 2021 and replaced in 2026.
GMT177, a much older Terrain based on the Theta platform, is still sold in certain markets; mainly in the Middle East. This 4,707mm long SUV is a legacy of the era when General Motors sold two similarly sized models with this model name.
The just-replaced Terrain for North America was larger than the original SUV which had its global premiere at the Kuwait International Motor Show in November 2007. The shorter wheelbase (2,707mm) Terrain was launched in Middle Eastern markets one month after its motor show debut. Grille apart, this Terrain is identical to the Opel Antara which it was built alongside at GM Korea's Bupyeong plant.
GMC's North American dealers received the bigger, more aggressively-styled Terrain in October 2009 following that vehicle's premiere at the New York Auto Show six months previously. It was the effective replacement for the GMC Envoy.
Terrain production at the CAMI plant in Ontario started in August 2009. Suzuki ceased manufacturing its XL-7 at the facility to make way for the 2010 GMC Terrain. GM Canada then bought out Suzuki's 50% in the JV in December 2009.
The Terrain which is still sold outside North America in markets such as Kuwait, Saudi Arabia, Bahrain, Jordan and the UAE will soon be replaced by D2UG.
The Terrain which is still sold outside North America in markets such as Kuwait, Saudi Arabia, Bahrain, Jordan and the UAE will soon be replaced by D2UG. This is the model which has just gone on sale in North America.
A Canyon-based SUV is expected to be added to GMC's line-up in CY2020 or 2021. It would be a rival for the future Ford Bronco and use an evolution of GM's mid-size pick-up platform.
GMC's model range also includes a large crossover, the Acadia. The current generation model is not only shorter (4,917mm) than the previous one (5,101mm) but it is far lighter too. GM quotes the 2WD versions weighing from 1,794kg versus 2,112kg for the old model.
The 2017 Acadia was the first GM vehicle to use the C1XX architecture. This front- and/or all-wheel drive platform is mainly for crossovers and SUVs and was developed with several wheelbases in mind. The body structure incorporates press-hardened, high-strength steels, which allowed thinner components in some areas offering, so GM claims, comparable or better crash performance than conventional materials. They also help reduce the Acadia's base curb weight by 700 pounds (318 kg), compared to the previous model.
The big crossover is manufactured in Tennessee at the former Saturn plant, whereas the previous model was built at Lansing in Michigan. The 2017 Acadia premiered at the Detroit auto show in January 2016.
GM Holden is to gain a version of the Acadia from CY2018. Two years later, the GMC original should be facelifted, and then again in 2023, with the follow-up model due for release in 2026. This vehicle will be based on C2XX, a thorough update of C1XX.
The current generation of the Yukon, (model code: K2UG) a family of big SUVs, was revealed to the media in September 2013 and was new in early CY2014 for the 2015 model year. While the frame of these models was new, the wheelbases are identical to those of the previous generation models.
General Motors' 355hp 5.3-litre EcoTec3 V8 (L83) is standard, though the pricier Denali model grade brings with it a standard 420hp 6.2-litre EcoTec3 V8 (L86). Both engines originally came with a standard Hydra-Matic 6L80 six-speed automatic transmission. For the 2015 model year, the Denali and Denali XL gained GM's Hydra-Matic 8L90 eight-speed auto, in combination with the 6.2-litre engine.
The K2YG Yukon XL has an approximately 14-inch longer wheelbase and is approximately 20 inches longer overall, providing greater legroom for third-row passengers and almost twice the cargo room behind the third-row seat.
The Yukon and Yukon XL are the twins of the Chevrolet Tahoe and Suburban.
The 2018 Yukon Denali receives a facelift and a ten-speed automatic gearbox.
There were only minor changes for North America's 2016 model year. The same applied for the 2017 model year. The 2018 Denali was announced in May. As expected, it has had a facelift and gains a ten-speed automatic gearbox.
In common with GM's other large SUVs which are sold mainly in North America, the next Yukon series should be based on the T1XX architecture. There may also be PHEV variants, though this is not yet confirmed.
Pick-ups
The Canyon is a body-on-frame pick-up which is manufactured at GM's Wentzville plant in Missouri. The current generation was announced in September 2012, a teaser image showing part of its front end was revealed in August 2013 and the vehicle finally had its global debut at the Detroit auto show in January 2014.
New for North America's 2015 model year, the Canyon remains available with either rear- or four-wheel drive. Body styles include an extended cab and six-foot bed, crew cab with five-foot bed or crew cab with six-foot bed. The Denali model grade was added for the 2017 model year, premiering at November 2015's LA auto show. It went on sale in late 2016.
The standard engine is a 193hp 2.5-litre four-cylinder petrol unit, with a 302hp 3.6-litre V6 optional. A 2.8-litre four-cylinder turbo diesel Duramax engine became available during late 2015. This was part of the news for the 2016 model year line-up.
In April 2013, GM said the Canyon would offer 95% of the capability of some of its larger pick-ups but with better fuel economy. It would not be near-identical to the existing Chevrolet Colorado, either (as was the case with the previous generation Canyon and Colorado). That promise was fulfilled when the 2015 Canyon was revealed in January 2014: it looks quite different to the Chevrolet Colorado. In North American markets, both GM trucks are rivals for the Toyota Tacoma and Nissan Frontier.
A Canyon successor should be on sale in late 2021.
Production of the 2015 Canyon commenced in late 2014. The next change should be a facelift for the 2019 model year. A successor model should be on sale in late 2021 and this is likely to be based on an update of the frame platform which is used for the existing vehicle.
GMC's best seller is of course the Sierra, big brother to the Canyon. General Motors revealed the latest generation model plus its twin, the 2014 Chevrolet Silverado (Chevrolet Cheyenne in Mexico), to the media in December 2012. The public debut followed a month later at the Detroit auto show.
GM began building K2XG, the 2014 Sierra and Silverado/Cheyenne crew cabs, in May 2013. Build of other cab styles followed from late 2013. Engineering changes over the previous shape trucks include an aluminium hood, more high-strength steel in the body, a new frame, and electric power steering.
There are three engines, each of which is branded EcoTec3. The base unit is a 285hp 4.3-litre V6. There are also 355hp 5.3-litre and 376hp 6.2-litre V8s, part of GM's fifth generation small block family. A sole six-speed automatic gearbox originally featured but an eight-speed unit was new for 2015 model year 6.2-litre variants.
Crew cab customers, who represent more than 60 per cent of retail Sierra owners, can choose between two bed lengths: a 6-foot, 6-inch box is available in addition to the standard 5-foot, 8-inch box. Regular cabs continue to be available with the 6-foot, 6-inch or 8-foot box lengths, while the double cab comes exclusively with a 6-foot, 6-inch box.
Wheelbases are as follows:
Regular Cab with 6′ 6″ box: 119″ / 3,023mm
Regular Cab with 8′ box: 133″ / 3,378mm
Double Cab with 6′ 6″ box: 143.5″ / 3,645mm
Crew Cab with 5′ 8″ box: 143.5″ / 3,645mm
Crew Cab with 6′ 6″ box: 153″ / 3,886mm
The first 2014 GMC Sierras and Chevrolet Silverados were in US showrooms from July 2013.
The former Sierra & Silverado 1500 Hybrids were not replaced, due to low sales.
The 1500 Crew Cab is manufactured in Silao, Mexico and Flint, Michigan. The Regular Cab and Double Cab are manufactured at Fort Wayne, Indiana.
A facelifted Sierra 1500, along with equivalent changes for the Chevrolet Silverado, was announced by GM in July 2015. This was the 2016 model year truck. Its public debut was at September 2015's State Fair of Texas. The Denali Ultimate followed two months later, its debut being at the LA auto show. The 2016 Sierra Denali Ultimate went on sale in March 2016. The Sierra 1500 had only some minor changes for the 2017 model year.
General Motors is said to be developing an aluminium-bodied replacement for the GMC Sierra and Chevy Silverado twins.
General Motors is said to be developing an aluminium-bodied replacement for the GMC Sierra and Chevy Silverado twins. This would mean a short lifecycle (five years) for the current Silverado 1500 and Sierra 1500. Alcoa and Novelis are believed to have signed contracts with GM for the supply of aluminium sheets for the next pick-ups.
The 1500 Crew Cab should be manufactured in Silao, Mexico and Flint, Michigan. The Regular Cab and Double Cab should be manufactured at Fort Wayne, Indiana. T1XG, the 2020 Sierra 1500, is expected to be in US dealerships from October 2018 and to have a 7-8 year life cycle.
Given that the current (K2XG) Heavy Duty versions of the Sierra have only been available since CY2014, GM will likely keep these in production until 2021. As with previous generations of this full-sized pick-up family, the Sierra 2500HD & 3500HD are twinned with the Chevrolet Silverado 2500HD & 3500HD. GMC division however, has the unique Denali HD. All are built alongside one another at two plants and both model series were unveiled at the State Fair of Texas in September 2013.
These trucks, which went on sale in North American markets from the first quarter of 2014, feature what was claimed at the time of their introduction to be segment-leading capabilities across the range. This, GM, said, included the highest payload – 7,374 pounds – and the highest conventional trailering rating – 19,600 pounds.
A double-cab, which features forward-hinged rear doors, replaced the former extended cab, and allows easier access to the back seat, especially in tight parking spaces.
GM offers these trucks with the choice of a 397hp 6.6-litre Duramax turbo diesel or a 360hp 6.0-litre Vortec V8. A 6.0-litre bi-fuel V8, which can run on either gasoline or compressed natural gas, is available on regular-cab, crew-cab and double-cab Silverado 2500 and 3500 model variants. A version rated at 322 horsepower is standard on 3500s.
The transmission for the Duramax diesel is an Allison 1000 six-speed automatic, while other engines come with GM's Hydra-Matic 6L90 six-speed automatic.
There are five wheelbases:
Regular Cab Long Box – 133.5″ / 3,393mm
Double Cab Standard Box – 144.1″ / 3,662mm
Crew Cab Standard Box -153.7″ / 3,904mm
Double Cab Long Box – 158.1″ / 4,017mm
Crew Cab Long Box – 167.6″ / 4,259mm.
A facelift for the 2019 model year should keep the Heavy Duty Sierras looking fresh until the arrival of their K1XG replacements in 2021.
There were only minor changes for the 2016 model year. The main news for the 2017 model year was revisions to the Duramax diesel.
The next main news should be a facelift for the 2019 model year, which will keep the Heavy Duty Sierras looking fresh until the arrival of their K1XG replacements in 2021. These should use an adapted version of the T1XX architecture, with the trucks' beds likely to be steel instead of aluminium, which is what Ford does with the F-150 and Super Duty versions of its T3 aluminium architecture.
Minivan
The Savana is a full-sized van and passenger van which has been in production for more than 15 years. It is built alongside the almost identical Chevrolet Express. Each of these vehicles comes with either three or four doors and can seat up to 15 passengers. The base engine is a 195hp 4.3-litre V6, with a 4.8-litre V8, a 5.3-litre V8 and a 300hp 6.0-litre V8 also available, as well as a 6.6-litre diesel V8.
The Savana had been due to be replaced as long ago as 2009, by GMT620, a twin of the next Chevy Express. GM's bankruptcy and the resultant refocus of engineering resources into other projects is apparently the reason why the replacements are yet to appear.
The next Savana is expected to be launched for North America's 2019 model year. It should be based on T1XX, the same body-on-frame architecture that GM's next big pick-ups and SUVs such as the GMC Sierra and Yukon will use.
Future model plan reports for other manufacturers can be viewed in the OEM product strategy summaries section of just-auto.com.
Future product program intelligence
Additional data on vehicle lifetime and future product plans, such as code names, production plants and expected annual build, are available in PLDB from QUBE.