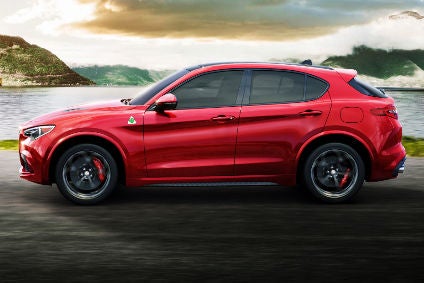 FCA is the latest OEM to have its current and future models put under the microscope for examination. The first brand in this series is Alfa Romeo. Features on Maserati; Ferrari; Lancia; Fiat & Abarth; Chrysler, Dodge & RAM; and Jeep, will follow over the coming weeks.
B segment (Sub-compact)
A Fiat Punto-based hatchback replaced the three-door Alfa 147 more than eight years ago. Build at what was then Fiat Auto's Mirafiori plant started in June 2008. Originally MiTo but since changed to Mito, the model name is a contraction of Milano and Torino: Alfa Romeo and Fiat's home cities.
A five-door car would be launched in 2013 and also exported to North America, Fiat Group stated in April 2010. Yet like the Giulietta estate and so many other models, that car never made production. Had it done, Alfa's overall volumes could have been significantly higher. The success of the Audi A1 Sportback proves that point.
Fiat left the Mito on the market without a styling refresh for more than five years. The first facelift premiered at the 2013 Frankfurt IAA, and there was a second round of again minor changes earlier in 2016. After a debut at the Geneva show, the latest Mito went on sale during the second quarter.
Production of Alfa's only B segment model is scheduled to end in May 2017. For reasons unknown, FCA is not expected to replace this car.
C segment (Compact)
The 4.35m long Giulietta, which was meant to be a high volume rival for the Audi A3 Sportback, has never lived up to the ambitions which the former Fiat Group had for it. At launch in 2010 it was the first vehicle on Fiat's C-Evoluzione platform, also known as 'Compact'.
The car's architecture is a development of a components set first seen in the Fiat Stilo. It was heavily modified with new front and rear suspension systems and is also distinguished by being compatible with all-wheel drive applications (though the Giulietta is front-drive only). A Giulietta wagon had been expected to be launched in 2013 but that project was cancelled.
A slightly updated Giulietta premiered at the Frankfurt motor show in September 2013. Another minor facelift had its public debut at the Geneva motor show in March (2016). Production is likely to end in late 2017. The car is built at Cassino. This plant had looked doomed but it was given a reprieve with the installation of a new line building rear- and all-wheel drive Alfas. More on these below.
At May 2014's FCA Investors' Briefing, two 'Compact' models were listed as being due for launch in '2016-2018'. It is expected that these cars will attempt to be rivals for the BMW 1 Series five-door and Mercedes-Benz CLA-Class sedan.
Often, statements of future model plans to the media and financial analysts by Sergio Marchionne and his heads of divisions, change. One of multiple examples is the roadster for Alfa Romeo which instead became a Fiat. And then also an Abarth. There now appear to be no plans for an Alfa roadster.
Presuming that the Giulietta replacement is still under development in the forms which FCA has previously announced, the five-door hatchback should be released at the end of 2017 or in early 2018, around eight weeks after Giulietta production ends. If it is based on the RWD/AWD Giorgio architecture, the most logical place to build the new hatchback would be at Cassino. This should be on the same line as the Giulia sedan, Stelvio and by then, Giulia estate. A crossover derived from the last of these might also be launched as a low volume model to sell against the Audi A4 allroad (see below).
The sedan, which might revive the Alfetta model name, should also be made at the Italian plant, following in mid-2018. Its theoretical best markets would be the USA and China, two countries where the Audi A3 Sedan and S3 Sedan do well.
Germany would be a logical third significant place where the Alfetta could find success, but the Alfa brand is extremely weak there even if it is improving. A 79% surge in October from a very low base saw Alfa selling 380 cars, the majority of which were the Giulia. Year-to date, brand sales are 3,419 units, giving Alfa Romeo a sobering 31st position which places it behind even DS, a brand which is in freefall.
Jaguar, another serial under-performer in Europe's largest market, is now selling twice as many vehicles as Alfa (712 in October and 7,422 YtD). So perhaps there might be hope, should FCA deliver on its promises of more models with first class driving dynamics.
A forthcoming Giulia estate also shows that the group intends to take the German market more seriously than Jaguar is allowed to. JLR, which spent a fortune on the beautiful but sadly rare F-TYPE inexplicably decided that it would not fund the development of a car which could actually make money and sell in good numbers: the XE Sportbrake.
D segment (Mid-size)
A replacement for the Alfa 159 – discontinued in early 2011 – took more than five years to enter production. Yet, even though it is coming, still there is no wagon version of the Giulia. This is an incredible state of affairs when the brand needs to show it is relevant in Germany, one of the world's largest markets for D segment cars.
As mentioned above, the sedan is doing OK in Germany but the forthcoming Giulia wagon will (eventually) give it a shot at what is 90% of the D segment there, as proved by how well the Octavia Combi, Passat Variant, 3 Series Touring, A4 Avant and C-Class Estate sell.
Alfa's wagon is expected to be revealed at Geneva and enter production in the second half of the year. Adding it to the Giulia and Stelvio line when the new SUV is still ramping up would be unwise for quality reasons. Which is why even though FCA knows many of its European dealers would have wanted the Giulia wagon ahead of the Stelvio, the higher margin SUV right now has priority at Cassino.
Alfa's only sedan has received good reviews from the media for its dynamics and it is selling well in some countries. In the Italian market, Alfa Romeo surged by 32% to 2,982 vehicles in October, overtaking Dacia in the process but that was not due to the Giulia. Even though the first cars were delivered to Italian customers in June, the model is yet to make a strong sales impression at home.
More than two thirds of the 30,078 Alfas delivered to buyers in Italy during the first ten months were Giuliettas. In October, this was also the only Alfa to make the top 50 best sellers' list and the Passat, in position 42, was the sole D segment model. So why then was the Giulia developed and launched ahead of potentially much bigger sellers such as the Stelvio and successors for the Mito and Giulietta? Why indeed.
Alfa has a long, long way to travel before it can be thought of as being a competitor to the German Big three, Volvo, Land Rover and even Jaguar, and that's just in Europe. Putting those 30,000 cars sold to Italian buyers in perspective, Mercedes-Benz sells three times that number across the region every month.
There is a mountain to climb, but as Audi was determined to steadily prove, the underdog can eventually grow even bigger than the ones who used to bark the loudest. That takes decades though.
FCA's John Elkann knows that it is going to take a great deal of time, money and commitment to turn Alfa Romeo into a credible alternative to the far richer and better established big guys. Yes, FCA's debt burden is enormous and analysts need to be fed regular updates on how margins might be lifted but Sergio Marchionne must be allowed to give Alfa Romeo (and all other brands) a long-term realistic business plan. Plus there can be no backsliding on those billions of euro that have been promised for fresh models and upgraded factories.
The days of launching cars, then forgetting about them for years and years before eventually blaming 'market headwinds' and other such nonsense for them almost vanishing from monthly sales charts must end. Ever seen a 4C? It's a wonderful little car but no-one knows about it. Which means it will likely be tragically doomed for a couple of other reasons to be pointed out below.
The Giulia then, is FCA's latest chance to show it is serious about Alfa Romeo. The car is clearly a more than good enough first, firm step on what will have to be an epic journey. A lot of money has been earmarked for Alfa Romeo. The new D segment sedan's platform as well as retooling the plant which builds this model were not minor investments.
FCA US told the media at November 2015's LA auto show that the Giulia Quadriofoglio would be "arriving" there in the summer for the 2017 model year. There is also a 276hp 2.0-litre MultiAir2 engine in North America with the choice of rear- or all-wheel drive. The Quadrifoglio was offered first, priced from US$70,000.
Only six months ago, Alfa Romeo's now former CEO Harald Wester told the media the car would be in US dealerships in September or October and that annual sales could reach 100,000+ in 2018 or 2019. Of that total, European and North American deliveries are expected to comprise a combined 70%.
The sobering reality is that in October, and according to FCA's own data, exactly zero Giulias were sold to US buyers. Even though there were press releases issued about the car on 28 October and 14 November, neither stated when the "all-new Giulia premium mid-size sedan" would be in dealerships. As at 28 November, this situation has not changed.
At least the US retail network is ready to go, with 21 outlets in the most populous state showing up on alfaromeousa.com. New CEO Reid Bigland spoke of an eventual several hundred showrooms nationwide at the recent LA show.
The late arrival of the Giulia in the USA is as disappointing as the releases you can also find on FCA US' media website which talk about the Jeep Compass. Trouble is, these have details of the outgoing model AND the next shape, each one called 2017 Compass. These might seem trivial things but FCA must hold its brands to the same standards as the best: Audi, BMW, Mercedes-Benz, Lexus, Infiniti. And give them the appropriate level of funds to get everything to a certain level of excellence.
Under-promising and over-delivering would be such a welcome break from a long legacy of Fiat, Chrysler and FCA tradition that the company's own staff, plus the media, dealers, and potential customers would see that this is business which deserves to be looked at with fresh eyes.
As Alfa Romeo has not been a competitive brand in the D segment since the early years of the 156 way back in the 1990s, the Giulia is expected to be built in only modest numbers. Despite what Sergio Marchionne and Harald Wester have told analysts, Giulia build will probably be at an even lower level than the similarly sized Jaguar XE. At least until the wagon is added.
Reid Bigland, who is also now the CEO of Maserati, has inherited responsibility for two marques which need strong support and nurturing, not FCA's business as usual stop-start-stop track record.
E segment (Executive / Large)
Six years ago this month, Sergio Marchionne stated that previously undisclosed plans for a large sedan to succeed the long-discontinued 166 were subject to change: the car supposedly needed more work on its styling. No project name was stated, nor were any firm details given.
Of news since then on a BMW 5 Series-style car, there has been none. This is not surprisingly, since Alfa Romeo's historic performance in this segment has been consistently disastrous in terms of sales (Alfa6, Alfa 90, 164, 166). Not to mention, the brand has no permission from China's Communist Party to build any vehicles in the world's largest market for E segment sedans.
A LWB car to challenge the Audi A6 L and rivals might eventually appear in the People's Republic but this is unlikely before 2020, given the other models which must be launched first.
FCA also needs to fix the major problems it has with the Fiat brand in China. Neither of the two cars which it produces locally made it onto the list of the 100 most popular models in October. Top 200 then? No. Top 300? Sadly not. The Viaggio was in 325th place with 405 deliveries, down 76% and 6,383 for the year to date. How about the Ottimo? Just 220 sold and 4,534 during the first ten months. The state of FCA's Chinese JVs will be explored more fully in the Fiat and Jeep features to be published during the coming weeks.
In short, the Fiat brand has failed in China and really, it needs to be withdrawn and replaced by something with a better image and potentially far higher margins. That would cost a lot of money, yet if done properly, this could really set Alfa Romeo up for a bright future. An SUV would be a better place to start than a big sedan, though.
Reid Bigland has not ruled out a future large four-door car but when asked about such a model at the LA show, he sensibly down-played the idea. Alfa Romeo has many other more urgent priorities than trying to take on the German brands in this segment. Lexus (GS), Infiniti (Q70 & L) and Jaguar (XF & L) have only limited success, while the Volvo S80 and S80 L didn't make much of an impression in the US, China, Europe or anywhere else. It is too early to say if the S90 can change that situation for its maker.
Reflecting on just how tough the Executive/Large sedan and wagon segment is for brands other than Audi, BMW and Mercedes, perhaps it might be better for FCA to leave Maserati's Ghibli unchallenged as the Group's sole entry in this class. Its sales might not be in the tens of thousands, but at least the car is able to command high prices.
Crossovers & SUVs
A compact SUV sized midway between the Audi Q3 and Q5 had been planned but the project is now said to have been either delayed or cancelled. This model would have been co-developed alongside the Jeep Compass and built in either Mexico or Brazil.
A business case can still be made for an Alfa C-SUV but FCA's priorities for Alfa Romeo at the moment centre on rear- and all-wheel drive models. Vehicles based on the CUSW platform do not appear to be something which the company wants for Alfa Romeo. Why this should be the case when few buyers even know which axle is sending the majority of their car's power to the road, is a mystery.
The world's most successful premium brand has only one RWD car, the R8, in its vast range of models, while BMW's best seller in Germany is the front-wheel drive 2 Series. FCA appears to have overlooked these facts in its zeal to embrace the apparent 'purity' of rear-drive vehicles. That the FWD Mito and Giulietta are such weak sellers is due almost entirely to their age and lack of development – where were the additional engines, sports variants and bodystyles which could have kept these cars selling briskly?
There is a chance that a Giulia crossover based on the wagon will be released in 2018. As noted above, this is FCA seeing if there could be a small amount of potential volume in a mini-segment mainly occupied by the Audi A4 allroad. It would also mean that the estate might be available in the USA, which it would otherwise not be. Expect raised suspension, roof rails, plastic extensions over the wheel arches and bespoke bumpers with pretend bash-plates.
Project 949, the new Stelvio SUV, which will become available in 2017, had a tortured development history. According to a Fiat Group media presentation in April 2010, a BMW X1 rival was to be built in North America by the Chrysler Group from 2012. Seven months later Fiat stated that a new crossover for Alfa Romeo to rival the Audi Q5 would be built at its Mirafiori plant in Italy alongside the replacement for the Jeep Compass and Patriot.
There were further changes for this project in October 2011 when Fiat SpA told analysts that Alfa Romeo's SUV and its twin, the Jeep C-SUV project, would be manufactured in North America, not at Mirafiori. An expected launch date of 2013 was aired. This was at the time when the car would have been based on a front- and all-wheel drive platform.
In December 2014, suppliers reported that 949 would not enter production until late 2016. Cassino, the FCA plant which will make Alfa's first SUV, is located some 130km southeast of Rome. There was new information on the Stelvio following the Paris motor show in September 2016. FCA executives reportedly stated that the model will not now be available until mid-2017. It has been confirmed by the UK importer that RHD cars for this market are not due until the second half of next year.
The vehicle and its name were finally revealed at the LA auto show in mid-November, as was its size. As expected, it shares the rear- and all-wheel drive Giorgio architecture with the Giulia. It is slightly shorter than the Porsche Macan and at 216cm it is incredibly wide, possibly too wide for Europe (this is assumed to be with mirrors).
As well as the 2.9-litre Ferrari-derived biturbo petrol V6, Alfa Romeo has confirmed one other engine: a 280hp 2.0-litre four-cylinder petrol turbo. Both will be a linked to a ZF eight-speed automatic transmission. Several versions of a 2.2-litre diesel are expected for European countries and other markets. While the Stelvio Quadrifoglio shares its engine with the Giulia Quadrifoglio, there is one major difference: the sedan has rear-wheel drive. However, the Stelvio four-leaf clover is mostly rear-wheel drive but drive is sent to the front axle when slippage is detected.
While Alfa Romeo executives have spoken of their SUV having better handling than the Macan, the main rival will be the Jaguar F-PACE. This is due to it not only being a similarly sized 4×4, but one from what to several generations of buyers will be a more or less unknown brand. It might be way too early to associate the Stelvio with the hugely successful Macan but the fact that the F-PACE has recently become Jaguar's best seller should be welcome news for FCA.
Speaking at the Frankfurt motor show in September 2011, Sergio Marchionne told the media that a large SUV for Alfa Romeo was in the planning stages. As per the Ferrari V8-powered car which eventually became the Levante, the Alfa would have been derived from the Jeep Grand Cherokee. Since then, the Maserati became bigger and changed platforms but kept the Ferrari engine. Sort of – the V8 became a V6. It finally reached production earlier in 2016.
The 5,003mm long Levante was developed to take on the Porsche Cayenne's now former domination of its segment and early sales are promising, so the many delays and rethinks may yet prove worthwhile. Will Alfa Romeo be given a similarly sized SUV? At the moment, the answer is yes but such a vehicle's path to production has been, to be polite, confusing.
In November 2010, Fiat Group CEO Sergio Marchionne appeared to contradict his own future model plan document that had been publicly shared with analysts earlier in the year. He stated that a new, big SUV for Alfa Romeo was likely to be based upon the Jeep Grand Cherokee and built alongside that model in the USA. Previously, Alfa's large 4×4 was said to be under development on Fiat's D-Evoluzione platform and not due for launch until 2014.
Harald Wester, the then CEO of Alfa Romeo, reportedly told analysts at a conference in Frankfurt in September 2011 that the large SUV had been cancelled. However, a large 'SUV' was listed on a slide showing basic details of future models for Alfa Romeo at FCA's Investors' Briefing in May 2014.
At the moment, the project is officially revived: a production model will appear in 2017 or later, FCA announced at a press conference in January 2016. It could well be that this model ends up being closely related to the Maserati Levante. Should that be the case, it would not then use the Giorgio architecture.
As Maserati's new SUV is almost identical in size to the Porsche Cayenne, Alfa's model should also be about five metres in length. As for the name, this seems guaranteed to be an Italian word with links to either motorsport or a place associated with roads which appeal to enthusiast drivers. FCA was careful to do this for Alfa's first SUV. Perhaps its big brother will be called 'Dolomiti'. That would be in reference to the Grande Strada delle Dolomiti, a spectacular road with views of those mountains.
If FCA is using the Quattroporte/Ghibli platform to develop the Dolomiti, that would mean a big Alfa SUV could be in production at Mirafiori on the same line as the same size Maserati Levante as soon as 2019.
Roadsters
In theory, the 4C has it all: good looks (after the original headlights were restyled), fantastic handling and roadholding, great acceleration and a rev-happy engine which makes great noises. In practice, the car is ridiculously expensive ($54-68,000 in the USA and £51-66,000 in Britain), cramped and difficult for many potential owners to get in and out of. Along with the Lotus Exige 380, it is also one of the few vehicles on the market which does not have power steering. That's great for Sunday mornings on empty country roads but not exactly ideal in the city traffic conditions where most test drives have to take place.
This sub-4m long but 2m wide mid-engined coupe entered initial production in mid-2013, its lightweight chassis being outsourced to Adler Plastic. However, its release in North America was delayed until 2014 and RHD build did not get underway until the fourth quarter of that year. These mistakes, plus the issue of pricing meant that many buyers in the two potentially strong markets of the USA and the UK lost interest in having to wait so long and bought something else. There is also the fact that the car for North America has an extra 100kg of weight, though it is still commendably light.
The US-spec car has aluminium inserts within the carbon fibre chassis. Federal regulations meant a modified structure was needed to absorb different impact forces. The monocoque and the front and rear frames are different, the suspension is reinforced and suspension tuning is bespoke.
In an attempt to redress disappointing sales, a targa bodystyle became available in 2015. The 4C Spider has a removable canvas top held in place by folding carbon fibre bars. Unlike the canvas roof, an optional carbon removable hardtop is too big to be stored in the boot. As with pricing, ease of driving, and accessibility, this is a basic error which Porsche avoided by giving the far cheaper Boxster a no-hassles electric soft top.
FCA US has just slashed Fiat prices for the 2017 model year as it tries to revive collapsed sales. It will surely soon drop prices and add less powerful variants for the 4C in the coming year in an attempt to make the car better meet its sales expectations. Fiat Chrysler had hoped to sell 25,000 cars worldwide over a seven-year lifecycle but this was wildly optimistic.
Year to date deliveries of the 4C in the USA number only 441. In October, just 23 cars were sold, down from 58 in the same month of the previous year. Even the Dodge Viper, which was axed for being a poor performer, outsells the 4C. Looking on the bright side for savvy collectors, the little Alfa positively screams future classic, given its rarity and likelihood of having its lifecycle cut short.
The project to develop a second sports car may yet be started afresh, but at the moment, the business case does not look convincing, especially given the failure of the 4C. The theoretical 6C would be evolved from the future Maserati Alfieri, a car which is due in 2019/2020. The Alfa would have its own engine(s) and be more expensive. Production volumes would likely be in the low thousands per annum with build potentially commencing in 2021 or 2022.
A better idea than replacing the 4C with another way too expensive Lotus Elise-style model would be to come up with a follow up to the breathtaking (to look at and to hear) 8C. Just as the NSX is now giving Acura a much needed halo effect in the same way that the LFA did for Lexus, Alfa could really do with a proper supercar. Using the next Maserati GranTurismo and GranCabrio as the basis makes a lot of sense. That way the new 8C could be on the market by 2019 with numbers limited to a few hundred a year and pricing at around the 200,000 euro level. 'Alfa Romeo, by Ferrari' on the engine cover of a V8 would guarantee a sky-high price.
EVs? PHEVs? Fuel cell vehicles?
FCA has no official plans for any electric or plug-in hybrid Alfas and the company has been very public about its lack of enthusiasm for models powered by hydrogen. R&D for the latter isn't cheap and while Fiat Chrysler continues to be saddled with a large amount of debt, don't expect to see any money going into fuel cells. How can Alfa Romeo be a serious player in the premium segment without EVs and PHEVs though? In short, it can't.
Once the full range of combustion engines for the sedan and wagon have been rolled out, Alfa will likely offer a Giulia PHEV sedan in limited numbers, mainly for California. A fully electric model will have to wait for the release of the Giulietta successors, which as noted above, should be a hatchback and a sedan. The five-door car – let's call it Giulietta-e – would be sold mostly in Nordic markets plus the Netherlands, France and the UK. By the time it goes on sale (2019), Germany too might be a country where EVs could become modestly popular. The sedan, which could be called Alfetta-e, could potentially be a success in the USA.
Whatever happened to 400,000 cars a year by 2018?
FCA had until recently tasked Alfa Romeo with selling 400,000 cars worldwide by 2018. There is no chance of this being achieved. If the stated spending on additional vehicles goes ahead between now and 2020, perhaps half a million cars a year is possible but not until 2024 or 2025. You can't get to 400,000 a year within 26 months when you're selling barely a tenth of that number in your best market (Italy) in 2016.
Let's look at how Alfa Romeo is doing in the world's largest markets. A mere 441 cars have been sold in the USA this year (1 Jan-31 Oct). Russia is said to be in a state of collapse and judging by Alfa's year-to-date tally of 83 cars, that seems to be true. So how has Mercedes-Benz managed to deliver 31,000 vehicles during the same period?
Germany isn't too bad, with 3,419 vehicles delivered but that's about a tenth of the number sold there by Volvo in the same period. The British market is up, yet Alfa is down with only 4,265 registrations and Mazda UK, which has no European factories, managed 41,977 deliveries in the same period. Japan? 1,473. India? None: the brand does not exist there. How about China, where 22 million passenger vehicles found buyers in the year to the end of October? No, it doesn't exist there either, plus few people have even heard of it.
The point of the above numbers is not to humiliate FCA but to show what happens when a once great marque is starved of new models. The Giulia is clearly not the car which Alfa Romeo most needs, just as the F-TYPE was a strange vehicle to be spending money on when Jaguar was close to becoming a failed brand.
In a perfect world, an SUV to challenge the Volvo XC60 and Audi Q5 as well as a new Giulietta should have come before an Alfa D segment saloon. FCA, however, wanted a RWD sports saloon, so that is all that Alfa has to work with as it tries to become relevant. Next year is going to be very tough for European dealerships but if the Stelvio is launched in the second half of 2017, things should begin to really improve.
If, if, if
With a little bit of luck, by the end of 2018, perhaps 100,000-150,000 sales a year for Alfa Romeo might be possible. That could be a tipping point if by then FCA has begun to leverage its relationship with Tata Motors to have Alfas assembled in India. It also needs to find a way to convince the authorities in China to let it enter a JV for local production. That's when solid foundations for an eventual half a million plus vehicles a year will have been laid. As ever with FCA's brands, there are a lot of ifs.
Future model plan reports for other manufacturers can be viewed in the OEM product strategy summaries section of just-auto.com.
Future product program intelligence
More data on vehicle lifetime and future product plans is available in PLDB from QUBE.