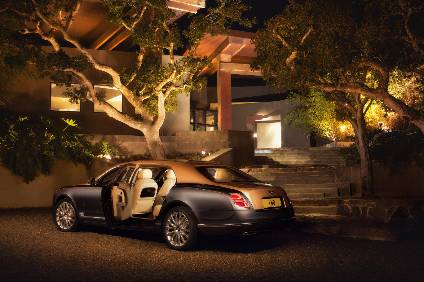 I have tried typing from the back seat of a car on quite a few occasions (needs must and all that) and it's not much fun. The laptop – quite literally doing its job – is precariously balanced and my eyes and fingers have more than a little difficulty coordinating, to put it mildly. Mobile hotspot for Internet access can also be a bit hit and miss according to the strength of the cellular phone network signal. And then there's that slight feeling of motion sickness that can come on unannounced.
I was intrigued, then, by Bentley's proposal to create a 'luxury automotive office and entertainment space' on board its vehicles. I guess being in a big Bentley with comfortable seats is a good starting point. On-board super-fast WiFi also sounds pretty good. I look forward to giving it a try.
Bentley introduces 'advanced connectivity'
And if my stomach is a bit queasy, Jaguar Land Rover's engineers have been working on a solution. As we spend less time driving, there's clearly going to be a need to give more consideration to the time spent inside the vehicle and the 'wellness' of the occupants. We've an algorithm for that.
Future JLR vehicles to detect motion sickness
It is certainly going to be an interesting journey for the whole industry on the way to the CASE visions. The OEMs are very keen to work with partners outside of their usual space; it perhaps shows that they are properly serious and not silo-ed in traditional ways of working. Baidu in China looks like a good partner to have, of course. Internet company in China, so boxes are being ticked. And Ford was keen this week to point out that it is working with Baidu. Shortly after that, Volvo Cars announced that it is too, and more or less said it's working way deeper with Baidu than anyone else, so take that Dearborn! Get ready for more Baidu-OEM announcements.
Ford and Baidu announce joint autonomous vehicle testing
Volvo Cars and Baidu team up on e-SAVs
We have also had a week of results, some of which stood out. Volkswagen has hit some choppy waters, WLTP issues in Europe on top of dieselgate costs. JLR is also having a tough time but already has plans in place to turn things round. On the upside, General Motors continues to benefit from a strong performance in the US (but be warned on the US market outlook, interest rates are picking up).
Ford added an EcoBoost engine at its Bridgend (UK; south Wales) plant and there are reports that unavoidable future excess capacity there is being eyed by a company that sees a gap in the market for a Defender-style utility vehicle. I really hope something works out for the Bridgend workers.
Will Bridgend plant build a new SUV for Ineos?
Still on Ford, boron steel is being used on new Focus for added strength. If you have time, I recommend clicking on the video clip in the article. I suspect a few people involved in that production really enjoyed themselves.
'Hot-forming' boosts Ford Focus body strength
Have a good weekend.
Dave Leggett,
Editor, just-auto