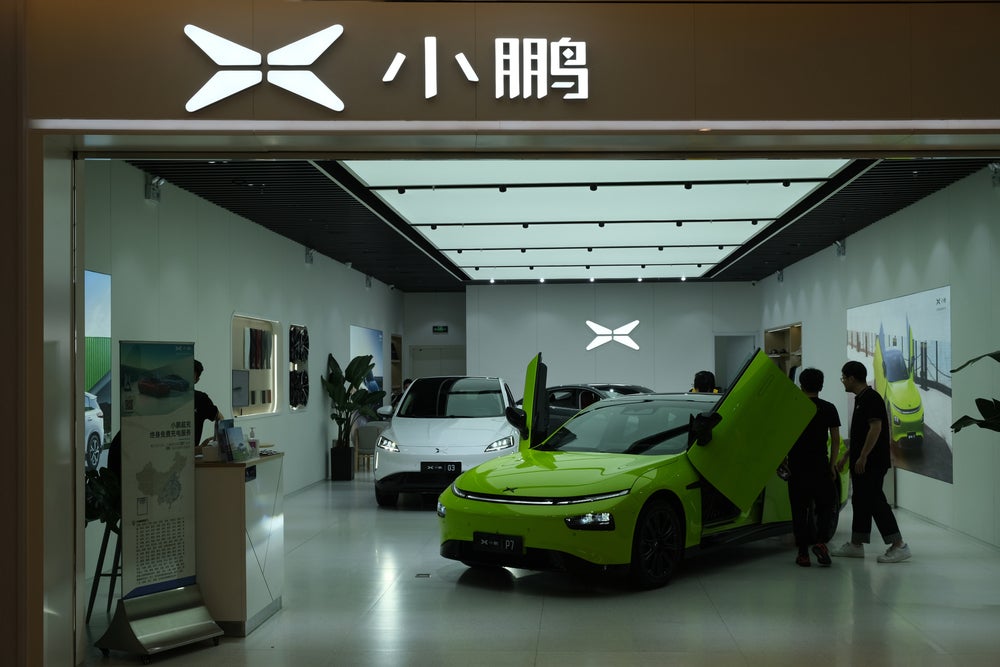 Chinese electric vehicle (EV) maker, XPeng, will soon deliver half its output to countries outside China, vice president and chairman Brian Gu has said. He added that the company would start exporting cars to Denmark, Sweden and the Netherlands in 2022. "As a company that focuses on global opportunities, we want to be balanced with our contribution of delivery – half from China, half from outside China – in the long run," Gu said in an interview with CNBC. The Guangzhou-based company – with a dual listing in New York and Hong Kong – is often described as famous US-based EV maker Tesla's main rival. Tesla recently disclosed that China accounted for roughly 23% of its overall sales, up from 20% a year ago. Tesla, of course, already has a large international customer base, with over 50% of its total sales being outside the US, according to its third-quarter results. Gu did not specify a timeline for XPeng's foreign expansion plans. In December of 2020, the Chinese EV manufacturer began shipping cars to Norway. It is not alone: US-listed Chinese car brand Nio recently opened a flagship store in Oslo. Another Chinese automotive giant, BYD, said it aimed to deliver 1,500 EVs to Norway by the end of the year. Chinese companies are clearly interested in the Nordic country, most likely due to strong governmental support for EVs there.
Volvo Cars is currently riding a wave of renewed confidence and needs more production capacity in Europe. Since it was taken over by China's Geely in 2010, it has gone from strength to strength, with a brand new platform and engine range powering its desirable range of vehicles spearheaded by the new XC90 SUV, which launched in 2015. The company's much-needed refresh has seen sales figures soar over the last decade, with sales in 2019 cresting 700,000 units – more than double the figure for 2009. Increased demand for the company's vehicles has put its production network under strain as it races to build enough cars to satisfy newfound customer demand. This is especially noticeable in its traditional home markets in Europe, which are served by cars built at the company's factories in Ghent, Belgium and Gothenburg, Sweden. GlobalData's light vehicle production forecasts show that these factories are predicted to be operating at close to 100% capacity within the next three years – equating to a total capacity of 570,000 units. If mitigating measures are not taken to alleviate the pressure on Volvo's European factories, their output may even stray above their theoretical maximum capacities. This context makes it easier to understand why Volvo Cars is reportedly planning to open a new European factory, according to an interview with the company's CFO Bjorn Annwall in Automobilwoche. The company has given no further indicators about the factory's location or timeline other than to establish it will be in Europe. While some European OEMs have been moving their production networks towards the east of the continent to countries such as Slovakia, the Czech Republic and Hungary to take advantage of their lower labor costs, Volvo might opt to keep its third European factory closer to home. GlobalData's capacity utilization forecast shows that both Gothenburg and Ghent are expected to reach 100% utilization within three years – potentially as early as next year for Sweden, with Belgium forecast to crest the 100% figure in 2024. This underscores Volvo's need for more localised European capacity.
Many Chinese companies entering the EV space have a background in automotive or adjacent industries, but debt-laden real-estate giant Evergrande is an exception.
Will Evergrande ever crack the EV game? China has established itself as both the largest market for electric vehicles, and the largest EV producer thanks to the legions of EV and battery companies that have sprung up to take advantage of growing sales. While many Chinese companies entering the space have a background in automotive or adjacent industries, Evergrande stands as something of an exception. It is primarily a real-estate developer – the second largest in China by sales – but it has a range of business interests including tourism, sports, entertainment and healthcare. In late 2018, the company made its first foray into the automotive world when it bought the struggling premium EV startup Faraday Future which sprang up in 2014 and eventually revealed its FF91 concept car. The luxurious part-estate-part-SUV was said to offer 1,000hp from its electric drivetrain, a 200mph top speed, autonomous functions, and a range in excess of 300 miles – figures that would comfortably beat its main rival, the Tesla Model S, at the time. However, as the costs of finalising the car's design and tooling up for production mounted, concerns over Faraday Future's viability began to grow. Evergrande's offer of help came at the end of 2017 in the form of a $2 billion investment over three years, with $800 million up front. This would buy Evergrande a 45% portion of Faraday Future and set up the company to launch production and sales in China as well as North America. However, the relationship between investor and startup quickly soured with the two litigating against each other for alleged contractual failures. After the reputations of both companies were damaged by the disagreement, Evergrande agreed to restructure its Faraday Future investment, paring its ownership back to 32%, in return for complete control of the business in China. Faraday Future has yet to begin producing the FF91 but is targeting July 2022 for first deliveries, although progress may be hampered by the impact of a short-seller's report in October 2021 which accused the company of faking vehicle reservations. With the Faraday Future tie-up mostly resulting in failure, Evergrande's next move was to acquire a stake in Sweden's NEVS – the company that bought Saab's assets after the historic Swedish automaker went out of business in 2012.
October was a challenging month for Europe's automotive industry, as total registrations decreased by 30% to 790,652 units caused by the continued impact of shortages of new cars at dealerships. Felipe Munoz, global analyst at JATO Dynamics, said: "The shortage of semiconductors is proving to be as severe as the COVID lockdowns of last year. We have seen factories shut down across the continent and, at present, the industry is struggling to find a solution to the supply chain crisis." Nonetheless, year to date total volume for Europe's 26 markets was higher than in 2020, up by 2.6% to 9.85m units but the rise in September was 7%. The shortages are also having a direct impact on sales leadership across the European market. October was the second time, this century, that Volkswagen Group fell out of the leadership position for monthly registrations ranking by OEM. This was the first time since its formation earlier this year, that Stellantis had outsold the German manufacturer. In October, VW recorded a 42% decline in volume, with double digit drops in all countries except Ireland. Its compact and midsize cars were the most severely affected segments.
The Dana TM4 joint venture said it was establishing a new factory in Amal, Sweden that would initially produce electric motors for EVs. The US$50m operation had received $10.7m in support from the Swedish business development community. This new operation would be the supplier's largest of such factories in Europe. With more than half of its three year new business backlog coming from e-propulsion products, the company was increasing its capacity to deliver electric components and systems in the region. These would be used in all types of vehicles including heavy duty trucks to large construction equipment. "Sweden is a leader in renewable energy, with 98% of energy production being fossil free, which enables us to build our products using a more sustainable footprint," said Antonio Valencia, president of Dana Power Technologies and Global Electrification. The factory was expected to open late in 2022 and would produce a range of TM4 Motive high speed electric motors for vehicles which would begin production in the first half of 2023.
Nissan says it is to accelerate its electrification plans with an investment of 2 trillion yen over the next five years. It has also put a plan in place for solid-state batteries later this decade that it claims will improve EV efficiency and lower costs for cost parity with ICEs. Under 'Nissan Ambition 2030' the company aims to be carbon neutral across the life cycle of its products by fiscal year 2050. Nissan says the investment will bring the 23 new electrified models, including 15 new EVs by fiscal year 2030 aiming for an electrification mix of more than 50% globally across the Nissan and Infiniti brands. Nissan CEO Makoto Uchida said: "The role of companies to address societal needs is increasingly heightened. With Nissan Ambition 2030, we will drive the new age of electrification, advance technologies to reduce carbon footprint and pursue new business opportunities. We want to transform Nissan to become a sustainable company that is truly needed by customers and society." Nissan intends to increase its electrification sales mix across major markets by fiscal year 2026.
Baidu's fully consolidated non-GAAP operating income dropped by 38% year-on-year in the third quarter, but analysts point to strength for the company in its shift to automotive applications for artificial intelligence (AI). Emilio Campa, analyst in the Thematic Team at GlobalData, highlights Baidu's new strategic alignment with Beijing's priorities. "Baidu is a strong player in both artificial intelligence (AI) and autonomous vehicles themes – scoring five and five, respectively, in GlobalData's automotive thematic scorecard," she says. "Further, these themes are integral to Beijing's global strategy, which gives Baidu an additional advantage, and effectively maximises on its already strong position. "Baidu ranks only second to Tesla in GlobalData's automotive thematic scorecard, in which 75 companies are scored against the ten biggest 'themes' impacting the sector. The company scored five out of five in half of these themes, including 'autonomous vehicles', 'China impact', 'generation hashtag', 'transport as a service', and 'AI'.
BYD has secured an order to supply 100 new generation 12-metre eBuses to Egged, Israel's primary public transport operator. The order for 100 BYD eBuses represents the majority share of Israel's largest ever electric bus tender, totalling 200 vehicles and is an initiative supported by the country's Public Transport Authority. It is also the largest order for BYD eBuses in Israel to date, with the new vehicles operating in the city of Haifa. The order comes as part of Egged's initiative to expand its fleet of zero-emissions buses with the support of Israel's Public Transport Authority and the Ministry for Environmental Protection. Egged has been a customer of BYD since 2017 and has 24 BYD eBuses in its fleet currently operating in Haifa and Jerusalem. The new eBuses are due for delivery before the end of 2022.
Have a nice weekend.
Graeme Roberts, Deputy Editor, Just Auto