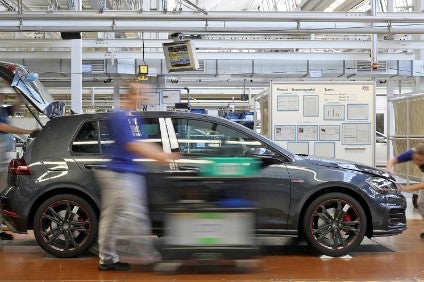 There was some good news for Wolfsburg this week when Volkswagen Group said it planned to lift annual output at the plant to 1m units a year by 2020. That should be reassuring to some in Germany who worry about VW shifting manufacturing around the world to lower cost locations. However, considerable productivity gains are also going to have to be made to make it work – and VW said they need to go further than what has already been agreed.
VW plans to increase Wolfsburg output to 1m pa
Over at VW Group brand Audi, the publicity surrounding ex-CEO Rupert Stadler is less welcome. He's being held in police custody as dieselgate investigations continue and his latest appeal for release was turned down, as 'the danger of obstructing justice remains'. Not good.
On the subject of electrification, there was news of a contract awarded to a number of companies in London – including Siemens – to provide charging stations that utilise street light infrastructure. Makes sense.
There was yet more excitement over the possibility of a Musk-led buyout at Tesla and speculation as to who may be involved in taking the company private. I must admit to being slightly tickled by the idea of the Saudis hedging on oil – already – and getting in to EVS. I guess it is never too soon to think about the long-term and the pathway back from there to now. Or maybe they just see a very good investment opportunity.
Saudi sovereign fund involved in Tesla buyout deal – report
Maybe fund managers might like to keep an eye on Chinese EV start-up Nio. The company is already partnered with some interesting companies (Tata, Magna, Mobileye, Continental) and has some serious backers in Tencent and Baidu.
Chinese EV start-up Nio files for NYSE IPO
In other news, Ford's smart mobility unit is partnering with Alibaba Cloud; Dongfeng is advancing its environmental strategy with its 'Green 2022 Plan'; Bmw is in a pickle in South Korea and the Chinese market is clearly slowing as dealer inventories swell and economic growth eases back.
On the interviews front, we've published several worth a look lately – always good to get different perspectives from company executives and see what's front of mind:
Delphi Technologies CTO talks powertrain and power electronics
Williams revs up the EV market
Adient's CTO on megatrends and cutting development time
ZF VP on tomorrow's electronic braking systems
On the future model activity front: G07 X7 and all the BMW SUVs for the 2020s
And what now for FCA? We've a review of the Alfa Stelvio that may gladden some hearts.
On the research front and continuing just-auto/QUBE's series of research snapshots, we've published a feature covering recent auto industry activity in the autonomous vehicle arena, specifically supplier innovations, partnerships and acquisitions. Highly recommended.
Autonomous vehicles, series 3, episode 6 – Around the corner or still on the horizon?
And finally, there's an auto show coming up in Chengdu. What's to see? Check out our list.
Have a nice weekend.
Dave Leggett
Editor, just-auto.com