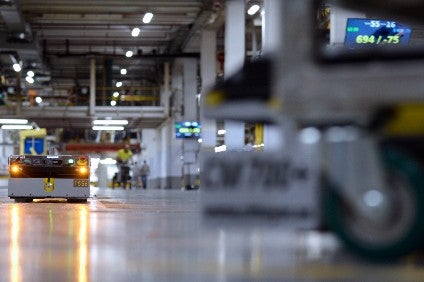 Another quiet post-Frankfurt news week? Nope, this is just-auto with our global reach, after all. Top read story came, more or less, from just up the road, though, as the question was asked: Could JLR acquire another brand? I was quite amused, and a little saddened, to see on various social media classic car pages, the optimism of those still mourning the death of MG Rover, the Nanjing Longbridge factory 'lift and shift' of equipment to China, the eventual takeover and launch of Roewe brand by SAIC, and the optimistic 'Would JLR bring back Rover?' discussions. Never say never, as I've learned after 50 years observation of the autobiz, but I'd think it unlikely. Baggage and not premium enough after years of dilution.
Ford has worked hard telling us about its transformation from automaker to 'mobility' company and backed it up this week with news it will work with rideshare firm Lyft to offer its self-drive vehicles via the rideshare firm's on-demand mobility network by 2021. Cool. I was also intrigued to learn of an unexpected partnership in London on a product that could prove very useful to many people. And just when I thought 'smart' could not be applied to much else more.
Back to JLR which announced yet another new home for its Wolverhampton-made Ingenium engines. Following on from that, I'd think, came last night's news just-auto's nearest local automaker will stop sourcing petrol engines from former owner Ford's Bridgend plant in Wales earlier than expected. The move means that supply from Bridgend will now end in September 2020 – three months earlier than planned – and, unfortunately for Welsh automakers and their employer, raises uncertainty over an estimated 1,100 jobs. Understandable move by JLR – the new I4s, petrol and diesel, have been critically acclaimed worldwide and making engines totally in-house gives an automaker complete control over design and production. So, time to dust off and update analysis we did a while back on Bridgend.
While still in analysis, this week we took a look inside and under the skin of Nissan's hot selling Juke B-SUV, continuing what has become a popular series.
There's always something in the news from suppliers and this week's was a Panasonic JV with Ficosa to make electronic rear view mirrors. Competition for Gentex, then? We also learned of Novares' new plastics plant in Romania.
Someone from the just-auto team is usually out and about any given week and this time it was Simon Warburton's turn, visiting Renault's factory in Valladolid, Spain, coincidentally the region in which Ford Europe chose earlier this year to launch the redesigned Fiesta. Our supplier specialist has filed a number of reports on topics as varied as supply chain, Industry 4.0 and industrial relations. Pull up a coffee and enjoy.
Have a nice weekend.
Graeme Roberts, Deputy Editor, just-auto.com