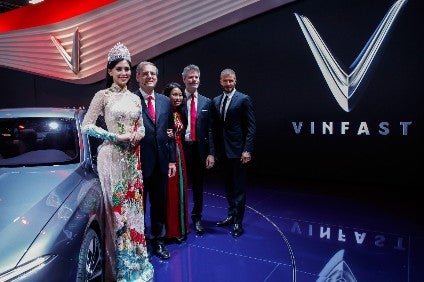 If it's autumn and not Frankfurt it must be Paris and we have our show coverage packaged in a handy Hot Topic bundle here.
Most-read story from the show and for the week was JLR reiterating the impact of a bad Brexit deal could hit it to the tune of GBP1.2bn (US$1.5bn) according to UK managing director Rawdon Glover, speaking to just-auto in Paris. Glover said the company was currently running multiple scenarios and was working on the UK government "very hard" to get it to understand the impact on UK PLC if a deal on trade and tariffs is not done. The GBP1.2bn figure was backed up by analysis published exclusively by just-auto earlier this year.
"We are producing 3,000 cars a day in the UK involving millions of parts being delivered on a just-in-time basis. The imposition of tariffs would have a big impact on our business." Glover said: "What we need is some certainty and our position on Brexit is clear – we need frictionless and tariff-free trade."
Very soon after, the EU started talking of a Canada+++ deal – a variation of the Canadian/EU free trade deal that removes about 95.5% of tariffs between Canada and EU member states although some charges remain on items such as food and agriculture. In simple terms, Canada can pretty much enjoy access to the single market – though not 'frictionless' at the border – without having to abide by EU laws or contribute to any EU budget. The '+++' bits – if any form of free movement of citizenry, goods or EU legal jurisdiction is permitted, for example – may be the sticking points.
Coincidentally, the European Commission concluded this week Slovakia's EUR125m investment aid to Jaguar Land Rover was in line with EU state aid rules. The aid would contribute to the development of the region of Nitra, without unduly distorting competition in the single market. Margrethe Vestager, commissioner in charge of competition policy, said: "Our investigation confirmed that Slovakia's EUR125m public support to Jaguar Land Rover for its project to build a new car plant in the region of Nitra is in line with our state aid rules. Our investigation revealed that the aid was necessary for Jaguar Land Rover to invest in Europe rather than in Mexico. We also found that the measure will contribute to job creation and to the economic development of a disadvantaged region without unduly distorting competition."
Toyota also has a Brexit view though is arguably a little less dramatic as it is not as exposed to the UK in the overall global picture and the Japanese tend to be better at taking the long-term view. It told us it has already put plans into place to maximise efficiencies at its UK plant ahead of any Brexit deal, good or bad. It has made a number of investments at the Burnastion factory in Derbyshire and its engine plant in Deeside aimed at heading off any negative effects when the UK leaves the European Union. Johan van Zyl, president and chief executive officer of Toyota Europe , said: "If there is no agreement on frictionless and tariff-free trade there will be a considerable effect on logistics. This can lead to disruption or stoppages in production. We would probably have to increase our stockholding which is not our way of doing business. All of this will also lead to cost increases." But he added there was little chance of Toyota baling out of the UK in the event of no deal.
We also considered whether the end of the motor show is nigh. "There was a distinctly threadbare feel to this year's Mondial de Paris – more no-show than show. The number of carmakers who baled out of the event was akin to the mass exodus from the Detroit show post Lehman. Ford, Opel, Nissan, Volkswagen , Fiat Chrysler, Volvo , Bentley , Rolls-Royce among others were conspicuous by their absence leading to the inevitable debate: are motor shows dead?"
There was a little bit of upset in the September US sales results as FCA outsold Ford. Light vehicle sales came through mostly as expected though the decline was not as great as had been predicted. Total US deliveries came in at 1.44m, down 5.5%, besting expectations of a 7%-plus shortfall. Since there were just 25 selling days last month, compared to September 2017's 26 days, the daily sales rate was off by just 1.7%. The seasonally adjusted annualised rate (SAAR) was a very robust 17.54m cars and light trucks. That's well short of the 18.16m reading from a year ago but up from August 2018's 16.7m. Rising interest rates were a big factor in the slowing turnover volume.
Autonomous vehicle development marches on. Ford has called for standardised 'intent lights' on AVs while both Honda and VW are working with respective 'home towns' of Marysville and Wolfsburg on V2X comms, aiming to reduce intersection accidents. Clever stuff.
This week, we also talked to Harman . Today's vehicles offer a myriad of features and services but understanding how and if these are being used by consumers isn't often truly understood by OEMs. With ever-increasing connectivity, it is now possible to acquire data about the vehicle's performance and how it is being used, but how to access this information and its relevance is in the early stages. A new project between Harman and JD Power claims it can change this and provide OEMs and Tier Ones with an insight that could make cars safer, more relevant or offer a better user experience.
Have a nice weekend.
Graeme Roberts, Deputy Editor, just-auto.com