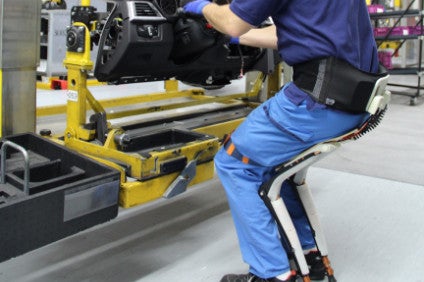 Last week, I enjoyed an entertaining trip to BMW's annual AGM and plant 'show 'n' tell' (links here in last week's TWTW column) and, as threatened, this week I've published a yarn about some of the worker-assist innovations they've come up for the Munich and other factories. My favourites: the Exoskeleton 'chairless chair' pilot project at Plant Munich, the ProGlove laser-embedded smart glove and, not least because I got to Have A Go, the gesture-controlled lightweight robot. The ingenuity of plant engineers – and the line and logistics workers who often suggest ideas and help the engineers with development – never cease to amaze me.
Factory product, aside from the methods used to make it, was in the news this week. Volkswagen confirmed the end of its never-successful Phaeton range-topper and the transformation of its Dresden final assembly plant – the 'Transparent Factory' (Gläserne Manufaktur) is to be realigned as a showcase for 'electromobility and digitalisation' following the ending of the model's manufacture there. The new showcase opens to visitors on 8 April with VW promising visitors will be able to "experience the future of mobility at close quarters in a playful, interactive and informative way". I have driven a few Phaetons over the years and found them well made and good to drive – effectively, as a range-topping 'halo' the parent company's version of Audi's A8 – but the VW didn't sell like the Audi did. Premium 'badge snobbery' perhaps?
Phaeton lives on, sort of, as its immediate spiritual successor is a new China-only top VW called the Phideon, a five-metre long sedan to be built by the SAIC-Volkswagen JV in Shanghai, and shown this month at the Geneva show. As we note, Phaeton is not dead, just sleeping. A new model to replace it – or a next generation Phaeton – is expected to be made at Dresden from 2018 after Volkswagen said it would create another flagship model for the brand. It said in a statement last year that the specification for the new vehicle includes "pure electric drive with long-distance capability, connectivity and next- generation assistance systems as well as an emotional design".
The new model is likely to be sold in North America – the current car was withdrawn at the end of that region's 2006 model year due to poor sales. The vehicle will supposedly share many modules with the next Audi A8 and S8 and there have also been reports the car's entry-point price will be lowered.
Mention of China reminds me of General Motors' announcement this week of a China growth strategy. Between now and 2020, the US automaker and its local joint ventures plan to launch over 60 new or refreshed models in China, including 13 this year, with a strong focus on SUVs, MPVs and luxury vehicles. Continued strong demand has helped China remain GM's largest market despite economic headwinds and, in 2015, China accounted for more than a third of the company's global deliveries. GM expects China's overall vehicle market to increase by 5m units or more by 2020, growth of about 3%-5% annually.
The annual New York show was on this week and Toyota's US unit, soon to relocate from California to Texas, drew some headlines with its announcement of voluntary near-range-wide standardisation of AEB by the end of 2017. Deservedly so but watch for rivals playing catch-up. Honda rolled out for North America the production-ready-looking Civic Hatchback 'concept' shown earlier in the month in Geneva and confirmed Swindon in England, the hatchback version's 'hub' plant, as supplier of the North American versions.
And Our Man in Asia filed his annual report from Thailand's Bangkok show. Enjoy.
Have a nice Easter. We're off for a long weekend until Tuesday. See you then.
Graeme Roberts, Deputy Editor, just-auto.com