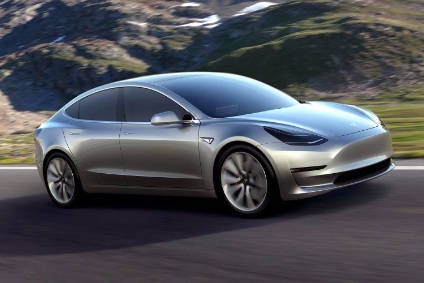 The world's most famous make of electric cars is being assailed from many quarters. And this just as the Model 3, a car with the potential to stop the EV specialist losing vast amounts of money, is finally going into production. Glenn Brooks offers some thoughts in the context of growing EV new product actions from a raft of OEMs.
It has even seen its share price subject to uncharacteristic reversal over the past month.
Tesla has had some atypically bad press out of the US in recent times, with reports of workers at its manufacturing base in San Francisco's Bay Area being unable to park their cars on site, as the head count rises. The plant, which the company bought at a knock down price from Toyota, is producing far fewer vehicles and has many more people than during the days when it was called NUMMI and operated by the Japanese giant as part of a JV with GM.
To be fair to Tesla, almost all of its R&D and other operations are based at its only manufacturing facility, so the comparison with Toyota is a little unfair. Nonetheless, eyebrows have been raised at the recent statement by Elon Musk that the Model Y, an SUV which is due for launch as soon as 2019, will be based on a new platform, and built somewhere other than the firm's current base. An announcement of a manufacturing JV in China is said to be imminent too.
The Model S is now more than five years old, sales of the Model X crossover continue at only modest levels and Tesla is increasingly under attack from premium brands. Magna International has just confirmed that production of the Jaguar I-PACE, the brand's first electric vehicle, is to commence in six months' time. Moreover, at only 4.7m long, this crossover is saddled with neither the bulk of the 5m+ Tesla nor the infamous and sometimes troublesome Falcon Wing doors.
Ever more electric vehicles are coming, especially to high-margin segments, with one of the latest being from Hong Kong-based Thunder Power. This start-up says it intends to build a rival for the Tesla Model S. All being well, the car will make its public at the Frankfurt IAA show in September, and enter production in just over a year's time.
Fisker is working on its own Tesla-challenger and has just shown a prototype to prospective customers. The EMotion is due to enter production during the second quarter of 2018. A car to follow this will take on the Model 3 in the D/Mid-size segment.
A couple of other developments with future electrified vehicles have also been noted in PLDB during recent weeks. Despite having a RWD/AWD architecture, the Maserati Levante PHEV will reportedly be fitted with a modified version of the powertrain from the Chrysler Pacifica Hybrid.
The other news of a future electric version of an existing model concerns the Hyundai Kona. This B-segment/Sub-compact SUV is now in production at one of Hyundai Motor's Ulsan factories but due to capacity constraints, it will likely also be built at other global locations. PLDB has notes on how many units will be made at Ulsan this year and names the likely additional production locations.
So, plenty of activity going on in EVs and Tesla, led by the charismatic and mercurial Elon Musk, will still get plenty of good press and positive investor sentiment in the future. But a dose of realism is starting to come in. The Tesla narrative remains a highly positive one, but it will perhaps be subject to greater scrutiny in the future, especially when the planned ramp-up for Model 3 begins in earnest.
Future model plan reports for other manufacturers can be viewed in the OEM product strategy summaries section of just-auto.com.
Future product program intelligence
Additional data on vehicle lifetime and future product plans, such as code names, production plants and expected annual build, are available in PLDB from QUBE.