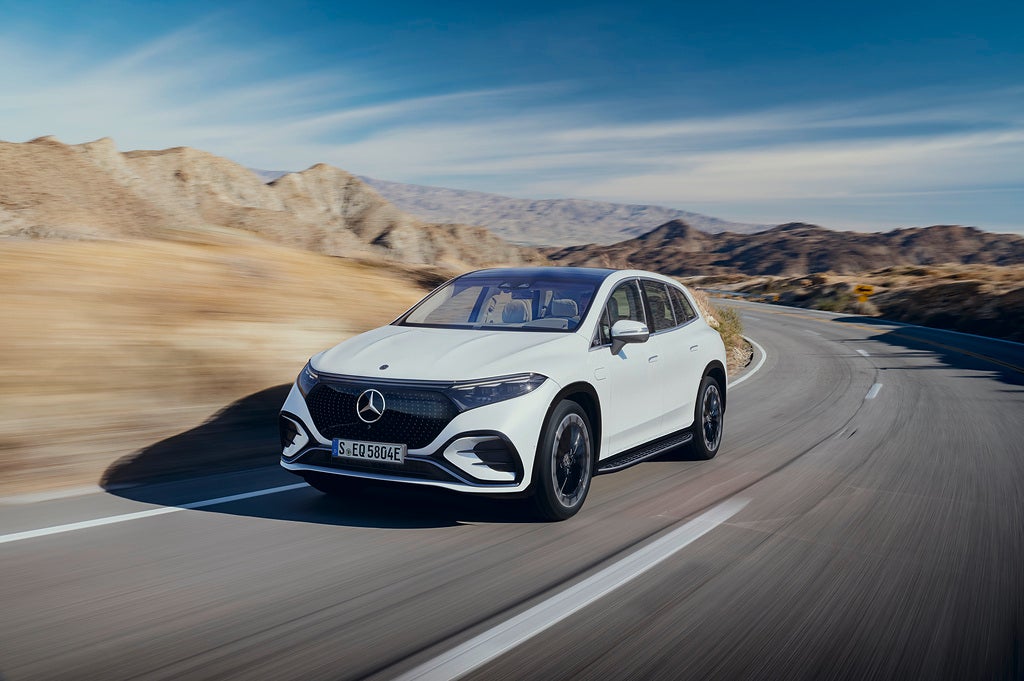 As chief engineer large cars Mercedes Benz, Oliver Roecker is responsible for the large and EQ vehicles. He told us this week about the new EQE SUV and Mercedes' future electric strategy.
In a recent survey carried out by risk management and asset protection software and services company, Solera, it was found that fuel costs are the number one challenge fleet operators are worried about heading into 2023 (59%). It rises to 66% for last-mile fleets, where fuel represents a higher proportion of overall costs. Alongside this, the data showed that driver shortages are the second biggest challenge facing fleets entering the new year (25%), rising to 35% in Austria, 33% in Germany, and 30% in the UK. To assist with these challenges faced by fleet managers Solera has recently announced the launch of three new solutions: Solera Protect, a video-safety solution enabling fleets to understand how to avoid road incidents; Solera Mentor, an app designed to help customers reduce collisions and provide driver support; and Solera Roadnet Anywhere: a SaaS software suite that helps fleet managers optimise their operations. We spoke to Solera vice president, fleet solutions, Mark Tiana to learn more about the new solutions offered by the company as well as to discuss what he thinks the future holds.
Electrifiction marched on this week. This just in today: BYD Auto said it was considering opportunities to build vehicle assembly plants in Europe to boost expansion into new markets. The company said it was launching two EVs in Europe in fourth quarter 2022 with more to follow in 2023, all imported from China. In October the company said it had agreed franchises with seven dealers in Germany to establish a nationwide sales network by the end of 2022/early 2023. BYD did not detail a time line for its European investment with potential plant locations still being evaluated. The company said producing locally would be a key part of its plans to fast track expansion into Europe, focused on EVs. The company has ambitious sales targets for Europe, with sales in Germany alone expected to hit six figures by 2026. Achieving such targets would require local production.
EVs, of course, require batteries and Envision AESC , the Japanese EV battery maker owned by China's Envision Group, said it planned to build a plant in Florence, South Carolina, to supply batteries to BMW's plant in near by Spartanburg. Envision said it would spend US$810m to build a factory with initial production capacity of 30 gigawatt-hours (GWh) of battery cells per year employing 1,170 people when operations start in 2026. The supplier had previously said it would supply BMW with "new technology battery cells which offer 20% more energy density, faster charging speeds and an extended range of up to 30% more than current batteries. These would be for new EV models to be produced at Spartanburg by 2030". Envision already has a battery factory in Tennessee and another under construction in Kentucky which will have combined annual capacity of 70GWh. Envision said the new South Carolina plant would will be powered by net zero energy.
Not to be outdone, Hyundai Motor Group (HMG ) and SK On have selected a site in Bartow County, Georgia for a new electric vehicle (EV) battery factory which will supply HMG plants in that state and Alabama. It's said to be one of the largest economic development projects in state history, with estimates it would create 3,500 new jobs through approximately US$4-5bn of investment. Hyundai Motor Group and SK On recently signed a memorandum of understanding (MOU ) regarding the deal for a new battery factory in the US though details of that were "still in development". SK On already employs 2,000 people in Georgia at its SK Battery America factory in Commerce. The new factory will be built at Bartow Centre, a zoned manufacturing and industrial site.
And EV batteries need charging. Marks & Spencer (M&S) and BP pulse have signed an agreement to add high speed electric vehicle (EV) charge points to the retailer's sites across the UK. An initial 900 chargers will go in at 70 store sites in the next two years. A combination of ultra-fast (150kW) and rapid (50kW) charge points will be installed. Fifteen 50kW chargers are operational at Maidstone Eclipse and Southgate following successful pilot installations.
Toyota hasn't ruled out hydrogen yet. It said it "firmly believes it is too early to focus on a single zero emission solution" (it currently offers two types of EV and two hybrid powertrains) and is therefore concurrently developing hydrogen fuel cell and hydrogen combustion technology alongside battery electric. Technical progress achieved with motorsport has given engineers the confidence to create a prototype road car – the Corolla Cross H2 Concept. This version of a mid-size SUV sold mainly in Asia is powered by the 1.6 litre, three cylinder turbocharged engine featured in the GR Corolla performance model, re-engineered with high-pressure hydrogen direct injection technology. The prototype is also fitted with hydrogen fuel tanks, using knowledge gained from development of the Mirai fuel cell electric saloon.
The UK new car market grew 23.5% in November to 142,889 registered units in the fourth consecutive month of year on year growth, according to data published by The Society of Motor Manufacturers and Traders (SMMT). The growth delivered the best total for November since 2019, with manufacturers continuing efforts to fulfil orders amid erratic global components supply. However, registrations in the month were still 8.8% below 2019 levels and, while further recovery is anticipated in 2023, global and domestic economic challenges mean that the market will remain below pre-pandemic levels. GlobalData forecasts that sluggish growth will remain a feature of the UK car's market in 2023.
McLaren Group reportedly is in talks to raise hundreds of millions of pounds in new funding aimed at steering the British-based company into the electric vehicle era. The UK's Sky News said McLaren had opened talks with existing shareholders, including the sovereign wealth funds of Bahrain and Saudi Arabia, about injecting at least GBP250m into the business in coming months. A final figure had yet to be determined, and one insider told the tv channel it was likely to be higher than GBP250m as the company wanted to boost its balance sheet until the end of the decade. The report said news of the potential scale of the fundraising, on which investment bankers at Lazard had been drafted in to advise, came after McLaren was hit by delivery delays on its new Artura hybrid supercar.
That led Moody's Investors Service to change its outlook for McLaren Holdings to negative from stable. The supercar maker was reported at the weekend to have opened talks with existing shareholders, including the sovereign wealth funds of Bahrain and Saudi Arabia, about injecting at least GBP250m into the business in coming months. Moody 's said: "The outlook change to negative reflects McLaren's very weak Q3 2022 results and heightened uncertainty about the company's ability to achieve an operational turnaround in the next 12-18 months. The negative outlook also reflects Moody's concerns about McLaren's weak liquidity despite additional funding received from its shareholders." Moody's said the automaker's Q3 2022 financial results showed wholesale volume, revenue, profitability and cash flow generation well below the rating agency's previous expectations with actual wholesales of 545 units compared to Moody's previous forecast of slightly above 1,000. McLaren had cited industry wide semiconductor shortages and ongoing supply constraints as the key reasons for low production volume.
SangYong Motor planned to suspend production for several days this month due to shortages of semiconductors, the company announced in a regulatory filing. The production cuts at its 250,000 units/year plant in Pyeongtaek, 70km south of Seoul, would start on 8 December with production scheduled to resume on 14 December. The company also operates an engine plant in Changwon. Ssangyong exited a bankruptcy court-led debt rescheduling programme last month after 18 months following the acquisition of a 62% stake in the company by a consortium led by local steel and chemicals firm KG Group. Previous majority shareholder Mahindra & Mahindra of India now owns 10.15% of its shares.
Mitsubishi said it would begin selling commercial electric microvans. According to Reuters, the targeted cruising range is 200km (125 miles) and a price around JPY1m (US$7,270). Petrol-electric hybrid models remain far more popular in Japan and BEVs accounted for just 1% of the passenger cars sold there last year, Reuters noted. "We believe that the fastest way to spread the use of electric vehicles in Japan is to first capture the commercial market, especially in the area of light vehicles, which are the mainstay of the Japanese market," said Honda CEO Toshihiro Mibe reportedly said last April. Reuters said Mitsubishi Motors last month re-launched its commercial truck, Minicab-MiEV, which has a cruising range of 133km (83 miles) and costs about JPY2.4m without a subsidy.
BP has signed a memorandum of understanding (MOU ) with the Egyptian government under which it will "explore the potential for establishing a new green hydrogen production facility in the country". The MoU was signed by the oil giant, Egypt's New and Renewable Energy Authority (NREA), the Egyptian Electricity Transmission Company (EETC), the General Authority for Suez Canal Economic Zone (SCZONE) and the Sovereign Fund of Egypt for Investment and Development (TSFE). BP will carry out several studies to evaluate the technical and commercial feasibility of developing a multi phase, large scale green hydrogen (gH2) export hub in Egypt. Green hydrogen is produced by water electrolysis, powered by 'renewable' energy.
Have a nice weekend.
Graeme Roberts, Deputy Editor, Just Auto