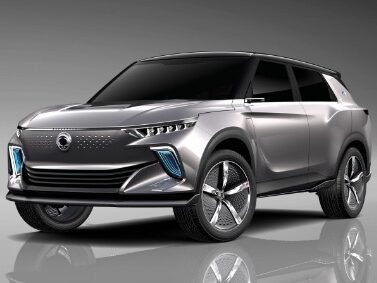 Might EVs save bankrupt Ssangyong? The SUV and pickup truck maker still remains under court receivership pending approval of new owner Edison Motors' revival plan. In January, the Korea-based electric bus maker paid the equivalent of US$255m for a majority stake. There are more hoops for the provisional parent firm to jump through; specifically a solid plan which convinces SsangYong's caretaker administration. Should that happen, South Korea's oldest car maker will head rapidly into a new era building multiple electric passenger vehicles and LCVs. At the moment though, the proposed rescuer and those holding debt seem far from a solid accord. The firm recently told Korean media 430 creditors would request a new round of bids and the sale to Edison might not necessarily happen. The issue is the would-be owner's intention to repay a mere 1.75 per cent of the bankrupt company's KRW547bn debt, converting the remainder to equity. Even though overall volume is still low, there are unmistakeable signs that consumer confidence is returning to Korea's SUV and pick-up specialist brand. SsangYong Motor reported a 70 per cent leap in monthly worldwide deliveries to 4,540 vehicles for February, albeit from a low base a year ago. The Rexton Sports in particular (+325% to 2,565) was the stand-out factor but so too is the normalisation of manufacturing and sales. That's mainly as the result of the acquisition agreement with the receiver. Edison is yet to publicly comment on a proposed restructuring plan which SsangYong's management detailed in 2021. We looked at potential next generation models, with the rider the plan is not set in stone.
Japanese automakers were late to shape up their BEV strategies but are in the race now, one of our analysts wrote this week. Suzuki Motor has signed a memorandum of understanding (MOU) with the state of Gujarat, India to invest approximately GBP1.04bn (JPY150 billion) for local manufacturing of electric vehicles (BEV) and BEV batteries. The investments were part of a GBP32bn series of investments announced by Japan at the India-Japan Economic Forum held recently in New Delhi. Suzuki's investment focuses on three areas including EV manufacturing (GBP310m), battery production (GBP731m) and vehicle recycling plant (GBP5m). The investment is an encouraging development and will further reinforce Suzuki's competitive position, though it is already a leader in India. Japanese automakers were late to shape up their BEV strategies but are evidentially in the race now and gearing up for the future market which will be highly competitive. However, global automakers have committed multi-billion-dollar investments to electrification and Suzuki remains comparatively low on investment/commitment. Suzuki announced its strategy last year to enter full-scale BEV development by 2025 and it has also tied-up with Toyota for this purpose. The Indian investments are in line with the group strategy and key to Suzuki maintaining its dominance of a market where it enjoys a 52.4% share through the Maruti Suzuki joint venture. The EV investment can write new fortunes for Maruti Suzuki in India which has been slightly losing its share to other automakers, primarily Hyundai and Tata Motors. The EV market in India is still developing with only a few players offering mass-market EV products. India registered sales of 13,543 BEVs in 2021 which is expected to grow by 39% CAGR over next decade, according to Just Auto parent company GlobalData.
While with Suzuki, we recently took a look at the automaker's own-work full hybrid for Europe. Up to now, full hybrids have been supplied on an OEM basis by Toyota plants in Japan and the UK.
French steel giant ArcelorMittal has announced an investment of EUR300m, with the support [read subsidy or tax break] of the French government, to create a new production unit for electrical steels at its Mardyck site in the north of France. It said this investment would create 100 direct jobs and would specialise in the production of electrical steel for the engines of electric vehicles and complement existing electrical steels plant in Saint-Chely d'Apcher, in the south. All of the group's electrical steels will be produced in France and the company said this would strengthen the country's electromobility sector. The new production unit, which will be located on the existing ArcelorMittal site in Mardyck near Dunkirk, would produce the electrical steel used in electric motors in general (including for industrial machinery) and for electric and hybrid vehicles in particular.
Malaysia has long encouraged local vehicle assembly so it's no surprise to learn Geely's Volvo Cars announced plans to begin production of its battery-powered XC40 Recharge full electric SUV there later this year. The company has long assembled vehicles in Malaysia where regulations and conditions discourage full imports. Local subsidiary Volvo Car Manufacturing Malaysia will assemble the model from completely knocked down (CKD) kits at its plant in Shah Alam, in Selangor state. At the local launch event for the new BEV model, the company said it would also export the model from Malaysia to other south-east Asia markets. The importer and distributor revealed it planned to launch one new locally assembled electric vehicle (EV) model per year starting in 2022, with the aim of having a fully electric range by 2030. Volvo Car Malaysia managing director Charles Frump said his company was ready to implement the automaker's global plan for a fully electric line by 2030, starting with the launch of the XC40 Recharge BEV.
Ironically, the news came as Volvo Car warned it would struggle to meet its production forecast for this year as the shortage of semiconductors again forces factories to a standstill. The carmaker told Bloomberg disruption was expected to last through the second quarter because of issues procuring a specific type of microprocessor. Volvo now expected only "marginal" growth in deliveries this year, after previously saying sales volume would rise, the news agency said. Volvo added its issues were not related to the Russian invasion of Ukraine.
Lightning supposedly doesn't strike the same place but the same cannot be said for earthquakes in Japan. A 'quake recently struck in the same area, at almost the same time of year, as the massive 9.0-magnitude Fukushima earthquake in 2011. That's the one which hit the nuclear power plant where clean-up continues to this day. Toyota Motor announced last weekend it was halting production at most of its vehicle assembly plants in Japan for three days this week in the wake of the 'quake which registered 7.4-magnitude and struck off the north eastern coast, causing powerful shockwaves felt as far away as Tokyo, temporarily cutting power to millions of homes and businesses and even derailing a bullet train. Luckily, this time, no devastating tsunami and no reports of damage to nuclear facilities. Toyota temporarily suspended work at 17 of the 28 domestic production lines, including facilities run by Hino and Daihatsu, affecting production of around 25,000 vehicles.
These just in: UK car production fell 41.3% in February, with 61,657 units made, according to the latest figures released by the Society of Motor Manufacturers and Traders (SMMT). The SMMT said the decline was primarily down to the persistent global shortage of semiconductors causing some factories to pause production, and the loss of output following the closure of Honda's Swindon plant last summer. In what was the weakest February for UK car makers since 2009, production declined for both the domestic and overseas markets, down 35.8% and 41.8% respectively.
Still here in the UK, the government today announced a new EV chargepoint strategy which it claims will improve access for drivers without off-street parking and also provide more fast charging for longer journeys. The Department of Transport has committed GBP1.6 billion to expand the UK charging network and claimed around 300,000 public chargers would be available by 2030 when the sale of most ICE vehicles is banned. Chargepoint operators would be legally required to meet rigorous standards, enabling drivers to pay easily and find nearby chargers.
And that, I'm sure by no coincidence, followed an SMMT review of a decade of EVs with GBP10.8 billion dedicated to UK electric vehicle production and gigafactories since 2011, with "billions more" invested worldwide to put new technology on sale. "Given the figure accounts purely for public announcements by vehicle and battery manufacturers, and does not include wider supply chain investment, the overall UK automotive commitment to electrification will be even higher, the lobby group said. In Britain's first electric decade, begun with a GBP420 million investment at Nissan Sunderland for the Leaf, the UK's first mass produced battery electric car, 10 vehicle manufacturers have invested to design, engineer and build electric vehicles for domestic and export markets. The UK also produces electric vans, buses and trucks, as established manufacturers and new entrants have invested in production.
Have a nice weekend.
Graeme Roberts, Deputy Editor, Just Auto