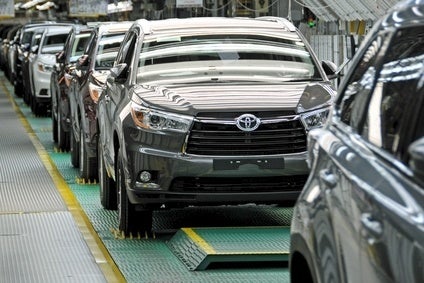 Toyota Motor announced at the weekend it was halting production at most of its vehicle assembly plants in Japan for three days this week in the wake of the strong earthquake in the country.
Last Wednesday night, a 7.4-magnitude 'quake struck off Japan's north eastn coast, causing powerful shockwaves felt as far away as Tokyo, temporarily cutting power to millions of homes and businesses and even derailing a bullet train.
It struck in the same area, at almost the same time of year, as the massive 2011 9.0-magnitude Fukushima earthquake which triggered a devastating tsunami. Recent reports from Japan said workers were still working on cleaning up reactors at a nuclear electricity plant partly destroyed by the massive waves that followed that 'quake while local residents displaced from areas affected by radioactivy had only just been allowed to return to what was left of their homes, businesses and villages. This time, there have been no reports of damage to nuclear facilities.
The 2011 quake also affected auto industry suppliers; for a time afterwards there was a global shortage of a specific chemical used in metallic automotive paints.
The latest 'quake led to production suspensions at 17 of Toyota's 28 domestic production lines, including facilities run by Hino and Daihatsu, for three days from today, with a further line halted for just one day. The stoppages are expected to affect production of around 25,000 vehicles.
Toyota said in a statement: "Due to the parts shortage resulting from suppliers affected by the earthquake, additional adjustments will be made to production operations in some plants in Japan."
The company had just announced further production cuts for March and for the second quarter of 2022 due to the global semiconductor shortage.
Local reports suggested some Toyota plants had suffered some damage but no injuries to staff were reported.
Semiconductor manufacturer Renesas Electronics was forced to halt operations at its three facilities in the region due to the earthquake but said it was looking to return the plants to normal output later this week.
Subaru was also forced to halt operations at two assembly plants for two days due to supply chain disruption, while the impact on Nissan and Honda plants so far had been minimal.