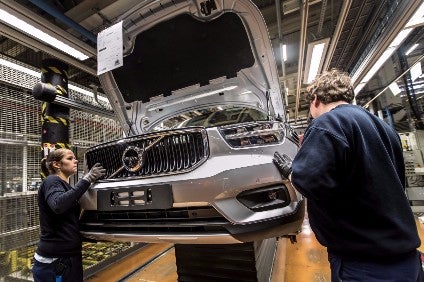 My look at Volvo'S first small(er) SUV, the XC40 was the most read yarn on just-auto this week. We've had Cross Country (the name is also applied to a train franchise here in the UK) Volvos for years, of course, including both the original XC90 and various beefed-up versions of the wagons the brand is also well known for (latest XC60 just coming out now), but this is the first venture into 40-sized kerb climbers and also the first of the new models on the CMA (Compact Modular Architecture) architecture shared with parent Geely – the bigger brothers are on the SPA (Scalable Product Architecture) platform – which gives the economies of scale needed to make a buck in this segment.
Obviously, coming this far down the scale means eyes have to be kept on cost and the XC40 interior isn't quite so wow-how-did-they-do-that-for-the-money of the much more expensive XC90 and mid-range XC60 but it's still innovative (dashboard subwoofer, no door speakers) and familiar with that brilliant tablet style ICE and controls that are logical and intuitive. The range kicked off with I4 diesels and petrols in the UK but I3s are now appearing in the price list and I still await the PHEV and, first time for an XC, the full electric with not a little interest.
The Paris show is next week and we have plenty of preview for you. Start with our list of debuts (and who's not coming), move on to our management briefing and end with JATO Dynamics' suggestion it's SUVs or bust this year.
Volkswagen said it would use virtual validation to put clever new tech into production faster, Siemens announced 'the eMobility calculator', a tool that it says will estimate the infrastructure requirements and potential impacts of electric transportation in cities over the next 30 years and an unusually gloomy BMW revised down some of its profitability expectations in light of WLTP, trade spats and other issues. Results will still be written in black ink, never fear, but just a bit lower than previously predicted.
With our local motorway today blocked by two truck accidents for miles and hours (10 and counting so far; it always seems to take US authorities about three times less to clear such messes), I was intrigued at new tech Ford (and others) are developing to warn frustrated queuing drivers and get 'em out of the way of emergency vehicles. If only they could develop tech to speed up the snail-like UK services that take so long to clear the wrecks, fix damaged infrastructure and get things moving again.
Also on the tech side, we took a look at a digital camshaft idea and scrutinised GM future models for Holden, the Australian subsidiary that no longer manufactures locally. They've recently started taking a couple of North American models made specially in RHD so it's well worth a read.
Have a nice weekend.
Graeme Roberts, Deputy Editor, just-auto.com