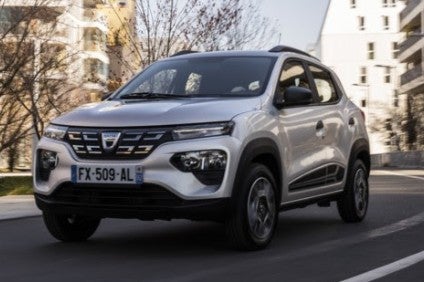 The momentum towards widespread electrification of passenger vehicles is now unstoppable. Across the auto industry, OEMs are racing to catch up with Tesla 's dominance, while battling regulatory pressures in the form of strict CO2 targets that mean electrification is no longer an option but a necessity. Automakers are increasingly moving away from broad, flexible powertrain strategies that balance combustion and electrification, with most now firmly set on an electric-only path. Wondering about the state of electrification in the auto industry by major group? We've got your back.
This was about all the auto industry needed this week (not to mention the Suez Canal blocked till further notice): Automotive companies are scrambling to assess the consequences of a fire at a Renesas semiconductor manufacturing facility in Japan. Renesas Electronics has said a fire occured on 19 March at part of the processes in the N3 Building (300mm line) of Naka Factory (located in Hitachinaka, Ibaraki Prefecture) of Renesas Semiconductor Manufacturing, a wholly-owned manufacturing subsidiary. Renesas said in a statement that although approximately two-thirds of the products manufactured within N3 Building can be alternatively produced in-house or in foundries, due to the recent increase in demand for semiconductors, the "situation does not allow for all products to be immediately produced alternatively". The semiconductors manufactured at the plant are used extensively in automotive applications such as engine management and in managing sensors for advanced driver assistance systems (ADAS).
Ford has now said it will temporarily suspend production of its F-150 pickup truck at its Dearborn, Michigan, plant due to the impact of the global semiconductor chip shortage. Reuters reported that the temporary halt to production of what is one of Ford's most profitable models will last until Sunday. Ford had previously said it will build and hold vehicles awaiting parts for which semiconductors are missing for a number of weeks, then ship the vehicles to dealers once the modules are available and comprehensive quality checks are complete. However, the latest move to idle production of the F-150 suggests that the chips crisis is now worsening. We have bundled all coverage of this critical problem here.
Another automotive icon bites the dust: Ford Europe is to phase out Mondeo model production in early 2022, with no direct replacement in prospect. It said the decision was taken as a result of a 'growing change in customer preferences'. Ford's other large crossover and multi-purpose vehicles – the seven-seat Galaxy and S-Max – will continue in production, with full hybrid versions of both recently launched. Ford also said that in 2020, 39% of its Europe's passenger vehicle sales were SUVs and crossovers – up 8% from 2019. Moreover, customers are showing more confidence in electrification technologies, with more than 50% of Kuga owners purchasing a PHEV. The Mondeo axe was contained in a statement of Ford's plans to invest in electrification and its plans for the Valencia plant, in Spain, where the current car is being built (after it was moved from the closed down Genk plant, Belgium, in 2015).
It didn't take long for the Mazda CX-30, launched in 2020, to get a powerplant upgrade. A new upgraded e-Skyactiv X engine made its debut in the 2021 model year CX-30 this month and will find its way into the 3 (same platform) next month. This is an updated version of Mazda's unique Skyactiv-X SPCCI Spark Controlled Compression Ignition petrol engine.
Ford Motor Company claimed it was again the top automaker in America in terms of production, sales of US made cars, trucks and SUVs and employment of hourly autoworkers. Following on from a little recent controversy, Ford said over 82% of the vehicles it sold in the US in 2020 were assembled in the US – up from 75% in 2019 and more vehicles than any other automaker, even factoring in industry and production disruptions caused by the COVID-19 pandemic. Ford also led US light vehicle production and sales in 2018 and 2019, according to IHS Markit light vehicle production and sales data.
It is meant to be Geely's electric sports-eco-luxury division but Polestar is taking some time to become established due in part to a small line-up of vehicles. And even when additional vehicles arrive, what will set this brand apart when it seems that Volvo is headed towards the same positioning?
Vietnamese car-making startup VinFast Production and Trading Co Ltd (VinFast) was in the headlines in January with the announcement that it plans to build a vehicle assembly plant in the US and begin local sales of electric vehicles (EVs) by 2022. Last month the automaker announced it had been granted a licence by the state of California to test self-driving vehicles on public roads, which it says is central to its plan to launch smart EVs in global markets, including the USA, Canada and Europe, by the end of next year. VinFast has made extraordinary progress since it was established in 2017 as a subsidiary of Vietnam's largest private conglomerate, Vingroup , which reportedly allocated US$3.5bn of capital to carry out its plan of becoming a global volume vehicle producer. Until four years ago, VinGroup was primarily focused on property development, retail, hospitality and healthcare.
As the UK marks a year since its first population lockdown and the auto industry – among many industries – reflects on a year of unprecedented turmoil caused by the COVID-19 pandemic, our analyst Calum MacRae offered some thoughts on what has been learnt.
Run your eye down the latest sales charts for the world's larger markets and one name stands out. Volvo has found the recipe for gains even in those countries and regions where every other brand is in the doldrums. Can it keep this run of good fortune going, and just as importantly, will it be able to make strong profits from all the EVs which it says are coming?
Ford UK has announced FordLiive [that is spelled correctly] – a new connected uptime system designed to help commercial vehicle operators increase their productivity by maximising vehicle up time. The automaker claims the product will change the way owners run and maintain their vehicles, by reducing the number of breakdowns, enabling fewer time-consuming visits to dealer workshops, and achieving quicker servicing and repair times. Its projections show the product can potentially reduce vehicle downtime by up to 60%.
The Land Rover rival being built in France by the billionaire Sir Jim Ratcliffe may be delayed by up to six months amid difficulties caused by the coronavirus pandemic, a UK media report said. INEOS , the chemicals company founded by Ratcliffe, had planned to deliver the first of the new Grenadier vehicles in early 2022 but was now considering a new launch date around September 2022, according to the Guardian. The 4×4 is modelled on the classic Land Rover Defender.
Kumho Tire Company announced this week it plans to sell its natural rubber processing plant in Vietnam, as it looks to focus on its core business amid falling sales and mounting losses last year. The South Korean tyre manufacturer said it had reached an agreement to sell the factory to a local joint venture between Hyundai Motor and Vietnam's Thanh Cong Group . The company is looking to finalise the deal by May.
Have a nice weekend.
Graeme Roberts, Deputy Editor, just-auto.com