The state of electrification in the auto industry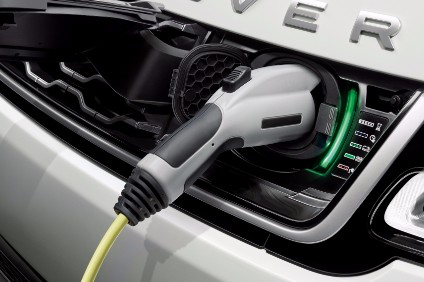 Vehicle manufacturers are ramping up their electrification plans
The momentum towards widespread electrification of passenger vehicles is now unstoppable. Across the auto industry, OEMs are racing to catch up with Tesla's dominance, while battling regulatory pressures in the form of strict CO2 targets that mean electrification is no longer an option but a necessity. Automakers are increasingly moving away from broad, flexible powertrain strategies that balance combustion and electrification, with most now firmly set on an electric-only path.
The state of electrification in the auto industry by major group
| | | | |
| --- | --- | --- | --- |
| | EV plan | Current models | Key dates |
| Aston Martin | Aston Martin is planning to launch battery-powered EV models in 2025. Models will include an electric SUV – unclear whether this will be a new model or an electrified version of the existing DBX. The new electric SUV will be built at St. Athan, Wales. Meanwhile, EV sports cars – expected to be sold in much lower volumes – will be built in Gaydon, UK. Aston Martin is expected to use battery and electric vehicle components sourced from Daimler in line with current sourcing patterns. The company has indicated that it will continue to build combustion engines beyond 2030 for its niche enthusiast audience. | Aston Martin will introduce hybridised models before 2025, likely starting with DBX SUV. No current models are electrified. | Planned EV range launch: 2025 |
| BMW | BMW is aiming to have half of its sedans, SUVs and Mini models electrified by 2030. This equates to more than seven million vehicles in that period with the company expecting two thirds of them to be purely electric. BMW is outfitting four German factories for electrification – Regensburg, Leipzig, Dingolfing and Munich. Of those, Regensburg is also being equipped to manufacture battery cells for EV battery packs. | BMW launched the i3 and i8 which were initially impressive but quickly outclassed by more advanced rivals. It currently sells the re-engineered Mini Electric and BMW iX3, and will launch the dedicated iX EV in 2021. | Half of sedans, SUVs and Mini models EV by: 2030 |
| Daimler | In October 2020, Daimler confirmed that it was expecting to sell 70% fewer combustion-powered vehicles by 2030 as it prepares to ramp up production of its electrified range. In December 2020, the company confirmed a EUR70bn investment plan for the next five years, with the majority of the funds intended for electrification activities. In the same strategy presentation, Chairman Ola Källenius noted that the brand would need to "enhance the mix and positioning of [its] product portfolio", noting the brand may have gone "too far" in its race to address as many segments as possible. Källenius suggests the brand offers too many compact models and may cut these options in future to focus on more expensive and, thus, profitable model lines. | The Mercedes EQ range of EVs is set to grow to 10 different models by 2022. So far, it has launched the EQC electric SUV and confirmed that two smaller models called the EQA and EQB will join over the next two years. Daimler's extensive heavy duty and bus operations are also due to be electrified over the next few years. The company is the first to offer a commercial solid-state battery option on an electric bus. | Stop ICE production: 2039 |
| Ford | It confirmed in February 2021 that it would cease building combustion-powered vehicles in Europe by 2030. It declined to make the same commitment to the US because the combustion-powered F-150 pickup truck is still the country's best-selling light vehicle and a significant profit generator. It has stated than an EV version of the F-150 is due in 2022 powered by SK Innovation-sourced batteries. This supply arrangement is already facing pressure, however, from a US court ruling that found SK guilty of stealing LG Chem's secrets. This means that SK is restricted to only supplying Ford and VW in the US and cannot set up any new business for 10 years – making it harder for SK Innovation to secure a long-term position in the US battery market. Ford has also confirmed that it plans to use VW's MEB platform to underpin at least one model – likely to be an SUV or crossover. No further details have yet emerged, however. | After lacklustre entries into the EV segment in the mid-2010s with models such as the Ford Focus Electric, the company is beginning to take electrification seriously. In 2020, it took the bold decision to link its first truly electrified model with the historic Mustang brand. While traditionalists scoffed, this may prove a wise move, lending some much-needed desirability to its first real EV challenger. | Stop ICE production in Europe: 2030 |
| General Motors | General Motors (GM) is the first of the big three US automakers to fully commit to moving its entire passenger lineup to electric power. GM has stated that it plans to phase out combustion-powered models by 2035. It has invested billions of dollars in its Ultium range of EV components – these include batteries co-developed with LG Chem, electric motors and control systems. Honda has also joined GM in investing in this technology to share R&D resources. The first model to feature the new range of components will be the GMC Hummer EV, due for delivery in 2022, with the Cadillac Lyric SUV following shortly afterwards. Later, a delivery vehicle for GM's commercial offshoot BrightDrop will also use Ultium EV components. | GM's current range of electrified models is limited to the Bolt EV hatchback. The closely related Bolt EUV compact SUV is due for release in 2022. The Bolt EV was one of the first true rivals in the US for the Tesla Model 3 with a range exceeding 200 miles. | Stop ICE production: 2035 |
| Honda | Honda, like many legacy automakers, has been slow to adopt electrification. It has confirmed that it will phase out non-hybridised models in Europe by 2022 but still lacks a clear roadmap of future electrified models beyond the current Honda e. It is, however, invested in GM's Ultium battery and EV component technology, and has stated that it expects to offer an Ultium-powered model around 2024. This means it will have ready access to established technology sets in the near future without having to invest in its own R&D strategy to catch up. | Honda's current EV lineup is limited to hybrid models and the Honda e. The Honda e is a city car with a relatively compact battery. This gives it a reasonably small range but Honda argues it is enough for most buyers and helps keeps weight and cost down. | All vehicles electrified in Europe by: 2022 |
| Hyundai | Hyundai has not yet committed to moving its entire range to electrified powertrains but has indicated that it plans to cease developing diesel engines in the second half of 2021. This is driven by the move towards EVs but also by the backlash against diesel in the wake of the 2015 diesel emissions scandal. It has invested heavily in both battery-electric and hydrogen fuel cell powertrains. It has set up supply agreements with two local battery giants – LG Chem and SK Innovation – to reduce its dependency on either one in particular. It confirmed in November 2020 that it was working with UK chemical company Ineos to increase supplies of the fuel as it prepares to grow its fuel-cell-powered range. | Hyundai was among the first wave of major auto groups to introduce battery-electric powertrains to its lineup. Popular battery-powered models include the Ioniq hatchback, and Kona and Nexo SUVs. It also joined as a shareholder in the European Ionity charging network alongside BMW, Daimler, Ford and VW. | Stop diesel engine development: H2 2021 |
| Jaguar Land Rover (JLR) | While Jaguar-Land Rover (JLR) lacks the financial resources of the German premium brands is often rivals, it was one of the first premium marques to offer a fully electric SUV. It launched the I-Pace in 2018 with Google's Waymo AV developer purchasing 20,000 units to make up its self-driving ride-hail fleet. Parent company Tata may take a while to adopt electrification, but JLR is further along the transition. In February 2021, Jaguar confirmed that it would transition to purely electric powertrains by 2025. Sister brand Land Rover will cease selling combustion powered cars in the UK by 2030 and across the globe by 2036. | Jaguar currently build the I-Pace electric SUV through contract manufacture by Magna-Steyr. It is currently in the process of refitting factories to manufacture EVs. | Stop ICE production: Jaguar – 2025; Land Rover – 2030 (UK); 2036 (global) |
| Mazda | Reports circulated as early as 2017 that Mazda was planning to move its entire range to electric and hybrid options solely by 2030. While the automaker has yet to elaborate on these plans, this seems a likely goal. Mazda has been increasing its ties with Toyota in recent years. This partnership allows it to cut R&D costs while increasing its addressable market. It is likely that, in future, Mazda will source EV parts and components through its relationships with Toyota, although no concrete plans for new models have been made public so far. | So far, the company has only one pure EV, the MX-30, on sale which, like the Honda e city car, has adopted a 'rightsizing' approach to the battery capacity. This means that, rather than increase cost and weight by fitting the largest battery possible, Mazda has opted for a mid-sized 35.5kWh battery. | All vehicles electrified by: 2030 |
| Renault-Nissan | The Renault-Nissan Alliance was among the very first groups to sell EVs at scale with the Nissan Leaf, launched at the end of 2010. Nissan has yet to commit to a point where it will cease selling combustion-powered vehicles but indicated in 2018 that it would cease diesel sales in Europe by the end of 2021. Alliance partner Renault has been more determined in its move away from combustion. In its 'Renaulution' business plan launched in 2021, the company committed to launching 24 new models by 2025, with the majority being electrified. In that time, it will also drop from eight powertrain types down to four – a hybrid gasoline unit, a pure EV unit, a hydrogen fuel cell unit, and a single diesel unit solely for commercial vehicles. | Nissan currently builds the second-generation Leaf EV in Japan, the US and the UK. It builds the similar Sylphy Zero Emission in a joint venture with Dongfeng. Nissan also builds the e-NV200 electric van. Renault EVs currently include the Twizy microcar and Zoe supermini. It also makes the Kangoo Z.E. and Master Z.E. electric vans. | Stop diesel engine sales: End of 2021 (Nissan) Dropping to just one petrol hybrid and one diesel engine: 2025 (Renault) |
| Stellantis | While Stellantis has not specified a point at which it will cease selling combustion-powered vehicles, it stated in 2018 that it would phase out diesel vehicles by 2022. Having so many brands under its roof does give Stellantis the capacity to try different strategies. As a result, its premium marque DS has stated that it will sell only electric and plug-in-hybrid models from 2025. Supporting this decision is the introduction of the e-CMP platform in 2018, a variant of the CMP platform designed to accommodate EV components. | Stellantis recently began launching EVs on its e-CMP platform. These include the Vauxhall Corsa-e, the Peugeot e-2008 and e-208, and the DS3 Crossback e-tense. | Stop diesel engine sales: 2022 |
| Subaru | Subaru has yet to state a firm timeframe for its switch to electric vehicles. However, the company did state that it was aiming to be carbon neutral by 2050 and that it would launch its last-ever purely combustion-powered model in 2022. Every subsequent model will either be hybridised or fully electrified. Subaru, like Mazda, has tie ups with Toyota so could source EV components through that relationship. A leaked image and production schedule seen in August 2020 indicate that Subaru is planning on launching its first fully electric vehicle in 2022, which could go under the Evoltis name. A formal announcement by Subaruconfirmed that the new model would be an SUV but did not give a definitive introduction date. | Currently, Subaru doesn't make any purely electric vehicles. It does sell non-plug-in hybridised versions of its XV and Forester crossovers. | All vehicles electrified by: 2022 |
| Suzuki | Suzuki is a car manufacturer mainly concentrated on smaller and more affordable models. As such, transaction prices are lower for each individual vehicle which makes it harder to justify the additional cost of adding an electrified powertrain. Nevertheless, Suzuki and partner Toyota confirmed in February 2021 that they would co-develop a small EV platform over the next five years. While it might not transition its entire range to fully electric powertrains as quickly as OEMs towards the premium end of the market, Suzuki has ensured hybrid options are available for every model in its range. This includes the Toyota RAV4-based Across with a powerful plug-in hybrid powertrain. | Suzuki doesn't currently make any pure EVs, but it is planning one with Toyota due within the next five years. Its current range is available with hybrid powertrains as an option. | TBC |
| Toyota | While Toyota has begun introducing purely electric models, it is more widely known for its strengths in hybrid powertrains, which it has been offering for sale since the 1990s. It launched a slew of new models based on its new Toyota New Global Architecture (TNGA) platform recently and, on the popular RAV4 SUV, launched its first plug-in hybrid powertrain. Expect this to be rolled out to other TNGA-based models such as the Camry and Highlander in the near future. For EVs, Toyota is expected to launch a purely electric SUV in collaboration with Subaru at some point in 2021. This will join the recently released Lexus UX EV in the lineup. | The majority of Toyota's lineup can be bought with a hybridised engine. Models such as the RAV4 Prime demonstrate that the company will gradually offer more plug-in-hybrid options in the future. For pure EVs, the upmarket Lexus UX SUV is currently the only option but a Toyota SUV EV will join it later in 2021. | Stop diesel engine sales: 2018 |
| Volkswagen | After the impact of the diesel emissions scandal in 2015, Volkswagen has sought to improve its environmental image by committing strongly to electric vehicles. This has seen the rise of two electric platforms – MEB for small and medium-sized vehicles, and PPE for large luxury EVs. The latter of which launched under the Porsche Taycan and was the first EV to offer an 800V architecture, allowing faster recharge times. MEB is set to underpin a large number of VW products including the recently released ID.3 hatchback and ID.4 SUV. In addition, Ford is expected to license MEB in a technological tie up and produce its own model based on the platform. VW has committed to stop developing combustion-powered vehicles in 2026, stating that that will be the last new generation of engines, with all subsequent developments being electric only. | After the lukewarm reception received by the e-Golf and e-Up vehicles, VW is hoping for a much better response to its recent ID.3 and ID.4 EVs. At the higher end of the market, the PPE platform now underpins the Porsche Taycan and Audi e-tron GT luxury sedans. This platform will probably expand to include an SUV in the near future based on current buying habits. | Stop ICE development: 2026 |
| Volvo | Volvo – part of the Geely group – has committed to cease selling combustion-powered models by 2030 and has already introduced its first Volvo-branded EV. Parent company Geely will be keen to see that the same technology is also used in upcoming Polestar, Lynk & Co, Geometry, Proton and Lotus models. | Volvo offers all its current combustion-powered models with plug-in-hybrid powertrains. It has launched the Volvo XC40 Recharge as its first fully electric model, with the related Polestar 2 due to go on sale later in 2021. | Stop ICE production: 2030 |
Source: Industry sources; GlobalData
Most popular news
---
Most popular insights
---
Oops! This article is copy protected.
Why can't I copy the text on this page?
The ability to copy articles is specially reserved for people who are part of a group membership.
How do I become a group member?
To find out how you and your team can copy and share articles and save money as part of a group membership call Shivani Hayer on
+44 (0)1527 573 732 or complete this form..