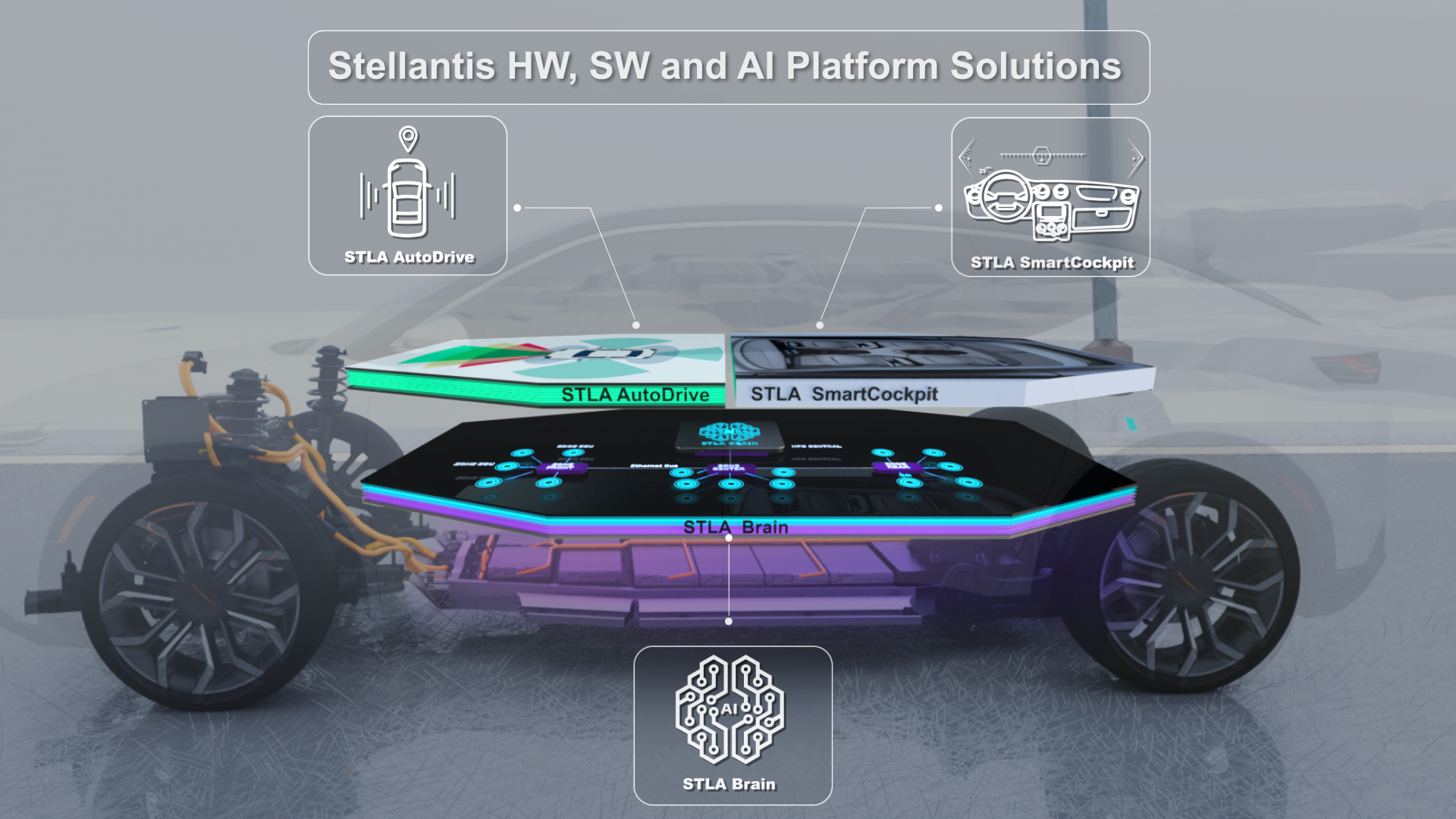 Vehicle makers are exploring new revenue streams in the sale of software and associated subscription-based services. Automakers across the board are making expensive bets in the fields of electrification and autonomous driving, so many are looking for new ways to monetize their product offerings. With vehicle retail and aftersales services already well developed, a new avenue is opening up to OEMs looking to boost their finances – software sales. Software has permeated nearly every level of the automotive value chain. Modern cars can have a dozen or more individual computers on board to operate various functions – some operate in the background to keep engines or electric powertrains ticking over, while others take a more customer-facing role, controlling the infotainment system, navigation and various other in-cabin functions. As powertrains electrify, vehicles are becoming mechanically more homogenous with less opportunity for differentiation 'under the hood'. As a result, automakers are beginning to look to software and associated services to establish their individual brand identities in the minds of customers. Perhaps the most prominent example of this is Tesla's suite of infotainment and digital vehicle services. When the Model S sedan launched in 2012, one of its most standout features was the enormous central touchscreen that dominated the dashboard. This controlled all in-cabin features and had a clean, iconic interface that echoed the design of Apple's iOS, and was far more advanced of any infotainment system offered by a competitor, immediately helping the Tesla stand out. Tesla's on-board software was, at first, sold in a similar manner to many other automakers – customers would configure the exact software options they wanted when purchasing the car, increasing the purchase price with each new function added. However, the company has developed a new way to monetize this system by offering customers the option to subscribe to additional services in the future. Specifically, Tesla offers its most advanced autonomous driving system – Full Self-Driving – as a subscription that can be added to its cars at a later date. Full Self-Driving utilizes the car's existing hardware in terms of processors and camera sensors, but brings additional autonomous functionality allowing the car to drive itself with human supervision on certain surface streets. This is available as a one-off $10,000 option or users have the option to subscribe to the service, with a $99 per month charge for those with Enhanced Autopilot, or $199 for those with basic Autopilot. Hot on the heels of Tesla is fellow US EV startup Rivian. The electric pickup and SUV company began delivering vehicles to customers just weeks ago but has already predicted that it could earn as much as $15,500 per vehicle over a 10-year period through software subscription services. That breaks down as $10,000 over 10 years for subscription to autonomous features, and $5,500 over the same period for infotainment, connectivity and diagnostic features. General Motors has also stated its intention to offer autonomous functions on a subscription basis.
Having just revealed a challenger for the Tesla Model 3, Nio goes into 2022 with the promise of two sedans and by the end of next year, a range of five models. What might follow these? It's been an especially hectic 12 months for the Chinese electric car startup, Nio. 'Nio Day 2020' had to be delayed until early 2021, this special event being where the world got its first official look at the ET7, a big sedan. Nio Day 2021 has just happened, the ET5 being revealed there, along with various updates on the company's business activities and plans. Announcements include the news that battery swapping stations in China now number 733 while a national network of 3,136 branded Power Chargers and 3,348 slower speed alternatives now exist. The firm says it is aiming to expand those respective totals to more than 1,300 swap stations, 6,000 Power Chargers and 10,000 Destination chargers by the end of 2022. Additional goals will be a second stage of the move into Europe, the brand having been established in Norway this year, the first market outside China. The next markets will be Sweden, Denmark, The Netherlands and Germany, all in 2022, and by 2025, the intention is to be selling cars in 25 countries. Those additional 19 markets have yet to be named. The last few months has seen JAC working to modify and expand the plant at which it builds Nio vehicles in anticipation of the introduction of the ET7 and for that reason (plus the microchips shortage), deliveries of existing models have not been as high as expected. Still, that's good news for Nio's CY22 sales, with a significant bank of orders now built up, and growing.
Just Auto parent company GlobalData Plc has acquired LMC Automotive and LMCI Holdings Limited, which provide data, analytics, and insights of the automotive and agribusiness markets respectively. In a statement, GlobalData said the acquisitions 'add further scale and capabilities to our existing automotive intelligence proposition and brings new and unique gold standard Agribusiness data to broaden and complement our existing sector coverage'. LMC Automotive is best known for its automotive markets forecast services, which extend to global databases of sales and production down to make, model and engine detail. LMC Automotive also runs industry conferences and has presence globally in all major automotive markets. The latest acquisitions for GlobalData follow on from the Life Sciences acquisition earlier this year and GlobalData said they reflect a further step in its M&A strategy 'to strengthen and expand our industry coverage and intelligence capabilities'. The company said a "'One Platform' approach to data, analytics and insights' gives us a unique opportunity to fully integrate, scale and develop bolt-on acquisitions such as these". Commenting on the acquisitions Mike Danson, GlobalData's Chief Executive Officer, said: "The automotive and agribusiness acquisitions represent strategic bolt-ons and the high quality gold standard content adds depth and further breadth to our intelligence offering. Our confidence in the success of these additions, as well as future M&A, is underpinned by the advantage of our One Platform model. It provides multiple levers for realizing synergies, as well as the ability to enhance product capabilities. The additions allow us to demonstrate the capability of our platform to new clients, as well as leveraging the operating efficiencies of scale. I would like to take this opportunity to welcome our new global group of highly talented colleagues and I look forward to sharing their future success within GlobalData."
General Motors has announced that Dan Ammann, Chief Executive Officer of its Cruise unit – which specializes in autonomous drive technologies – is leaving the company. Kyle Vogt, Cruise President and Chief Technical Officer, will serve as interim CEO. In addition, Wesley Bush, the former Chairman and CEO of Northrop Grumman and a GM board member, will join the Cruise Board. Alongside the leadership change, GM says it will accelerate the strategy the company detailed in its recent Investor Day, in which Cruise will play an integral role in building GM's autonomous vehicle (AV) platform as GM 'aggressively pursues addressable AV markets beyond rideshare and delivery'. It is unclear what the next steps for Amman are, but media reports say he is leaving Cruise to pursue other opportunities.
Ford investments in the Craiova assembly plant in Romania since 2009 total US$2bn (EUR1.77bn), the company said. The automaker, which has made 1m vehicles at the former Daewoo factory, reconfirmed its commitment to invest $300m to build a new light commercial vehicle in Romania starting in 2023, including a fully electric version a year later, it said in a press release cited by SeeNews.com. Ford announced the investment last April. "By introducing a new all-electric vehicle in Craiova in 2024, Ford is sending a clear signal that it remains fully committed to offering its commercial vehicle customers in Europe a zero-emission future," the company said. Ford added that it has committed to enabling its full range of zero-emission, all-electric or plug-in hybrid commercial vehicles by 2024 and that it is estimated that two-thirds of Ford's commercial vehicle sales will be all-electric or plug in hybrid, until 2030. More than 600 robots have been installed in the factory to improve and streamline the processes of stamping, painting or assembling bodies and chassis, the company also said. Ford entered Romania in March 2008 when it completed the acquisition of a 72.4% stake in Automobile Craiova, the sole owner of car maker and distributor Daewoo Automobile Romania.
South Korea's LG Chem and its EV battery making subsidiary LG Energy Solution announced they had invested a combined KRW60bn (US$50m) to acquire a 5.2% stake in Li-Cycle, a Canadian recycler of lithium-ion batteries. The investment gave each a 2.6% stake in the Toronto-based company which they acquired through a recent rights issue. The South Korean companies also agreed to buy 20,000 tons of nickel annually from Li-Cycle for 10 years from 2023, which they said was enough to produce 300,000 EV batteries. Li-Cycle was established in 2016 and specialises in recovering key lithium-ion battery materials such as nickel and cobalt. It claims to have developed its own environment-friendly technology to extract the materials from used batteries. LG Energy Solution, the world's second-largest EV battery manufacturer, is investing heavily in production facilities globally to supply fast rising demand for EVs. In North America it is building two EV battery plants in a joint venture with General Motors called Ultium Cell, as well as wholly owned facilities in the region with a planned production capacity of 75GWh annually by 2025.
Volkswagen's automotive software and technology company Cariad and the geolocation technology specialist TomTom said they were co-developing a "navigation product" for the VW Group. It will combine TomTom's expertise in hybrid navigation and traffic services, with Cariad expertise in "premium user experience and vehicle integration". The multi-year deal covers all markets bar China and is the continuation of long standing cooperation as TomTom has supplied a traffic service for many years. Cariad, which is working on software and hardware platforms for all group brands, will develop the navigation UI/UX as well as the map visualisation for each brand. By 2030, Cariad aims to connect up to 40m vehicles globally to the group's automotive cloud. TomTom navigation will integrate into the group's digital cockpits, with frequent over the air updates. The cloud navigation uses super fast, up to date routing and real time traffic information, to deliver the most accurate guidance and estimated times of arrival. When no data connection is available, the system switches to onboard software, making it available under all circumstances.
Former Daimler executive Harald Kroeger is to leave the Bosch board of management at his own request at the end of the year. Effective 1 January, 2022, his responsibilities will be assumed by Markus Heyn, member of the board of management in his new role as chairman of the Mobility Solutions business sector. "Harald Kroeger was the driving force behind many developments of future importance, such as the setup of the pioneering Cross-Domain Computing Solutions division and the expansion of our semiconductor business," said Bosch CEO, Volkmar Denner. "He set a successful course for the business operations for which he was responsible, even in challenging market conditions." For his part, Bosch chairman, Franz Fehrenbach, added: "We regret Harald Kroeger's decision and wish him all the very best for the future. His very inspirational leadership combined with his unique ability to promote the right people, earned him a lot of esteem among his associates."
Gefco has started testing the Stanley Robotics autonomous mobile robot in real operating conditions on its Nanteuil-le-Haudouin platform in France. The robot, known as Stan, is designed to optimise storage operations on finished vehicle logistics compounds. Combining mobile robotics and an artificial intelligence-based software solution for storage, the 100%-electric robot is able to receive orders, detect and lift cars and then park them a few centimetres apart. During the pilot test, two Stan robots will be tasked with moving and parking used cars on around 100 dedicated parking spaces. They will then remove vehicles on demand to make them available in lines ready to be loaded by an operator onto car carrier trucks. The aim is to determine whether use of robots fits with Gefco's vehicle logistics processes at its compounds. Tests will be carried out in different scenarios on a large number of cars. They will take place in a zone dedicated to robots and closed to non-authorised personnel, to comply with safety standards. The pilot will also assess the integration of software and operational tools. The project supports Gefco's approach, based on testing different technologies such as robotisation, artificial intelligence, big data and robotic process automation (RPA), as well as using alternative energies. "One of Gefco's ongoing priorities is to innovate and adopt new technologies," said Gefco France president, Vittorio Battaglia.
Have a great weekend and Christmas/New Year holiday break.
Graeme Roberts, Deputy Editor, Just Auto