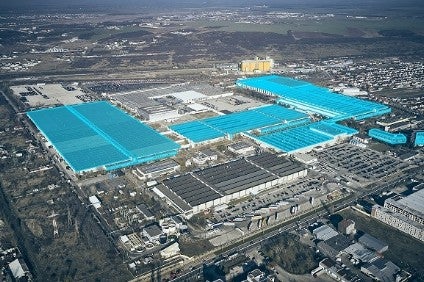 Ford investments in the Craiova assembly plant in Romania since 2009 total US$2bn (EUR1.77bn), the company said.
The automaker, which has made 1 m vehicles at the former Daewoo factory, reconfirmed its commitment to invest $300m to build a new light commercial vehicle in Romania starting in 2023, including a fully electric version a year later, it said in a press release cited by SeeNews.com.
Ford announced the investment last April.
"By introducing a new all-electric vehicle in Craiova in 2024, Ford is sending a clear signal that it remains fully committed to offering its commercial vehicle customers in Europe a zero-emission future," the company said.
Ford added that it has committed to enabling its full range of zero-emission, all-electric or plug-in hybrid commercial vehicles by 2024 and that it is estimated that two-thirds of Ford's commercial vehicle sales will be all-electric or plug-in. -in hybrid, until 2030.
More than 600 robots have been installed in the factory to improve and streamline the processes of stamping, painting or assembling bodies and chassis, the company also said.
Ford entered Romania in March 2008 when it completed the acquisition of a 72.4% stake in Automobile Craiova, the sole owner of car maker and distributor Daewoo Automobile Romania.
The auto manufacturer is manufacturing the Puma and EcoSport models, as well as the EcoBoost 1.0 l engine in Romania, employing over 6,000 people, SeeNews.com noted.