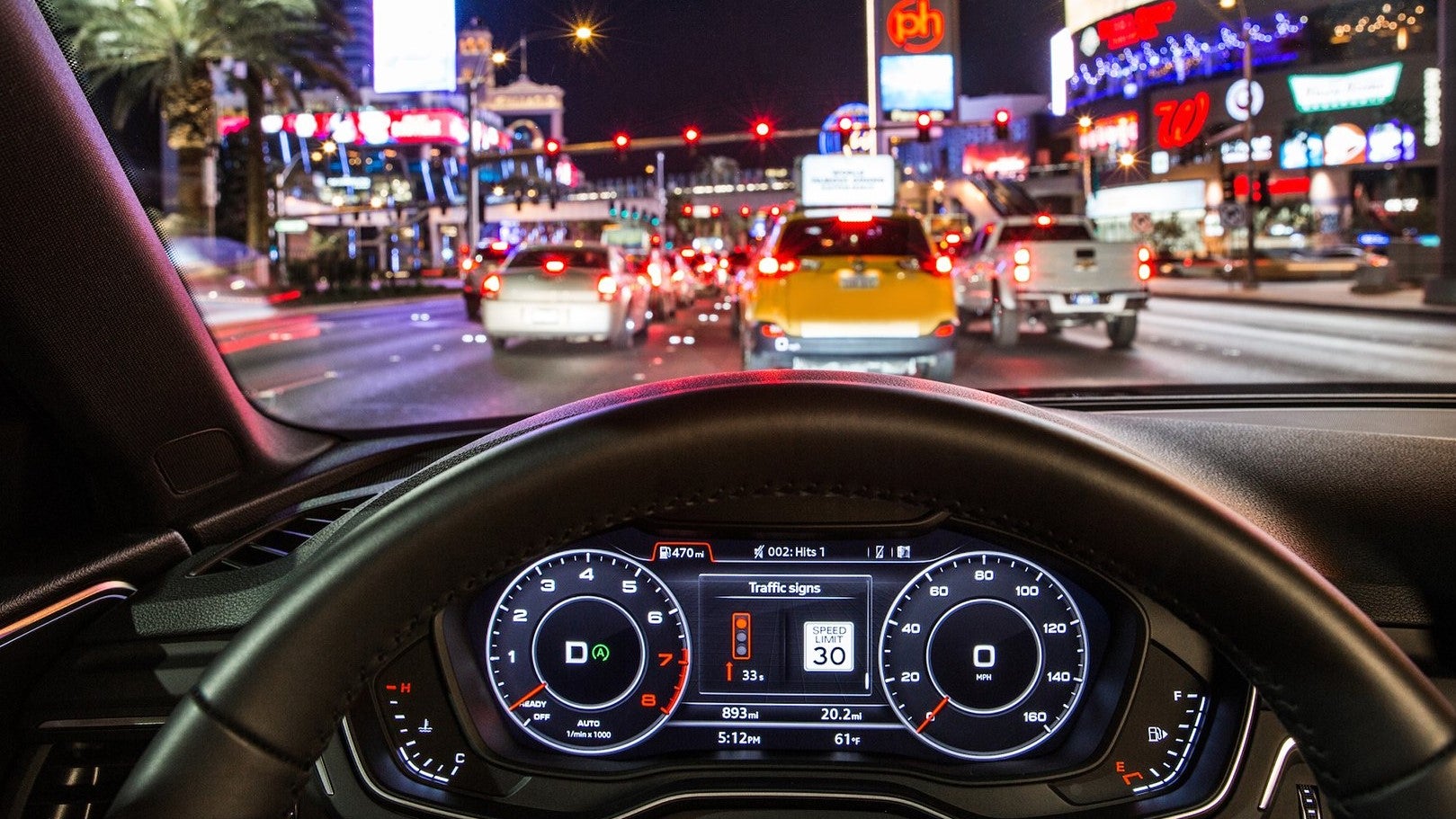 Connectivity articles always interest Just Auto readers. Case in point: news of Audi claiming to have been first with 'in-vehicle technology' called TLI which communicates between vehicles and traffic signals to provide time to green, green light optimised speed advisories and can help drivers minimise stop-and-go driving. TLI is now available at 22,000 intersections in 20 major metros and 60 cities and regions across the US. Audi also claimed the first in-vehicle LTE Wi-Fi hotspot (so useful if you have a gadget-obsessed family) and integrated toll module and plans more such as 'cellular vehicle-to-everything'. The automaker introduced TLI in production vehicles in 2016 with just a "handful" of connected signals. Five years on, working with Traffic Technology Services, it has passed 22,000 connected intersections operated by 60 agencies around the US with New York City, Los Angeles and San Francisco added recently.
The word 'pingdemic' has entered daily use here in the UK due to the much maligned NHS track and trace Covid app and the glacially slow realisation by the government it is drastically affecting such critical industries as food supply. And automakers, already hit by the chip shortage. After Nissan last week, Vauxhall was also hit by large numbers of UK workers self-isolating due to app notifications. The Stellantis-owned automaker temporarily stopped the night shift at its van-making Luton plant. The vehicle manufacturer said it had reduced the number of daily shifts from three to two due to "increasing numbers of employees who have been contacted by the [NHS track and trace] app". The factory shuts today (23 July) for its annual three-week closure. Last week, labour union Unite warned COVID-19 test and trace app isolation warnings are on the "verge of shutting" factories across Britain. The app is causing some controversy in Britain, as large numbers of people are being notified to self-isolate amid rapidly rising (delta variant) Covid infection rates. The self-isolation guidance applies even to those who are fully vaccinated though there are suggestions that may be relaxed but only for food supply workers, not supermarket workers, despite some stores closing temporarily and 'last mile' drivers being forced to isolate, cancelling home deliveries.
Ford restarting vehicle production at Dagenham (which built its last car in 2003). Don't get too excited as volume will be low. Ford and MS-RT, the Ford Pro commercial vehicles contractor, have announced a new GBP4m vehicle conversion facility at the east of London site. MS-RT makes distinctive (luxury sports) models based on Ford's commercial vehicle nameplates – notably the Transit – and has been a Ford Qualified Vehicle Modifier (QVM) since 2020, meeting the automaker's standards for manufacturing and quality control and offering full warranty support. The pair already enjoy a close collaborative relationship this new investment gives MS-RT opportunity to expand its business with easier access to Ford technical expertise in Dagenham and at the nearby Ford Britain Dunton Campus which develops commercial vehicles for Europe. The new facility will provide work for 50 new employees when it starts, rising to over 120 new jobs when fully operational.
Ahead of new rules no longer requiring a joint venture with a local company to make cars in China (already in place for EVs, see Telsa), Geely-owned Volvo Cars is gaining full control of its operations there and will become the first major non-Chinese automaker with full control over its Chinese operations, according to chief executive Hakan Samuelsson. The automaker signed an agreement with Geely Holding to acquire the parent company stake in the joint ventures in China, eventually taking full ownership of car manufacturing plants and sales operations. The automaker said acquring the second 50% of the shares in Daqing Volvo Car Manufacturing and Shanghai Volvo Car Research and Development would further strengthen its position in China, its largest market, "and maximise exposure to one of the fastest-growing regions globally". The Swedish brand claimed to have grown "significantly faster" than the average market in China in recent years and would continue to invest in the country to maintain strong growth. Following the transactions, Volvo Cars would have full ownership of car assembly factories in Chengdu and Daqing, the national sales company for China and an R&D facility in Shanghai. The transactions would be completed in two steps, starting in 2022 when the joint venture requirement for auto manufacturing in China will be lifted, and expected to be formally completed in 2023. Geely, which also owns a 9.7% stake in Daimler, said earlier this year it was considering options for Volvo, including an IPO and stock market listing. Last February, Geely's Hong Kong-listed unit Geely Automobile and Volvo Cars scrapped plans to merge.
Daimler's Mercedes-Benz unit this week updated its EV strategy, including the aim that all newly launched architectures will be electric-only from 2025 onwards. Also in 2025, the brand will launch three electric-only architectures and said it will be ready to go all electric at the end of the decade, 'where market conditions allow'. Mercedes-Benz is also planning to install battery cell capacity of more than 200 Gigawatt hours with partners and is planning for eight Gigafactories. By 2022, it will offer battery electric vehicles (BEV) in all segments contested. From 2025, all newly launched vehicle architectures will be electric-only and customers will be able to choose an all-electric alternative for every model the company makes. To facilitate this shift, Mercedes-Benz is unveiling a comprehensive plan which includes significantly accelerating R&D. Investments in battery electric vehicles between 2022 and 2030 will amount to over EUR40bn. Accelerating and advancing the EV model line plan will bring forward the tipping point for EV adoption, Daimler reckons.
Are there signs of an easing of the semiconductor supply crisis in China? While many automakers around the world are struggling to deal with a shortage of critical electronic components caused by the semiconductor supply crisis, Volkswagen's Chinese unit expects the crisis to ease over the next six months. China operations chief Stephan Woellenstein said he expected the chips supply crisis to bottom out in the summer. He also said Volkswagen will source some chips from a new supplier starting in August. VW saw its China JVs' sales drop 12.3% between April and June compared with a year earlier, as chip supply issues hit its assembly lines.
Our analysis of second quarter light vehicle sales in the US sees a demand recovery tempered by supply bottlenecks (chips) for some. Supply issues continued to play havoc with the normal pecking order in the period. Not only did Toyota report more sales than General Motors, both the Chevrolet Silverado and Ram pickups outsold the chip-starved Ford F-Series. The Silverado beat the Ram in Q2 but the Ram was still ahead for the first six months. Stellantis' Dodge Division sold more passenger cars than Ford Motor Company and General Motors and the Dodge Challenger was the best selling muscle car, coming in ahead of the Ford Mustang. Strange times in the industry! Overall sales in both the second quarter and the first half not only easily beat the same periods in 2020, when the COVID-19 pandemic was crippling business, they also surpassed Q2 and H1 in 2019. The major manufacturers reported just over 4.7m deliveries in Q1, 42.9% ahead of the April-June period in 2020. This brought the first half total to nearly 8.6m, a gain of 32.7%. European automakers achieved the highest market share gain, adding more than an entire percentage point to their piece of the pie. The U.S. companies were the big losers, giving up 2.7% of their share. Toyota added nearly 2.6% while Ford lost more than three percent of its share. Tesla was the only U.S. automaker to gain share, adding 1.5% to its take. As has been the case for some time, crossovers and sport-utility vehicles claimed the largest share of new vehicle deliveries, nearly 52% of the total in both Q2 and the first half. Passenger cars had a slightly larger share this year than they did in 2020. Curtailed production was the chief culprit in a big share loss for pickup trucks. The segment, which is usually quite strong, gave up nearly 4% in the second quarter leaving them with a 2.6% deficit for the first half. Full size pickups were responsible for the lion's share of the loss; mid size trucks gave up just 0.4% in Q1 and were almost unchanged for the first half. Analysts are already forecasting a 16m plus year for the auto industry but steadily rising prices are making their way into the used vehicle market as more and more Americans opt for 'pre-owned'. While nowhere near as strong as they are in Europe, deliveries of electric vehicles are growing, thanks to new entries and refreshed models.
Have a nice weekend.
Graeme Roberts, Deputy Editor, Just Auto, GlobalData