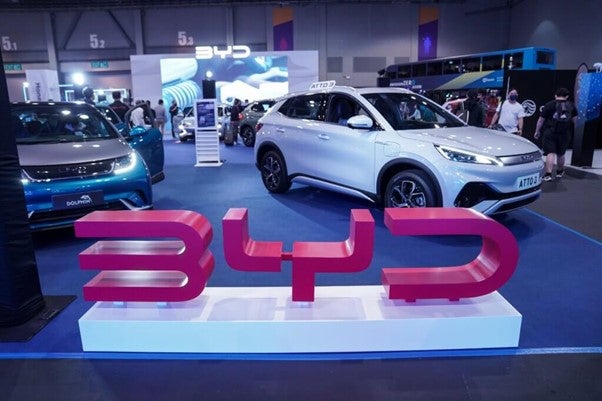 There is a growing realisation that the Chinese auto industry is going to take a large slice of the rising global market for electric vehicles. We're now in the beginning of the execution stage of what has been in a formative phase for many years, with Beijing's industrial strategy for the sector also addressing supply chains and batteries.
Wholesale 'sales' data that we analyse includes exports and shows that exports accounted for about 15% of July China passenger vehicle wholesales, while domestic sales were sluggish. Car exports reached 320k units in July, increasing by 38% YoY, and now accounting for 12% of total China car production. Total China car exports YTD in 2023 reached 2.07 million units, an increase of 81% YoY. Chery, SAIC, Tesla, Geely and Great Wall are the leading car exporters, and most of China's car exports went to Russia, the EU, the Middle East and southeast Asia markets.
Over two million units and a near doubling of exports in the first seven months points to a bit of a charge. BYD is a good example of a company at the forefront of the charge. It has its origins in batteries and has also paid considerable attention to the supply of critical components needed to make EVs.
At the recent IAA show in Munich, China's largest electric automaker debuted its electric car line-up featuring five EVs. The BYD Seal was also shown. Deliveries in Europe are due to start before the end of this year. As one analyst put it to me not so long ago, "they are parking their tanks on the European OEMs' lawn".
BYD adds two models for Europe
Other Chinese OEMs are also eyeing the European market for future growth, as EV penetration picks up and they aim to take a slice of the new business with new product that is competitively priced.
There's the rub though: that term 'competitively priced'. How have the Chinese OEMs managed to get to very low price points on these global shipments? Is it all down to effective business management and scale economies levered off the world's largest market – which has also been heavily incentivised for so-called New Energy Vehicles (NEVs – plug-in hybrids and BEVs). Furthermore, what other subsidies (open or 'hidden') have the OEMs or related companies received from the state or the more muddied waters of municipal authorities and myriad associated state enterprises or banks over the course of many years?
In short, is it truly fair competition versus others in the European market (presumably, the European OEMs are now somewhat worried)? As lawmakers work towards carbon net zero outcomes and policies – which EVs are inevitably going to be a vital part of – they don't want to score 'own goals'.
The EU Commission President Ursula von der Leyen had these 'history lesson' words for European lawmakers in Strasbourg this week:
"Too often, our companies are excluded from foreign markets or are victims of predatory practices. They are often undercut by competitors benefitting from huge state subsidies. We have not forgotten how China's unfair trade practices affected our solar industry. Many young businesses were pushed out by heavily subsidised Chinese competitors. Pioneering companies had to file for bankruptcy. Promising talents went searching for fortune abroad."
And she moved swiftly on to autos:
"Take the electric vehicles sector. It is a crucial industry for the clean economy, with a huge potential for Europe. But global markets are now flooded with cheaper Chinese electric cars. And their price is kept artificially low by huge state subsidies.
"This is distorting our market. And as we do not accept this from the inside, we do not accept this from the outside.
"So I can announce today that the Commission is launching an anti-subsidy investigation into electric vehicles coming from China. Europe is open for competition. Not for a race to the bottom."
Strong words.
The debate will run and run.
The hard stops for sales of Internal Combustion Engine (ICE) cars have been aggressively set from 2030. Transport is a vital part of an energy transition to get to carbon net zero that lawmakers appear to be committed to. European consumers and others around the world will always want cheaper electric vehicles. The Chinese OEMs can provide many of them and they are now pretty good cars quality-wise (SAIC's MG-branded cars are doing particularly well in the UK).
The old tropes of easily dismissed cheap Chinese cars and dodgy copies that don't meet international safety standards no longer apply.
But how does the whole vehicle market look in the future and where are the vehicles and major components being manufactured? Yes, it is part of what is called an 'industrial strategy' and Beijing started the strategy for autos when it let foreign makers – starting with Volkswagen and Chrysler – in for the learning curve JVs way back in the 1980s. Strategy is exactly where the long-view Chinese have – by a variety of means – excelled and others have not.
Was it fair, though? If the EU Commission's answer to that question is broadly a 'no', get ready for talk of import tarrifs, retaliatory measures and the potential escalation to a broader trade war. No-one wants that, but the stakes are very high when it comes to a sector that is so economically significant and undergoing transformative change.