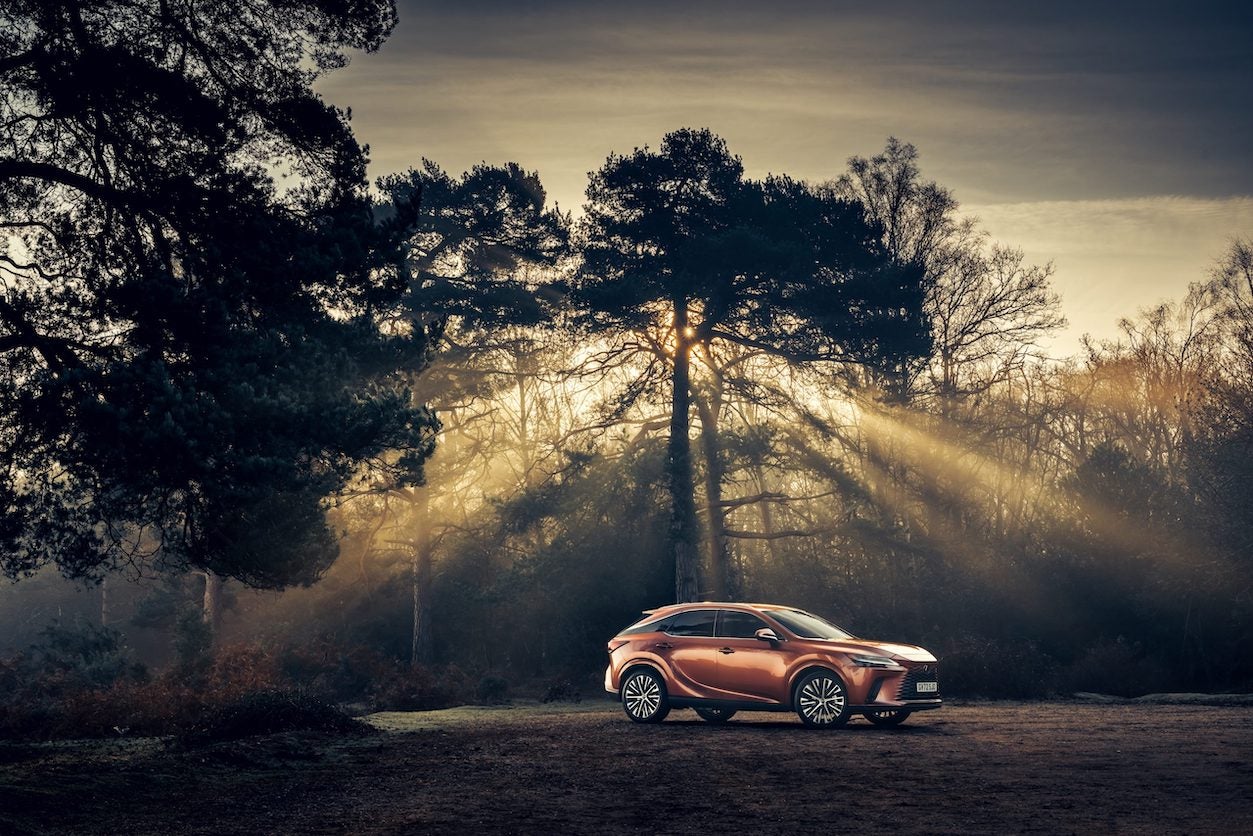 Toyota understands why many people prefer not to buy an electric vehicle, instead giving such buyers a fresh option for the new Lexus RX: plug-in hybrid power.
Once it was just h for hybrid, but then came d for diesel and now Lexus badges can feature an e for electric or even a + for, well, no not plu…s but plu…g-in hybrid.
More EVs, more PHEVs
This luxury brand has long been synonymous with hybrids, at least in Asia and Europe, North American customers traditionally having been less keen on gasoline-electric models. That's now changed and not only are h-suffix SUVs some of the brand's best sellers in the US but EVs and PHEVs are (slowly) finding favour too.
The RX has always been a vehicle which did well in America. Yet despite its far from modest size, it's also had a lot of success in the European region's markets. Thus, the addition of a plug-in hybrid option with the new, fifth generation model.
Cambridge and Kyushu
Lexus revealed this 4,890 mm long SUV on 1 June last year, production commencing three months later. As with the previous one, this RX is manufactured in Canada (Cambridge South, Ontario) and Japan (Toyota Motor Kyushu's main plant).
While the length is identical to that of the previous model, the rear overhang is less and the wheelbase is longer. The platform is TMC's well-known FWD/AWD GA-K.
Why no LWB successor?
Some will wonder why there's no successor for the extended wheelbase 5+2-seater RX L. The reason makes sense: Toyota will soon announce a bespoke model called Lexus TX. This steps in for the RX L as a model in its own right.
In fact, the next few weeks will be an especially busy period for new models, with the successor for the body-on-frame GX also due to be revealed (9 June). We don't know yet if that one is bound for Britain though. It replaces an ancient model of the same name which has sold well in North America, Australia and until last year, Russia.
RX, RZ, GX and soon, TX
There's even one further Lexus SUV in this size class, that being the RZ 450e. This, an electric-only challenger for the likes of the Mercedes-Benz EQE SUV, Nio ES6 and SAIC–Volkswagen's Audi Q5 e-tron, is just a tad shorter than the new RX.
All of this is the background as to why there are no EV variants in the mark five RX line-up. Instead, the range consists of one non-hybrid, two hybrids and one plug-in hybrid. Not all of these are available in every country but the global choices are:
RX 350 – 205 kW & 430 Nm 2.4 litre turbocharged four-cylinder engine, eight-speed automatic
RX 350h (hybrid) – 140 kW & 239 Nm 2,487 cc four-cylinder engine, 134 kW & 270 Nm front motor, 40 kW & 121 Nm rear motor, CVT, NMH battery, combined power of 184 kW
RX 450h+ (PHEV) – 136 kW & 227 Nm 2,487 cc four-cylinder engine, 134 kW & 270 Nm front motor, 40 kW & 121 Nm rear motor, CVT, 18.1 kWh li-ion battery, AWD, combined power of 227 kW
RX 500h F Sport Performance (hybrid) – 200 kW & 460 Nm 2,393 cc turbocharged four-cylinder engine, 64 kW & 292 Nm front motor, 76 kW & 169 Nm rear motor, NMH battery, six-speed auto transmission, 80 kW rear motor, 'DIRECT4' AWD, combined power of 273 kW & 551 Nm
Toyota GB recently let me loose in the 450 aitch plus, a few months on from Graham having had a go in the smaller NX 450h+, another new PHEV.
Why so wide?
I mentioned that the overall footprint is more or less the same as the old RX but there is in fact one big difference when it comes to dimensions. Which is width. For reasons unknown, Toyota has stretched the sideways stance from 1,895 mm to 1,920. And the third generation was a way handier for Britain 1,885.
Are parking bays now 35 mm wider than they had been? They certainly aren't. So anyone considering a RX 450h+ needs to check that it will fit in the garage. Or even a standard supermarket space.
Decent dynamics
The girth does at least assist with how the new model goes down the road, or rather through the bends. The steering feel could be a touch sharper but even so, handling has been improved and stability is as nop-notch as it already was. To be sure, we're not talking an X5 level of appeal; yet nor is this a sloppy SUV. It's really just exactly what Lexus owners are used to: good dynamics and great comfort.
Softness is also a strongpoint of the RX's cabin, where lots of lovely-feeling plastics are found as well as some beautiful Alcantara or equivalent trim on the door-tops.
The old haptic controls are gone too, which many people won't be upset about. Yes, touchscreens are now a Lexus thing at last, in almost all of the brand's models.
Great space for five
The lengthier wheelbase means more space for legs and there's excellent head room too. Even a fifth occupant should be happy. Toyota has also made sure there are generously-sized storage places in the doors and an especially deep central cubby box.
Owners will quickly become used to what at first seem strange internal door handles. These are touch-sensitive but mechanical back-ups also feature. They soon feel as normal as the rest of the car, and I mean that in a positive sense. Something which is extraordinary however, is the audio system's quality. It really does offer stand-out sound quality.
Not so obvious overhang
The RX's appearance is even more distinctive from the outside. The nose in particular is long but that's been cleverly hidden via a variety of detail touches. That includes a large, two-tone grille, big headlights and low-positioning for the registration plate. I myself didn't really notice the length of the front overhang until lifting the bonnet and seeing just how far back the engine and gearbox are.
Lexus' designers have been similarly successful at giving the rear end proportions as pleasing as the swoopy sides. The roof comes down at quite a steep angle yet there's still room for a wash-wipe system hidden under a wing. Anyone expecting 'PHEV' badging will be disappointed, there being only L E X U S across the middle of the tailgate with RX 450h+ on the lower right side.
Sales surge
The relative youth of the brand's UK market range of models is but one reason why Lexus has been selling up a storm in 2023. A year-on-year gain of 72 per cent in April does however also reflect on how troubled the market was this time last year. Even so, 886 deliveries and 3,445 year-to-date are high enough to likely make Britain Lexus Europe's number one country. The brand is also now outselling Jaguar in its home market (just 692 cars retailed in April).
Summary
Aside from the addition of the LM in Q4, Lexus GB won't have any additional models to launch during the remainder of 2023. Which by no means will limit its continued rise as a marque, the roster of new, new-ish or facelifted vehicles being fairly full. And with the arrival of the new RX in all its forms, the German brands' large luxury SUVs now have a fresh new combatant.
Lexus RX pricing starts at GBP62,125 (RX 350h Premium Pack), rising to GBP82,195 (RX 500h F Sport with Takumi Pack). There are five model grades for the PHEV, these priced between GBP67,100 (RX 450h+ Premium Pack) and GBP81,600 (RX 450h+ Takumi).