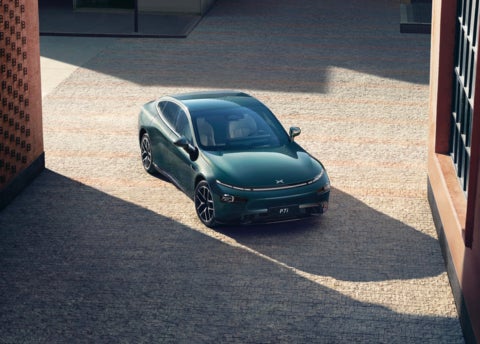 Xpeng has officially launched its new P7i sports saloon (or sedan) car for the Chinese market claiming the new model is brimming with its 'most advanced technologies with significant upgrades in driver assistance, smart cockpit, performance and charging efficiency'.
Pricing of the new P7i starts at RMB 249,900 and delivery will kick off in March for customers in China.
"The P7i exemplifies our pursuit of excellence, and is the latest refinement of our vision of smart mobility," said Mr. He Xiaopeng, Chairman and CEO of XPENG. "The P7i is bringing major upgrades to our highly successful P7 model, already enthusiastically received by customers. With the P7i, we are now delivering the world's most advanced smart driving EV technologies to the world's largest auto market."
The new P7i is equipped with Xpeng's proprietary XNGP architecture which it says is capable of performing City NGP (Navigation Guided Pilot), enhanced Highway NGP and LCC (Lane Centering Control) functions, as well as 'the industry's first mass-produced cross-level parking assistance VPA (Valet Parking Assist)'.
Its capabilities are supported by a hardware platform consisting of dual-LiDAR units and dual NVIDIA DRIVE Orin-X SoCs capable of up to 508 TOPS of computing power (MAX & WING versions) – a 17-fold increase from the previous models. Powered by a 31-sensor architecture with an enhanced 360° perception capability, the P7i is designed to achieve L4 ADAS functions in certain scenarios.
With a Qualcomm Snapdragon SA8155P chipset powering XPENG's proprietary Xmart OS 4.0 operating system, the P7i's all-scenario Voice Assistance 2.0 provides real-time, continuous voice command recognition, covering all four seating positions within the cockpit. The smart cockpit is complemented by a full touch-enabled in-car infotainment system. Control and driving experience are optimized through a Surrounding Reality (SR) dashboard display, which provides a 360° simulation of the surrounding road and environment conditions.
Xpeng claims that with up to 702 km CLTC range, the P7i can fast charge to secure another 240 km of range in just ten minutes.
Xpeng also says it is significantly scaling up its charging networks in China and expects to upgrade 180 supercharging stations to carry S4 480kW ultra-fast chargers.