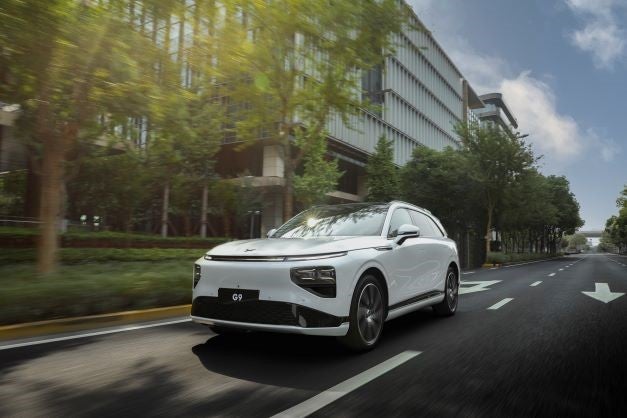 Xpeng launched two 'smart' EV models in Europe – the new G9 flagship SUV and updated P7 sports sedan.
Both models, shown at eCar Expo in Stockholm, are now available for order in Denmark, Norway, the Netherlands, and Sweden.
"[This] represents a significant milestone as we build our presence in Europe. We believe both vehicles deliver a new level of sophistication and a people first mobility experience, and will be the electric vehicles of choice for many European customers," said Brian Gu, vice chair and president of Xpeng.
The G9 has a new powertrain and battery technology, an "advanced" driver assistance system (ADAS), and "a luxurious and immersive cabin experience".
The upgraded P7 combines sports sedan design with greater range, faster charging and a new smart cabin.
The G9 powertrain has an 800 volt silicon carbide (SiC) platform for ultra fast charging of up to 300kW, allowing drivers to add up to 100km (60 miles) of range in five minutes. This also makes it possible to charge the 98kWh battery from 10% to 80% in 20 minutes. The G9 can travel a claimed 570km (350 miles) WLTP on a single charge (RWD long range), which Xpeng said was "exceptional for the battery size".
The G9 can be fitted with an electric tow bar, for up to 1,500 kg towed load, "to suit European lifestyles".
The updated P7 has been optimised with maximum charging power of up to 175kW, delivering fast charging from 10% to 80% in 29 minutes. Range has been improved, offering up to 576km (357 miles) WLTP on a single charge (RWD Long Range). An electric tailgate and soft closing doors have been added along with a heat pump and heated steering wheel for winter conditions in the colder regions of Europe.
Xpeng said the G9 and P7 were "both engineered to meet E-NCAP five-star safety standards and stringent EU WVTA vehicle certification".
The all wheel drive G9 has up to 551hp with maximum torque of 717 Nm, powering acceleration from 0–100 km/h in just 3.9 seconds. The dual chamber air spring system provides a wide range of stiffness adjustments to help the vehicle handle complex road conditions and ensure optimal ride comfort.
The P7 AWD accelerates from 0 to 100 km/h in 4.1 seconds and Brembo brakes are standard.
A Wing Edition has scissors doors.
Both models adopt hidden door handles, with extremely low drag coefficients (0.236 P7 and 0.272 G9), for lower power consumption and extended range.
Comfort and intelligence
Both new models can be ordered with a Dynaudio sound system, producing up to 860W or 2150W.
Both also have the automaker's proprietary Advanced Driver Assistance System, Xpilot, offering safety, driving, and parking support through a variety of smart functions supported by 29 sensors including high definition, millimetre wave radars, ultrasonic sensors, surround view and high perception cameras, enabling the vehicles to safely tackle multiple driving scenarios.
The upgraded Xmart OS boasts a new 3D UI that supports English, Nederlands, Dansk, Norsk, and Svenska, depending on market. Xmart OS also comes with the improved "Hey, XPENG" voice assistant, which can distinguish complex voice commands from all four zones of the cabin. These services are supported by wide infotainment screens and a library of in-car apps to assist, inform and entertain.
G9 and P7 will also get over the air (OTA) updates which allow both software and firmware to be improved during normal use.
Expanding service and charging networks
Delivery of the new models will capitalise on the opening of new brand delivery and service centres in at Lorenskog, Norway (opening February 2023), Badhoevedorp in the Netherlands, Staket, Jarfalla, Sweden and Hillerod, Denmark – all opening in the second quarter.
Additional authorised service locations with dedicated local partners will open in key European countries by the end of 2023.
Xpemg drivers can access 400,000 public charging stations in Europe, by collaboration with third party operators and mobility service providers Plugsurfing and Shell Recharge.
The automaker will also provide third party home charger and installation services, again with local partners.
A five year, 120,000km (75,000 miles) warranty is standard with the new models but a promotion offered until the end of the year extendeds that to seven years/160,000km (100,000 miles) and is transferable when the vehicle is sold.