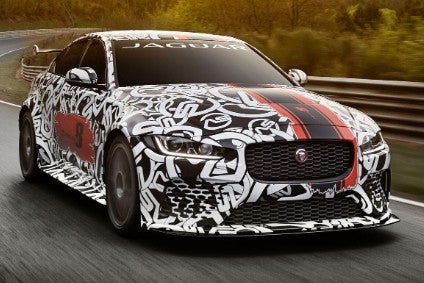 Jaguar has announced the XE SV Project 8. Powered by a 441kW (600PS) version of JLR's supercharged 5.0-litre V8, this will be the fastest road legal Jaguar yet.
Only 300 cars will be made, each one to be built at the SVO Technical Centre in Coventry. The XE Special Vehicles Project 8 follows Project 7, which was a 423kW (575PS) special version of the F-TYPE released in 2014.
Full technical specifications for what Jaguar is calling a Collectors' Edition will not be revealed until 28 June, with the car itself then being seen for the first time two days later at the Goodwood Festival of Speed.
Until now, the fastest and most powerful Jaguar has been the F-TYPE SVR. Its engine is a 575PS version of the same supercharged V8 as features under the bonnet of the Project 8. The announcement of a 600PS V8 raises questions as to what will power an eventual XE SVR – will it have the 575- or 600PS unit?