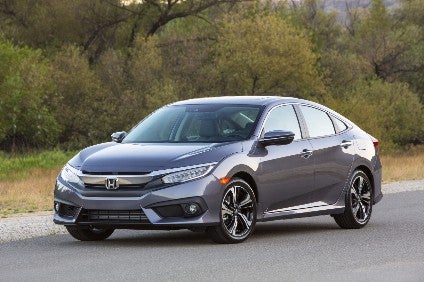 They say it's an ill wind that blows no good. After they left thousands homeless and billions in damage, Harvey and Irma's hurricane winds inflated US light vehicle sales in September.
Total volume rose to nearly 1.53m for the month, a 6.3% improvement. September was the first month in 2017 to finish in the black (a year on year rise).
September's seasonally adjusted sales rate (SAAR) was a very robust 18.58m, about 860,000 units ahead of last September and the strongest SAAR since July 2005.
The majority of automakers reported improved sales. General Motors and Toyota were the big winners among the major players: GM had the largest volume gain with more than 29,000 additional sales while Toyota had the highest percentage growth at 14.7%.
Volkswagen and Volvo delivered major improvements. With Audi setting its 81st consecutive sales record and VW coming through with a 33.2% gain, thanks to the new Atlas and refreshed Tiguan, Volkswagen Group came in 21.8% ahead of last year and finished the third quarter up 9.2%. Volvo's premium S90 sedan and the revised X60 boosted the Chinese Swedish automaker to a 40.7% gain.
Along with Audi, KIA, Nissan and Subaru all reported September sales records. Both of Nissan's brands set new September benchmarks.
Of course, not everyone was a winner. Fiat Chrysler retail sales were up but a 41% plunge in fleet deliveries left it with a 9.7% deficit. Hyundai's car heavy model line and legacy sell downs cost the larger of the Korean automakers more than 9,600 sales and nearly a full point of market share.
As expected, pickup sales were up last month with the full size models posting their highest growth of the year. Except for FCA's RAM, which missed its mark by just 650 sales, every big truck finished ahead of its September 2016 tally. The Ford F-series, Chevrolet Silverado and Ram have the top three sales spots pretty well locked up. The F-series will most likely extend its reign as America's best selling vehicle to 36 years.
Sales of commercial vans rose, as well. Segment volume was up 21.9% in September as businesses snapped up both full size and compact vans. There will probably be another month or two of good sales as businesses replace delivery trucks damaged by floods.
While the F-series appears secure, there's a shake up shaping up. The Toyota Camry may lose the spot it has held for 15 years as America's best-selling 'something other than a pickup'. Not only are the compact Toyota RAV4 and Nissan's Rogue ahead, but the Honda Civic is actually outselling Toyota's stalwart sedan in spite of the Camry's recent makeover.
Crossovers and SUVs remain the biggest segment of the new vehicle market. The utes claimed 43.4% of all sales in September, 2.7% more than they had last year at this time. Toyota was the best selling brand again but Jeep still has the lead in year to date deliveries.
Automakers can probably look forward to another storm driven sales month in October. The recovery process is ongoing and insurance companies are swamped with claims so settlement cheques will be in the mail for a while longer.
The used vehicle market will likely continue as the biggest beneficiary but some of that money, especially from business owners and fleet operators, will make its way to the new car showroom.
* indicates a sales record.
**Volkswagen Group figures include Audi, Bentley, Porsche and Volkswagen brands
Other includes estimated sales for Aston-Martin, Ferrari, Lamborghini, Lotus, McLaren, Rolls-Royce and Tesla