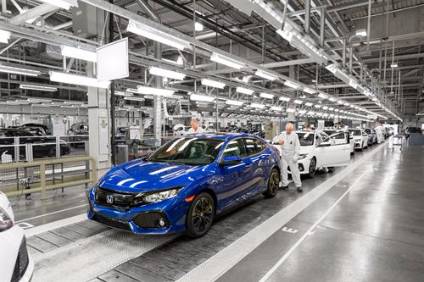 Britain has asked manufacturers, including automakers Ford and Honda plus aircraft jet engine maker Rolls Royce, to help make health equipment including ventilators to cope with the coronavirus outbreak.
It has also asked British construction equipment maker JCB if it could transfer some of its skills to ventilator production as the coronavirus pandemic increasingly concentrates European governments' minds
According to Reuters, the British government announced it was ramping up its battle against the coronavirus outbreak, shutting down social life and ordering the most vulnerable to isolate themselves for 12 weeks.
Prime minister Boris Johnson had spoken to over 60 manufacturing businesses and organisations to ask them to help step up the production of "vital medical equipment" such as ventilators for the National Health Service, a spokeswoman for his Downing Street office told Reuters.
"The prime minister made clear responding to coronavirus and reducing the spread of the peak requires a national effort," the spokeswoman told the news agency.
"He asked manufacturers to rise to this immediate challenge by offering skills and expertise as well as manufacturing the components themselves. Businesses can get involved in any part of the process: design, procurement, assembly, testing, and shipping."
Hotels will be used as emergency hospitals, retired doctors are being asked to come back to work and some elective surgery is being canceled.
Health Secretary Matt Hancock said there had been an enthusiastic response to the call for British ventilator production.
"We will buy as many ventilators as are made," he later told parliament, Reuters reported.
"It is not a question of putting a target on it, we are just going after as many as we possibly can."
It was, though, not immediately clear how the manufacturers of jet engines (Rolls-Royce based in Derby; separate from the BMW owned luxury car unit in West Sussex) or cars (Honda has engine and car making operations in Swindon; Ford has engine plants in Wales and Dagenham plus R&D at Dunton, Essex) could turn to producing specialist medical equipment, which international parts would be needed or what certification would be required.
One option could be to adopt defence industry rules which can be used to order certain factories to follow a design to produce a required product quickly. British industry has the capability to do that but is unlikely to make the electronic components that would also be required, Reuters reported.
Rolls Royce, a British engineering company that makes the jet engines for the biggest Boeing and Airbus planes, told the news agency it was ready to help in any way it could.
Honda, which built just under 110,000 cars at its facility in Swindon in England last year, told Reuters it had been asked by the government to explore the feasibility of making additional ventilators.
Ford made just under 1.1m engines in the UK in 2019. A spokesman said it was assessing the situation. One of the two sites, in Bridgend in Wales, is due to close this year.
Peugeot-owned Vauxhall, with a car assembly factory at Ellesmere Port, near Liverpool, has also been asked to help, the news agency reported.
China's BYD conglomerate, which makes products including electric buses and mobile phones, has just unveiled a new factory making face masks and hand sanitisers.
The company said it had "created the world's largest mass-produced face masks plant" now running at full capacity and able to produce 5m masks and 300,000 bottles of disinfectants per day.
"Mask production requires impeccably clean and sterile environments and equipment, and [our] dust-free rooms, previously used for the assembly of smartphones, are particularly well-suited for this. During the Spring Festival period, the company was unable to obtain mask-making equipment rapidly enough, so it set about making its own machines. [We] can now make more than a dozen of these machines a day," BYD added.