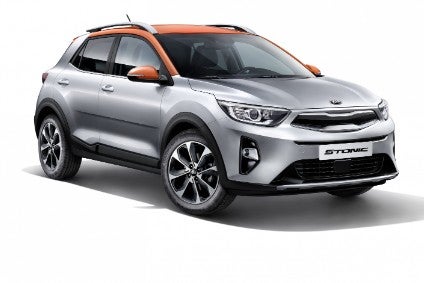 Due to the ongoing surge in sales of the Sportage, Kia Motors Europe will not manufacture the Stonic, another, albeit smaller SUV, at its Žilina plant in Slovakia.
The Stonic will make its worldwide motor show debut at the Frankfurt IAA in September. Build for Kia's home market recently commenced at Sohari. The South Korean manufacturing plant also manufactures the Ray, Stinger, Pride/Rio and Carnival/Sedona models.
The cee'd successor model series due out from late 2018 will be expanded to five vehicles.
The decision to source the Stonic for European countries from South Korea appears at first to be a curious one but there are several reasons for it.
Žilina has a capacity of 350,000 vehicles a year. While the existing cee'd range is now in its final year of production in Slovakia, the successor model series due out from late 2018 will be expanded to five vehicles from the existing three. While the pro_cee'd (three-door) will not be replaced, there will be successors for the cee'd (five-door) and Sportswagon plus a new 'Fastback' and two other variants, one of which should be an SUV, tentatively named 'trakceed'.
Another reason why there is no Stonic build in Slovakia is that the larger Sportage is selling so well. This is still a fresh vehicle, having entered production at Žilina in the fourth quarter of 2015. Its popularity is much of the reason for KME's sales having risen by 9.5 per cent in the first half of 2017. As at 30 June, and also according to ACEA, the total number of Kia vehicles sold in EU and EFTA markets hit 251,462. The equivalent figure for 1 Jan-30 June 2016 was 229,585.
As for the Stonic, this additional SUV will plug what has been a huge gap in Kia's line-up; namely a global B-SUV. This hasn't mattered too much in North America as the Soul has been very successful there, but in Europe, such a model has been sought by dealers for many years. The Stonic is a similar size to China's existing Kia KX3 and it is a challenger for the Peugeot 2008, Nissan Juke, Renault Captur, Opel-Vauxhall Mokka, Ford EcoSport and others in that class of SUVs and crossovers.
An electric Stonic is also expected but not until 2018. This derivative should share an 88kW motor with the Hyundai Ioniq but have a bigger (44+kWh) battery to give it a range of around 300km (186 miles).
Kia Motors will have one of the largest ranges of SUVs/Crossovers offered by any manufacturer.
Rumours suggest that Kia is planning to leverage the new Picanto/Morning to create an A segment crossover. If that happens, Kia Motors will have one of the largest ranges of SUVs/Crossovers offered by any manufacturer. The line-up would be as follows:
Morning/Picanto crossover (from late 2017, raised suspension, FWD-only, rival for Fiat Panda Trekking)
K2 Cross (B segment, China-only)
Soul (B segment, marketed as a crossover in some countries)
Stonic (B segment)
Niro (hybrid, C segment)
KX3 (C segment, China-only)
KX3-based RHD model (C segment, to be built at forthcoming Indian plant from 2019 or 2020)
Sportage/KX5 (C segment)
'trakceed' (C/D segment, due out in 2018 or 2019 and part of cee'd replacement range)
Sorento/KX7 (D/E segment)
Mohave/Borrego (E segment, due for replacement soon)