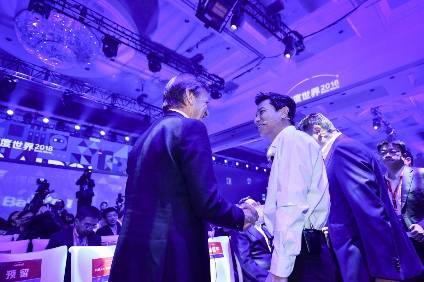 Geely-owned Volvo Cars is the latest OEM to announce an agreement with Baidu to jointly develop shared autonomous vehicles. Volvo says it will work with Baidu on electric and fully autonomous drive-compatible cars with the aim of mass producing them for the Chinese market.
Ford announced earlier this week that it will embark on a two-year project with Baidu to jointly test autonomous vehicles in Beijing.
Volvo Cars says it is the 'first foreign car maker to collaborate this closely with Baidu to jointly develop customised autonomous driving cars'. The partnership will allow both companies to develop and sell these vehicles to potential Chinese customers, Volvo says.
Volvo Cars and Baidu will pool resources to take the next step and prepare for mass manufacturing of fully electric and autonomous cars, according to the agreement. The collaboration with Baidu is Volvo Cars' first of this kind in China.
Based on the collaboration agreement, Baidu will contribute with its Apollo autonomous driving platform. Volvo will provide access to its expertise and advanced technologies of the car industry.
"With Baidu we take a big step forward in commercialising our autonomous-compatible cars, built on Volvo's industry-leading safety technology," said Håkan Samuelsson, President and Chief Executive of Volvo Cars. "There is a strong development in autonomous drive in China, where Baidu is a leading player, and the market there offers huge opportunities for us as the supplier of choice for autonomous fleets."
"Since its founding a century ago, Volvo has kept safety as its core mission, pushing safety development forward with significant innovations. We are very glad that Volvo Cars has established a strategic partnership with Baidu in the development of a fully autonomous car compatible with our autonomous driving platform, Apollo. We look forward to working closely with Volvo to provide the world with the safest auto products for the benefit of humankind," said Dr. Ya-Qin Zhang, President of Baidu.
Volvo Cars says it will seek to 'capitalise on and lead the disruption currently underway in the industry'. Earlier this year Volvo set long-term ambitions which focus on establishing a leading position in electrification, autonomous drive and new models of car ownership and access.
By the middle of the next decade, Volvo Cars expects to generate one third of all annual sales from autonomous cars.
See also: Ford and Baidu announce joint autonomous vehicle testing