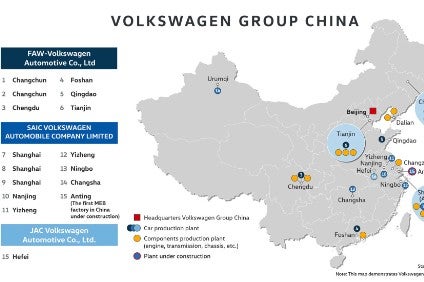 With local joint venture partner SAIC, the Volkswagen group has started construction of its first factory designed specifically for the MEB platform in Anting, Shanghai.
The first model will be a VW brand SUV, starting in 2020. The Shanghai plant will supplement the FAW-Volkswagen JV factory in Foshan, which opened this summer, and start building e-cars on the MEB platform directly after the first worldwide-supply MEB production starts in Zwickau, Germany.
"Through VW's MEB platform, we will be able to easily produce electric vehicles for our Chinese customers on a high scale," said group chairman Herbert Diess.
The Anting factory will use a production network based on Industry 4.0 with increased automation and efficiency. The factory will have 1,400 robots and a range of technology including AI, AR and VR, delivering an 'intelligent and digitalised' production plant.
Covering 610,000 sq m, the new energy vehicle (NEV) plant will include a variety of different production areas such as press and battery assembly shops, in addition to an elevated warehouse and a proving track. It will use 27 types of environment friendly technology with a focus on water and energy saving and carbon dioxide reduction.
The facility is scheduled to start production by 2020 with planned capacity of 300,000 vehicles. It will produce various new all electric vehicles for SAIC Volkswagen, including medium- and large SUVs, plus battery systems.
The vehicles will be based on MEB, VW's first all electric modular platform developed for mass production.
VW claims MEB vehicles will have a more dynamic design, additional space, expanded battery capacity, and new integrated digital services while being fully ready autonomous driving.
China, the leading e-vehicle market, is central to VW's Roadmap E plan. The June opening of the second FAW-Volkswagen plant in Foshan was another step for the automaker's electrification strategy there.
Capacity in Foshan has doubled from 300,000 to 600,000 vehicles and, as well as new SUV models for VW and Audi, the vehicles currently manufactured there on the MQB platform are gradually being electrified.
By 2020, production of MEB vehicles and battery systems is set to start.
In late May, production of VW models at the FAW-Volkswagen plant in Qingdao commenced. This flexible manufacturing facility allows for models with combustion engines as well as electric drive to be built on the same production line.
FAW-Volkswagen will also produce MQB battery systems there.