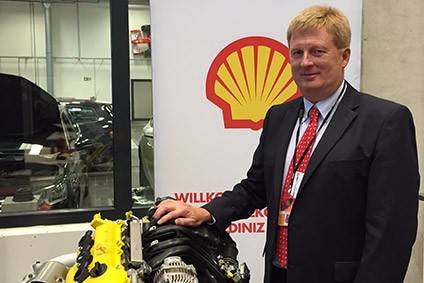 Shell Lubricants says its T25S concept car Project M collaboration with Geo Technologies and Gordon Murray Design, should be considered as a "thought leadership" innovation targeted at addressing rapid global population growth.
Mega-cities in emerging markets in particular, are proving a vortex of growth, sucking in vast numbers from rural areas anxious to join growing economies they view as the engine of development rather than the traditional countryside.
But such huge connurbations are rapidly being becoming gridlocked as average traffic speeds tumble, with Mumbai for example, reporting a paltry 5kmh for its vehicles and as automotive suppliers such as Shell, Bosch, Delphi, Federal-Mogul, Saint-Gobain and ZF TRW among many others, increasingly turn to how their technology can drive down emissions and fit with mobility solutions.
To that end, Shell's Project M aims to extract maximum efficiency from current and future internal combustion engines, with the traditional powertrain still forming an important part of the mix with hybrid and electric alternatives.
"What this should do is [be] a thought leadership paper on wheels," Shell Lubricants Innovation Technology manager, Bob Mainwaring told just-auto at the energy provider's Hamburg research centre. "What are we doing? Are we minimising fuel use? Are we trying to minimise energy use and CO2 emissions?
"If you think about plug-in hybrids they are likely to be expensive solutions and you probably need a charging infrastructure which you have not got."
Shell is using three vehicles against which it will compare the fruit of Project M, a concept car known as T25S and itself a derivative of the T25 model, predicted to offer double digit drag reduction.
Testing will be conducted externally by a company unconnected to Shell, with a re-run of the former T25 concept car evaluation, which saw the prototype driven from Brighton on the South coast of England to London.
Shell Lubricants is adopting the mantra: "Close to the edge, but safe" in order to create an oil as thin as possible for Project M, starting with a synthetic base product, the PurePlus Technology or gas-to-liquids engineered from conventional products.
For Project M, Shell is working with Geo Technology to co-engineer the powertrain and oil to deliver lower friction.
As an example of other suppliers working on how to address swiftly rising poplulations, earlier this year, Bosch Mobility Solutions chairman, Rolf Bulander empahsised to just-auto the "well-to-wheel' emphasis it was placing on its technology, widening the debate from it being one of a pure component manufacturer.
"That is why Bosch as a company is looking beyond the hood," said Bulander. "We are a systems supplier – and that already encompasses much more than braking and injection systems.
"We supply systems for mobility as a whole – including solutions for connecting cars, other modes of transport and infrastructure. Against this backdrop, Bosch decided to rename its Automotive Technology business sector, Mobility Solutions.
"The new name says it all. We want to improve the efficiency not just of engines, but also of traffic in general, Only then can we truly see ourselves as a supplier of solutions for the mobility of the future."