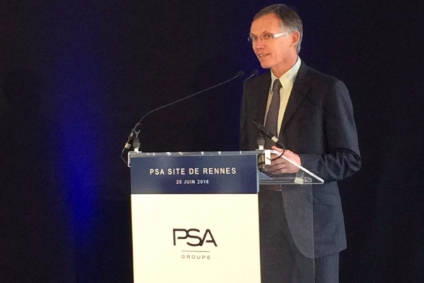 Germany's Economic Affairs Minister says a meeting today (5 April) in Berlin between unions, PSA and numerous high-ranking politicians to discuss the French automaker's proposed acquisition of Opel/Vauxhall showed "progress," although British labour body, Unite, was conspicuous by its absence.
Federal Minister for Economic Affairs and Energy, Brigitte Zypries, hosted a discussion surrounding the takeover in the German capital between representatives of the Federal Government, Länder (States), the IG Metall union, Opel General Works Council and PSA chairman, Carlos Tavares
During the meeting, the PSA chief maintained the transaction would establish a European leader with number one or two position in each key market in Europe, but the glaring absence of any UK involvement in Berlin is sure to raise eyebrows at Vauxhall's British plants in Ellesmere Port and Luton.
Among issues tackled today were the impact of the acquisition of Opel/Vauxhall by PSA on existing labour agreements, site protection and job guarantees.
In this regard, PSA Group reaffirmed its commitment to respect the existing agreements in the European countries, while it also said Opel/Vauxhall would continue as a single company with independent brands within the PSA Group.
"I am glad we have made further progress, not least in the interest of the employees of Opel/Vauxhall," said Zypries.
"I particularly welcome the commitment by Mr Tavares to respect and continue all the collective agreements. The Federal Government and the Länder will continue to lend their constructive support to the process of merging PSA and Opel/Vauxhall."
For his part, IG Metall chairman, Jörg Hofmann added: "The Metalworkers Union expects Mr Tavares works with GM to ensure all legal requirements are met so the existing collective agreements can continue to be applied and fulfilled."
Unite is due to come back to just-auto with its reaction later.