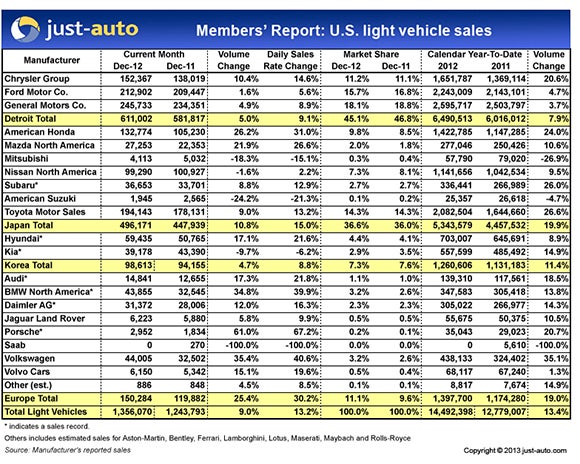 Despite consumer and business uncertainties about the fiscal cliff, US light vehicle sales remained robust in December, pushing total deliveries for the year to 14,492,398, close to the upper end of most analyst predictions.
For the month, sales totaled nearly 1.36m, which yields a seasonally adjusted annual rate (SAAR) of 15.37m, not quite as strong as November's 15.54m, but still one of the highest readings in five years.
Several full year sales records were set, especially in the premium segment where Audi, BMW, Mercedes-Benz and Porsche all set new annual benchmarks. Subaru, Hyundai and Kia did the same among the mainstream brands.
All three Detroit companies were in the black for both December and the 2012 calendar year. Chrysler reported the largest gains for both periods while Ford delivered on its boast that it would be the only brand to bring in more than 2m sales. GM increased incentives to ease a glut of full-size pickups.
It came as no surprise that the Ford F-Series pickup chalked up its 31st consecutive year as the best-selling vehicle and 36th year as best-selling light truck. However, after that, there were some changes. Chevrolet's rival Silverado was runner-up for both December and the year. The Honda Civic outsold the Toyota Camry to take third in December though the Camry hung onto the third spot for 2012. The Focus, which Ford claims will be the top-selling car line in the world for 2012, was the top-selling US brand car.
As expected, the Japanese automakers increased their sales and market share. Toyota led the way, aided by Lexus, which looks to be storming its way back to the front of the luxury segment. The Civic propelled Honda to a second-best 26.2% improvement while Mazda reported its best December since 1994.
Subaru toasted another new annual sales record while Mitsubishi posted another shortfall. Suzuki sales continued to decline as remaining inventory was parceled out to dealers as the automaker winds down US car sales operations.
Both Hyundai and Kia reported new annual sales records, even though Kia stumbled in December.
Perhaps the biggest news is the month's real winners: the European brands. As a group, the British, German and Swedish automakers grabbed more market share than the Japanese. In December, the European share was 11.1%, just a 10th of a point behind Chrysler, and 1.5 points up from last December. BMW, Mercedes-Benz and Volkswagen's upscale Audi and Porsche brands came though with new annual sales records while VW itself had its best December since 1973.
Looking forward, we may see a few more months of 'bonus' sales as recovery efforts following 'superstorm' Sandy continue. The US federal government has been slow to allocate relief funds and that has delayed replacement of some of the thousands of vehicles destroyed or damaged by the storm.
While questions about the US economy and political gridlock in Washington make predictions difficult, it still looks like 2013 could be the year the industry sees a return to normal volumes of 15m sales or more. However, experts point out the past three years, where sales increased by 10% or more, have been an anomaly that hasn't been seen since 1973 and shouldn't be expected to continue. Fifteen million could come this year: 16m might take a while longer.