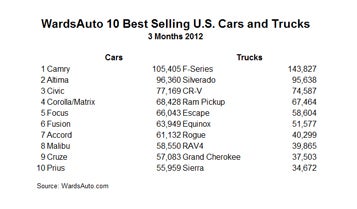 March came in like a lion and went out like one, too, at least in terms of US light vehicles sales. While the seasonally adjusted annualised rate (SAAR) didn't match February's 15.1m, it was still a very respectable 14.4m, in line with analyst estimates and the best March SAAR since 2008.
Sales for the first quarter were good enough to persuade some industry analysts to raise their 2012 forecasts to 14.5m units.
Total volume was about 1.4m cars and trucks, with cars predominating. As USpetrol prices have risen, consumers are selecting relatively smaller cars over crossovers, pickups and SUVs. The word 'relatively' is important: Americans are buying smaller cars, but smaller from an American point of view. Sales of the smallest vehicles, like the Ford Fiesta, Honda Fit [Jazz] and Toyota Yaris, are a mixed bag while sales of subcompacts and compacts, like the Chevrolet Cruze, Ford Focus and Chrysler 200, are where the real action will be found.
This trend was especially evident in the sales of the Detroit Three. Chrysler Group sales rose 29.4% over March 2011 but car sales surged 47.7%. At General Motors, a 7.8% increase was driven by a 17.6% improvement in car sales. Ford's modest 1.2% March rise was aided by a 1.9% boost from its various car lines.
There was a change in the pecking order among the top automakers; Nissan outsold Honda and took the fifth spot in the standings both for March and Q1 2012. Both Toyota and Nissan posted sales increases for March but Honda continues to struggle. It was the only one of the top automakers to come up short in March. It was also the only one to report a decline in passenger car sales.
Just four automakers, including Honda, missed their March 2011 numbers. Mitsubishi's improved car sales were dragged down by plunging light truck sales; Porsche is in the gap between Boxsters and Saab is, well, Saab.
Volkswagen continues to be a factor. The Jetta is the best selling European brand car in America and the Chattanooga-built Passat is just 159 sales behind the BMW 3-series for second place. VW reported its best March since 1973.
Sales of alternative vehicles had some bright spots: the various Toyota Prius models combined to outsell the Corolla and the Volt had its best sales month ever. But every silver lining is accompanied by a cloud: Despite manufacturers' introductions of several more hybrids, Toyota remains the only major player, claiming the majority of the market. Sales of second placed Honda's hybrids fell 51.4% in March.
The Volt's 2,000+ sales month wasn't enough to avoid another production adjustment. The Volt assembly line is already shut down until 23 April and GM announced Wednesday the line would be shut down for an additional week during the traditional summer model break.
With the recent failures of Azure Dynamics and Bright and questionable futures for A123 and other manufacturers, there's an increasing sense in the industry that battery power isn't going to be a major factor in mainstream sales anytime soon.