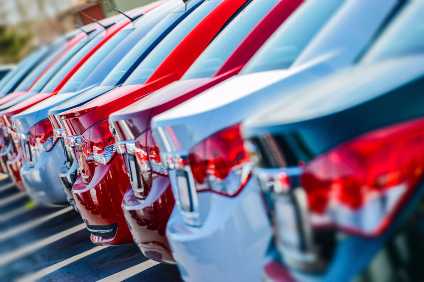 Optimists predicting a little growth in May US light vehicle sales were disappointed. Even an extra selling day and sweetened incentives couldn't avoid a fifth consecutive month of shrinking volumes.
Automakers delivered about 1.52m cars and light trucks, down 0.5% from May 2016. The seasonally adjusted annualized rate (SAAR) came in at 16.66m, off about a half-million units from last year.
Year-to-date (YTD) sales are now 2.0% behind the first five months 0f 2016.
May was a strong month for light trucks. Pickups, utilities, MPVs and commercial vans all delivered growth last month while passenger car sales continued to decline.
Sales of full-size pickups were especially robust, up 9.6%, led by the Ford F-Series and FCA's Ram, which outsold the Chevrolet Silverado for the third month in a row. In another sign of a healthy business environment, commercial van sales were up, as well, climbing 8.8%, the second-largest year-over-year increase of any segment.
Utilities, including crossovers and SUVs, were again the largest segment, taking 41.4% of the total market. That is an increase of 1.8% from May 2016. Volkswagen 's U.S.-built Atlas joined the fray last month, gathering 1,600 sales in its debut outing. While crossovers have captured the most YTD volume, the large SUVs delivered the most YTD growth.
FCA delivered the most utilities in May and Jeep was the bestselling brand in spite of a slump caused by curtailed fleet sales and the changeover to the new Compass.
FCA also delivered the most MPVs. The Dodge Grand Caravan and Chrysler Pacifica held the top spots in the segment in both May and YTD volumes.
Passengers cars took yet another hit with the smaller cars taking the brunt. Total deliveries fall 9.3% and sales of compacts, subcompacts and city cars fell 12.5% in May.
Though the three largest players in the premium segment all came up short in May, it was actually a decent month for upscale vehicles as total segment sales rose 0.8%, beating the total market. Infiniti reported record sales as did Audi . Jaguar had its best May since 2004. Mercedes still holds the lead among luxury brands, followed by BMW , Lexus and Audi .
Fueled by a jump in fleet sales, Ford passed General Motors to take the top spot in May. Ford's retail volume dropped and came in just 6,055 sales ahead of FCA. While FCA and GM have been cutting fleet sales, most of their fleet volume comes from very-low-profit daily rental fleet purchases. Ford owns the lion's share of the more profitable commercial and government markets.
While FCA and GM missed their year-ago numbers, Ford's turnover was sufficient to deliver a 0.1% gain for the Detroit car companies. The margin was 136 sales but it was enough to pick up an extra 0.2% of market share.
The Japanese manufacturers picked up about 0.7% more share. Only Toyota and Mazda failed to match their May 2016 results while Subaru set another record.
The share collected by the Detroit and Japanese car companies had to come from somewhere and that somewhere was Korea. Both Hyundai and KIA had poor months as the Korean companies last a full percent of the market.
Most of the European automakers were in the black, including the largest, Volkswagen Group, but slumping sales at BMW and Daimler were enough to drop the group in the red by 1.5%.
The automakers are doing everything they can to keep the customers coming in. However, loan terms that are beginning to look like mortgages and aggressive incentive spending may be unwise attempts to make today look good at the expense of tomorrow.
* indicates a sales record. **Volkswagen Group figures include Audi , Bentley, Porsche and Volkswagen brands Other includes estimated sales for Aston-Martin, Ferrari , Lamborghini, Lotus, McLaren , Rolls-Royce and Tesla