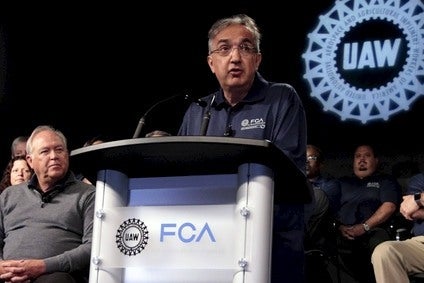 The United Auto Workers union said on Thursday (22 October) 77% of voting members have ratified a four-year labour deal with Fiat Chrysler Automobiles.
The new contract will be used as a basic pattern for contracts at General Motors and Ford plants in the US. The UAW is expected to soon name the company with which it negotiates next, Reuters reported. The new contract provides a clearer path to top pay for 'second-tier' workers in a two-tier wage system established when the last deal was agreed in 2007. This pays newer workers less than those recruited before 2007.
Last month, 65% of Fiat Chrysler UAW members rejected a previous proposed agreement, which led to a threat by the union to strike Fiat Chrysler's US operations.
FCA US said in a statement: "This agreement represents an investment in our US workforce and recognises its contributions to the company's growth over the past six years. With the bargaining process now complete, the company and our employees can look forward to continuing to build world class products, investing in our operations and achieving the targets set out in our five year business plan."
Reuters noted UAW members sacrificed gains in a 2011 contract and made concessions to allow the former Chrysler to go through bankruptcy and come out partially owned and fully managed by the former Fiat. Fiat and Chrysler merged in 2014.
The new contract will affect 40,000 Fiat Chrysler UAW members in the United States. GM and Ford each have about 52,700 UAW-represented workers, according to the news agency.