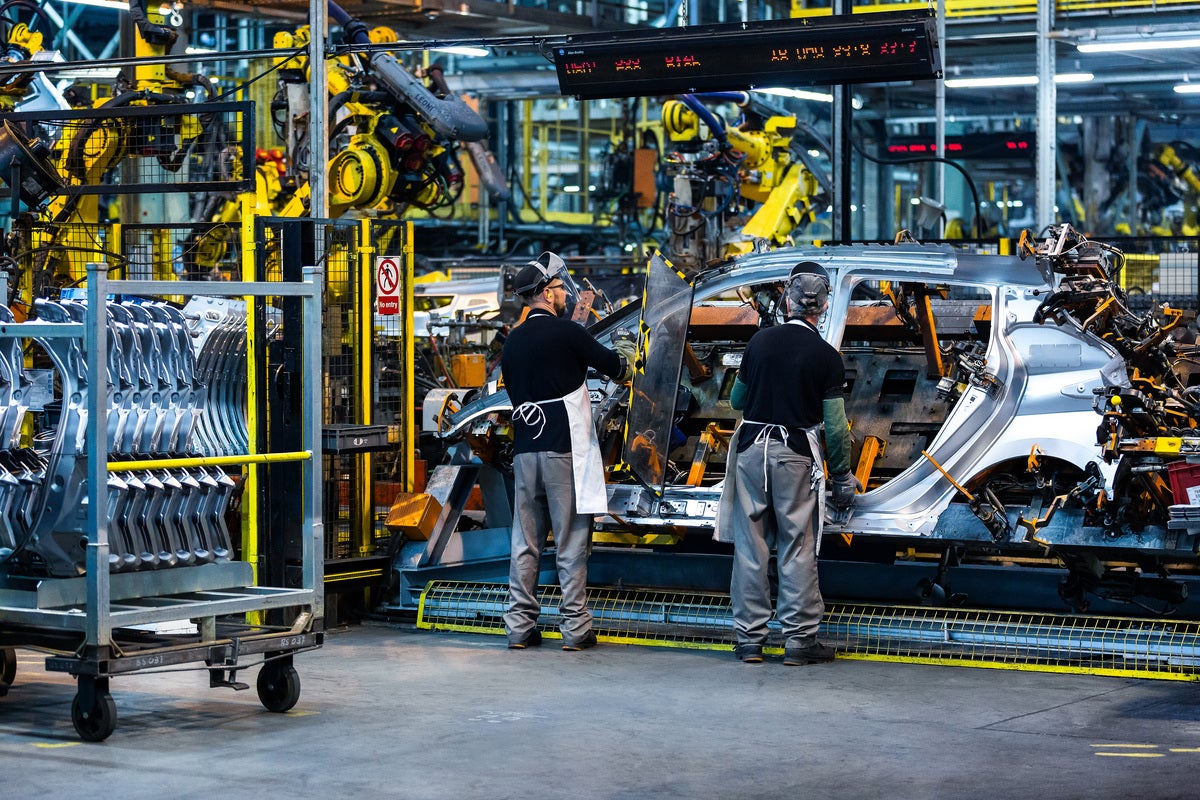 June was the second consecutive month of increasing car production in the UK, up 5.6% on last year with 72,946 units built. The positive trend is a sign that supply shortages in the industry caused by the global semiconductors crisis is easing.
However, the cumulative stats still make for grim reading. UK car production was down 19.2% in the first six months of the year, according to figures published today by The Society of Motor Manufacturers and Traders (SMMT), with 95,792 fewer vehicles built compared with the same period in 2021. Some 403,131 units were built, representing the weakest first half since the pandemic-ravaged 2020 and worse than 2009 when the global financial crisis decimated demand.
The SMMT noted that the main cause remains shortages of key components, most notably semiconductors, exacerbated by additional supply issues caused by the war in Ukraine, as well as significant structural and model changes within the sector.
Although the month of June was the best June performance since the start of the pandemic, in part due to supply chain shortages beginning to ease, output remains 33.2% below 2019 levels.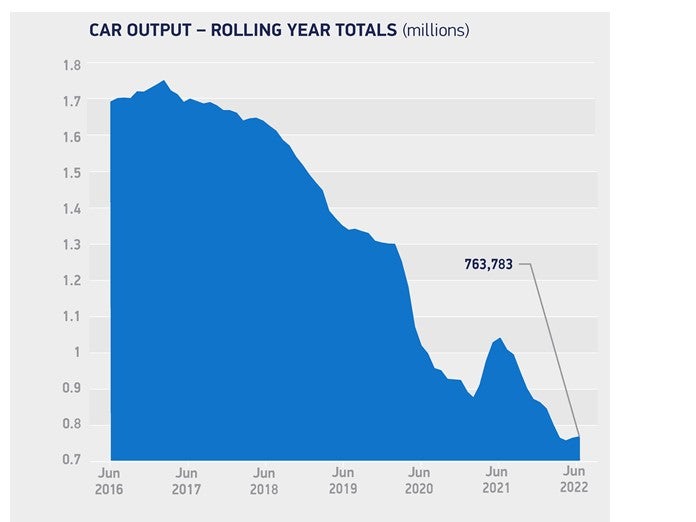 The year-to-date decline was driven largely by a fall in export volumes, with 23.9% fewer cars produced for overseas markets during the first half of 2022. This represents a loss of 99,388 units compared with the same period in 2021, despite exports still accounting for 78.6% of all production output.
While the EU was the largest recipient of UK built cars, accounting for more than 60% of exports, shipments to the bloc decreased by 10.6%. Deliveries to the US also declined by 56.1% with the closure of a major UK plant in 2021 having a significant impact. Output for the UK market, however, rose by 4.3%.
Production of battery electric vehicles (BEVs) was another bright spot for the sector, with 32,282 produced in the first half of the year, an increase of 6.5%. This was bolstered by a 44.2% rise during June resulting in a record output of zero emission vehicles for the month. Output of hybrid, petrol and diesel cars, meanwhile, declined, by 19.9%, 8.0% and 60.2% respectively in the first half of the year.

The ongoing disruption to global supply chains has led to a downgrading of the industry's production outlook, with 866,000 cars now anticipated to be built this year. While this represents 1% growth on 2021 volumes, it is 113,285 units below the March outlook, a reflection of the impact of the Ukraine crisis, lockdowns in China and the severity of parts shortages. Output is targeted to improve further in 2023 to 956,575 units, before surpassing one million units by 2025 as supply chain issues recede.
Despite car production decreasing overall this year, significant investment into the UK industry is being made, with more than £3.4 billion announced so far in 2022, primarily for EV production and supply chains. The SMMT said the investment will provide a significant boost to the UK and local economies, creating and safeguarding jobs in a sector that is pivotal to the UK's net zero goal.
Mike Hawes, SMMT Chief Executive, said: "Car manufacturers have been suffering from a 'long Covid' for much of 2022, as global component shortages undermine production and put supply chains under extreme pressure. Key model changeovers and the closure of a major plant last year have also impacted output, but there are grounds for optimism with rising output over the last two months. As these issues recede over the next year or two, investment in new technologies and processes will be essential but this will depend on our underlying competitiveness. Sky-high energy costs, non-competitive business rates and skills shortages must all be addressed if we are to build on our inherent strengths and seize the opportunities presented by the dash for decarbonised mobility."
Chris Knight, UK Automotive Partner, KPMG, noted cost pressures impacting the industry. He said: "The cost of car manufacturing has increased due to price rises of raw materials, components, transport and energy. Manufacturers have limited ability to absorb additional cost and will pass this onto consumers in the form of higher prices. Consumers are willing to pay a premium for now, as demand for new cars still far outpaces supply, however this willingness may decline if consumer confidence erodes.
"Electric vehicle sales continue to grow and as the demand curve heads upwards, the UK's ability to produce EVs at scale will continue to be tested. Globally, the race to scale-up EV manufacturing capacity and supply networks is speeding up."