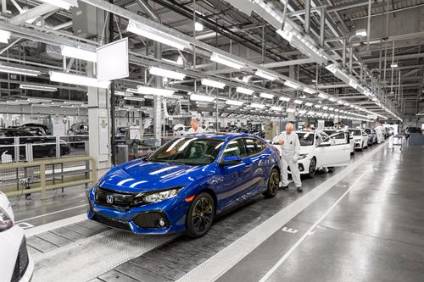 UK car manufacturing output was up by 7.3% in March to 170,691 vehicles, the biggest monthly output total in 17 years. The latest gain was driven by strong export demand.
The SMMT also said that it was the biggest Q1 for 17 years2 for UK car manufacturing with 471,695 units produced so far in 2017, up 7.6%.
Exports continued to drive British car manufacturing in March, as export production rose 10.6% in the month. Export production accounted for more than 76% of output.
Overseas demand also helped push overall production to a 17-year high in Q1, to 471,695 units – an increase of 7.6%. This helped offset a decline at home, with demand down -4.3% in the quarter.
Mike Hawes, SMMT Chief Executive, said: "UK car manufacturing is accelerating thanks to billions of pounds of investment committed over the past few years. A large proportion are the latest low emission diesels and it's essential for future growth and employment that we encourage these newer, cleaner diesels onto UK roads and avoid penalising consumers who choose diesel for its fuel efficiency and lower CO2 emissions. Much of our output goes to Europe and it's vital we maintain free trade between the UK and EU or we risk destroying this success story."
Analysts noted that demand is strong in Europe's recovering market and that model cycles are also helpful.
Stuart Apperley, Director and Head of UK Automotive at Lloyds Bank Commercial Banking, said: "With demand on the continent still strong, there's not too much to dent UK production volumes. Nissan, Toyota and JLR are all selling strongly in Europe, keeping their UK manufacturing sites busy, and Honda expects to see output at its Swindon site increase as it rolls out the new Civic.
"Looking ahead, if we do see a diesel scrappage scheme implemented, that could boost domestic demand and further support UK manufacturing volumes. The recently announced UK general election means uncertainty surrounding our future trading relationship with the EU will continue and it may be several months before the industry gets clarity on what negotiations will look like, and when a deal is likely to be reached."
Simon Heath, automotive M&A specialist for KPMG highlighted the impact of sterling's depreciation, but warned that upcoming Brexit negotiations could pose challenges ahead. He said: "UK car manufacturers will be encouraged by these excellent figures that is the product of billions of pounds of investment over the last few years. The sector has enjoyed a boom of new models across brands, providing consumers with a wider choice of vehicles which encourages further demand. In addition, the depreciation of sterling has helped increase export volumes by 11.5% YTD.
"Whilst we expect 2017 to continue the strong car production volumes alongside the UK's record new car registrations, potential uncertainty from the Brexit negotiations may provide additional challenges going forward."