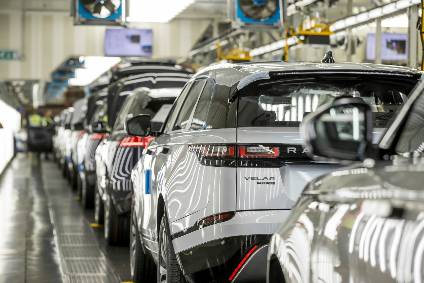 UK car production declined for a third consecutive month in August, according to figures released by The Society of Motor Manufacturers and Traders (SMMT).
The SMMT said that 89,254 units left production lines in August as a multitude of factors, including model changes, planned maintenance shutdowns and preparation for September's important new emissions standards, combined to slow output.
Production for the UK market fell by 38.8% to 16,271 units. However, the number of cars built for export remained at a high level, with volumes down by just 3.8% to 72,983 units, accounting for 81.8% of total production.
In the year to date, more than one million cars have rolled off British production lines, a 5.2% decline year-on-year, with exports continuing to shore up demand. While almost 850,000 cars were shipped abroad in the first eight months, just 194,887 were built for the home market, representing an 18.6% decline on the same period in 2017.
Mike Hawes, SMMT Chief Executive, said: "The quieter summer months are often subject to fluctuations due to the variable timing and duration of annual maintenance and re-tooling shutdowns. This instability was exacerbated in August, with the industry racing to recertify entire model ranges to meet tougher testing standards in force on September 1. With exports, the majority to the EU, continuing to drive demand, it underscores the importance of a Brexit agreement to safeguard this trade; for our sector, 'no deal' is not an option."
Justin Benson, Head of Automotive at KPMG in the UK, highlighted the importance of more certainty for the industry on trade arrangements with the EU. He said: "The automotive industry continues to lead the way for manufacturing exports in the UK, with eight out of ten cars produced for overseas customers. However, with the majority of vehicle exports going to Europe, it's vital that the sector gets some certainty, so details of an EU trade deal are needed now.
"The UK market appears to be struggling, albeit from historically high levels and a month which includes shutdowns for planned maintenance. That being said, it's a plus for those looking to purchase a new vehicle, as they can haggle and drive a hard bargain, but longer term consumer sentiment is extremely important to the sector."
See also:
SMMT wants 'no-deal Brexit' ruled out