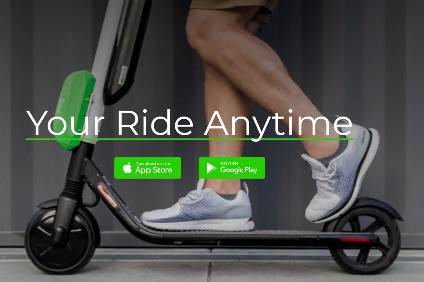 Uber is investing in electric scooter hire start-up company Lime.
Lime is a start-up that enables the free float hiring of electric scooters and is present in a number of cities in the US. The deal means Uber users will be able to rent Lime's scooters via the ride-hail company's app.
Lime and its rival Bird have both been heavily backed by venture capital firms.
In its latest finance round, Lime said it is raising USD335m, but it did not disclose the size of the investment by Uber. Google's Alphabet is also investing in Lime.
Lime said the new funds will 'give us the ability to expand our operations globally, develop new technologies and products for consumers and build out our infrastructure and team'.
Lime also said Uber will work with it as a strategic partner in the electric scooter space to "offer people a greater variety of transportation modes at their fingertips and make it increasingly easy to live without a car".
The electric scooters and the hire by the hour model of Lime are seen as a way to travel short distances in urban areas. "We are working to co-brand our scooters and make Lime available in the Uber app, with more news to follow," Lime said.