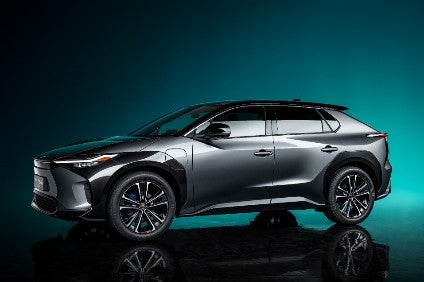 Toyota reportedly is considering a "reboot" of its electric car strategy to better compete in a booming market it has been slow to enter, and has halted some work on existing EV projects, four sources have told the Reuters news agency.
The proposals under review, if adopted, would amount to a dramatic shift for Toyota and rewrite the US$38bn EV launch plan Toyota announced last year to better compete with rivals like Tesla, the report said.
A working group within the automaker had been charged with outlining plans by early next year for improvements to its existing EV platform or for a new architecture, the four sources reportedly said.
Meanwhile, Toyota has suspended work on some of the 30 EV projects announced in December which according to its sources and a document reviewed by Reuters, included the Compact Cruiser crossover and battery electric Crown.
"In order to achieve carbon neutrality, Toyota's own technology – as well as the work we are doing with a range of partners and suppliers – is essential," the company said in response to questions from Reuters.
The news agency said revamp under consideration could slow the launch of EVs already being designed but it would also give the automaker a chance to compete with a more efficient manufacturing process, as industry-wide EV sales run past Toyota's earlier projections.
In addition, it would address criticism by green investors and environmental groups who argue that Toyota, once a darling of environmentalists, had been too slow to embrace EVs, Reuters added .As part of the review, Toyota is considering a successor to its EV platform technology called e-TNGA, unveiled in 2019. That would allow Toyota to bring down costs, the news agency's sources said.
The first EV based on e-TNGA, the bZ4X crossover, went on sale earlier this year although its launch was marred by a recall that forced Toyota to suspend production from June. Production resumed earlier this month, Reuters noted.
The review was triggered in part by the realisation by some Toyota engineers and executives that the automaker was losing the factory cost war to Tesla on EVs, the news agency's sources said.
Toyota's planning had assumed demand for EVs would not take off for several decades, they added.
The Reuters sources said Toyota has designed e-TNGA so that EVs could be produced on the same assembly line as ICE engine cars and hybrids. That made sense based on the assumption Toyota would need to sell about 3.5m EVs a year, roughly a third of its current global volume, by 2030 to stay competitive.
However, the report noted, sales of EVs were growing faster and automakers globally now forecast plans for EVs to account for over half of total vehicle production by 2030, part of a wave of industry wide investment that now totals $1.2 trillion.
Six sources told Reuters Shigeki Terashi, former chief competitive officer, was heading Toyota's EV review. Terashi did not respond to the news agency's request for comment.
Terashi's team has been designated a BR or business revolution group within Toyota, a term used for major changes including a revamp of its development and production processes 20 years ago, the report added.