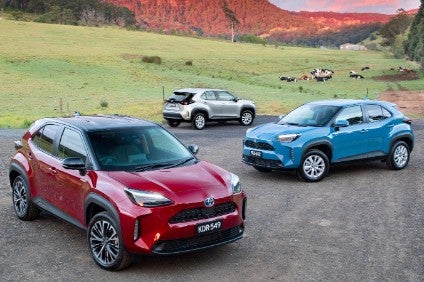 Toyota Motor doubled its full year earnings forecasts for the current financial year with production and sales recovering from the global COVID-19 pandemic faster than had been previously expected.
Japan's leading automaker now expects net sales for the fiscal year ending 31 March 2021 to increase to JPY26trn (US$250bn), compared with a previous forecast of JPY24trn, while net profits are expected at JPY1.42trn (US$13.65bn) compared with the earlier estimate of JPY730bn.
This followed a 45% drop in net profit to JPY629.4bn in the first half of the current fiscal year (April-September 2020), albeit with net profit surging to JPY470.5bn in the second quarter after just JPY158.8bn in the first.
Earlier this week the company lifted its full-year 2020 (January-December) production forecast to 7.9m units, down 13% year on year, with output of 4.6m planned for the second half after a 29% drop to 3.3m in the first half.
Investor website seekingalpha.com said second quarter revenue of JPY6.77trn (-11.4% YoY) beats analysts' estimates by JPY130bn.
Toyota said in a statement first half revenue to 30 September was JPY11,375.2bn, down JPY3,983bn year on year. Operating income fell JPY879.2bn to JPY519.9bn. Net income was off JPY520.1bn to JPY629.3bn.
First half vehicle sales were 4,366,000 units, down from 5,454,000 in H1 2019. The automaker raised its worldwide sales forecast to 9.4m for fiscal 2021, up from the 9.1m predicted earlier.