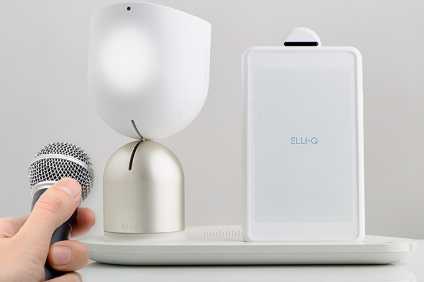 Intuition Robotics, an Israel-based developer of 'social companion technologies for positive social impact', has announced a $14m investment round led by the Toyota Research Institute (TRI).
TRI joins early A-round investors OurCrowd and iRobot as well as existing seed investors Maniv Mobility, Terra Venture Partners, Bloomberg Beta, and additional private investors who participated in the round.
The investment in Intuition Robotics marks TRI's first outside investment in robotic technology specifically for older adults. Toyota is regarded as one of the leading companies in home/human-assist robotics research, and the move, according to Dor Skuler, CEO and Co-Founder of Intuition Robotics, underscores the shared vision between the two companies.
"We are honoured that TRI believes in our approach to help older adults stay connected and engaged through our first product, ElliQ, the active aging companion," said Skuler, "This strategic investment illustrates our joint beliefs in the potential of social robotics in keeping older adults connected and engaged and in overcoming the digital divide using cognitive computing and natural communications."
Dr. Gill Pratt, CEO of Toyota Research Institute said: "We are impressed with Intuition Robotics' thought leadership of a multi-disciplinary approach towards a compelling product offering for older adults including: Human-Robot-Interaction, cloud robotics, machine learning and design. Specifically, we believe Intuition Robotics' technology, in the field of cognitive computing, has strong potential to positively impact the world's aging population with a proactive, truly autonomous agent that's deployed in their social robot, ElliQ."
Intuition Robotics' active aging companion, ElliQ, is currently being tested and developed to 'proactively promote an active and engaged lifestyle', with the goal of helping older adults benefit from technology that's intuitive and easy to use.
ElliQ is described as a gizmo that 'seamlessly enables older adults to use a vast array of technologies, including video chats, online games and social media to connect with families and friends and overcome the complexity of the digital world'.
It can inspire participation in activities by proactively suggesting and instantly connecting older adults to digital content such as TED talks, music or audiobooks; recommending activities in the physical world like taking a walk after watching television for a prolonged period of time, keeping appointments and taking medications on time; and connecting with family through technology like chat-bots such as Facebook Messenger.
Toyota executives have recently made remarks suggesting that the company needs to be more outward looking and prepared to work with external companies and start-ups in order to keep pace with advanced technologies that will reshape the automotive and transportation space over the next ten years.