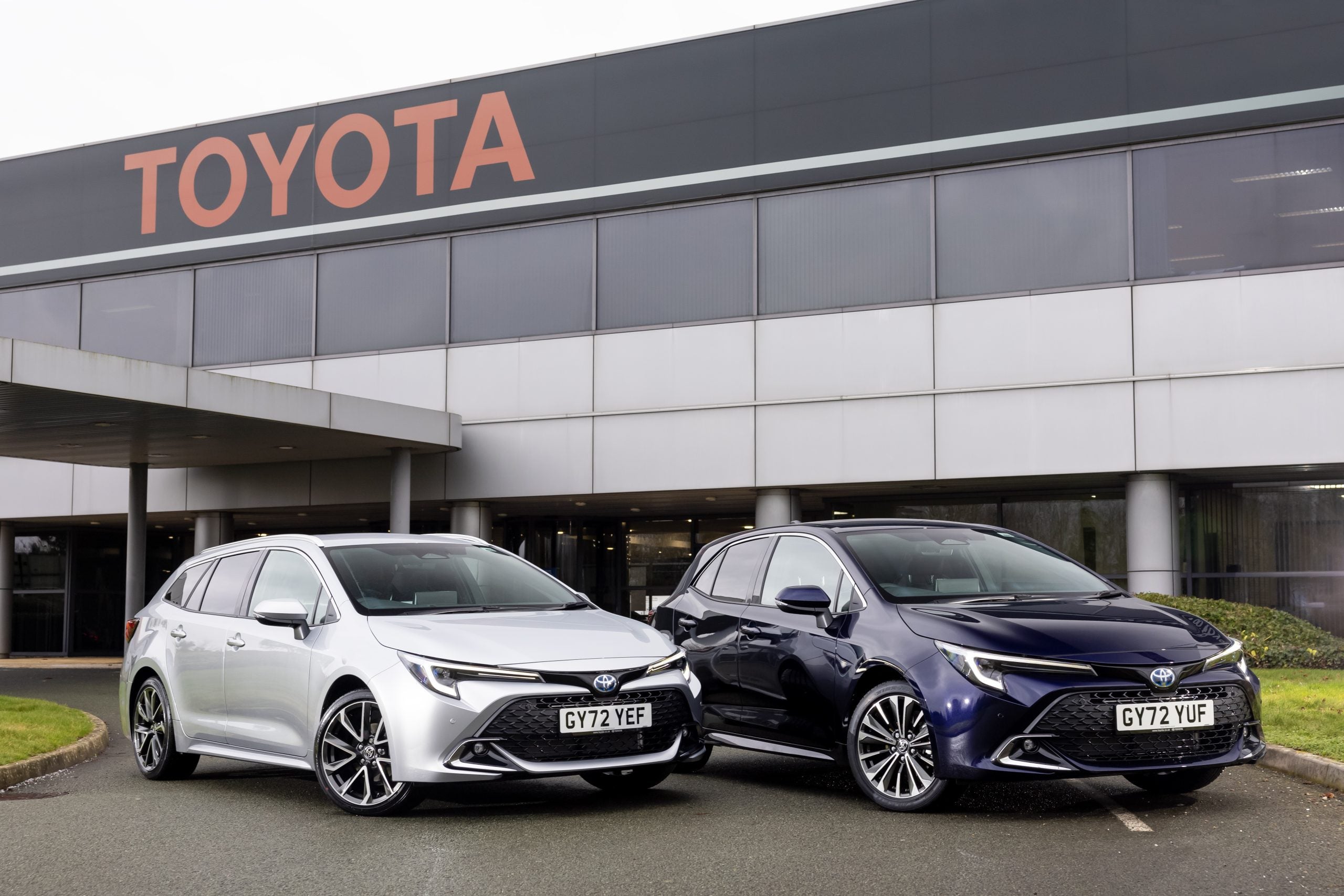 Toyota has updated its 12th generation Corolla with fifth generation hybrid electric technology for the 1.8 and two litre electrified powertrains that offer more power and improved efficiency.
The latest Toyota Smart Connect+ multimedia system, with faster response and greater functionality, plus fully digital, customisable 12.3-inch combimeter in the driver's instrument binnacle are now standard.
Toyota Safety Sense active safety and driver assistance systems bring new and enhanced features that recognise and help the driver avoid a wider range of driving hazards. Safety and multimedia functions are future proofed, with software updates deliverable over the air via the data communications module.
Exterior and interior styling updates include new wheel designs, headlights, tail lamps, paint colours and upholstery.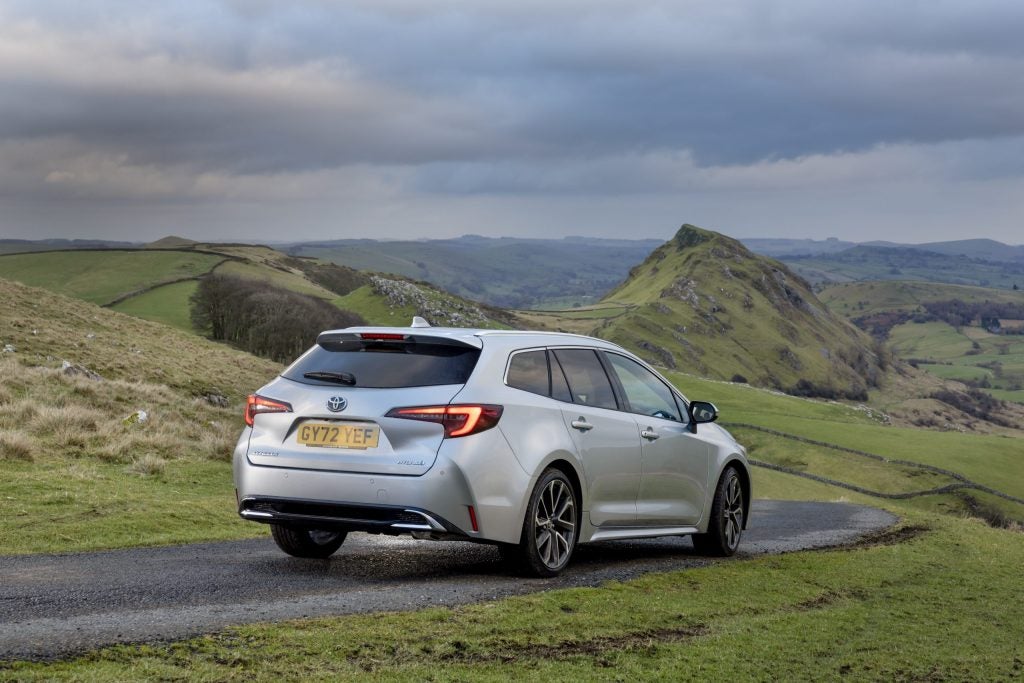 Hatchback and Touring Sports models are built by Toyota Manufacturing UK (TMUK) at its Burnaston plant while the automaker is spending GBP465,000 at its engine factory in Deeside, North Wales, for production of the 1.8 litre petrol engine for the smaller hybrid system. Saloons no longer sold in the UK were built in Turkey.
Powertrain
Hybrid powertrain changes include a new power control unit and transaxle designs, a more powerful lithium-ion battery and calibration "to achieve a more rewarding driving experience with a closer relationship between the driver's use of the accelerator and the drive force delivery".
Total power from the 1.8-litre system is 138bhp, bringing a 1.8-second reduction in the 0-62mph time to 9.1 seconds. For the two litre system, total output has risen to 193bhp and half a second has been shaved from the 0-62mph time, taking it down to 7.4 seconds.
Total power from the 1.8-litre system is 138bhp, bringing a 1.8-second reduction in the 0-62mph time to 9.1 seconds. For the 2.0-litre system, total output has risen to 193bhp and half a second has been shaved from the 0-62mph time, taking it down to 7.4 seconds.
The new power control unit (PCU) helps reduce the level of electrical losses in the system (-14% in the 1.8-litre, -6% 2.0-litre) and maintain fuel efficiency. The unit has a new double-sided cooling system and runs at a higher frequency, reducing its noise level.
The PCU is installed directly above a new transaxle featuring a compact, high-output motor-generator with new internals to improve fuel efficiency and dynamic performance. A new stator coil winding method has helped reduce the motor's size. The complete transaxle is 15% lighter thanks to the use of new materials – its casing is 20% lighter.
Using low viscosity oil reduces internal friction. Other changes smaller gears with teeth reprofiled to give a larger contact area and a smaller and lighter differential.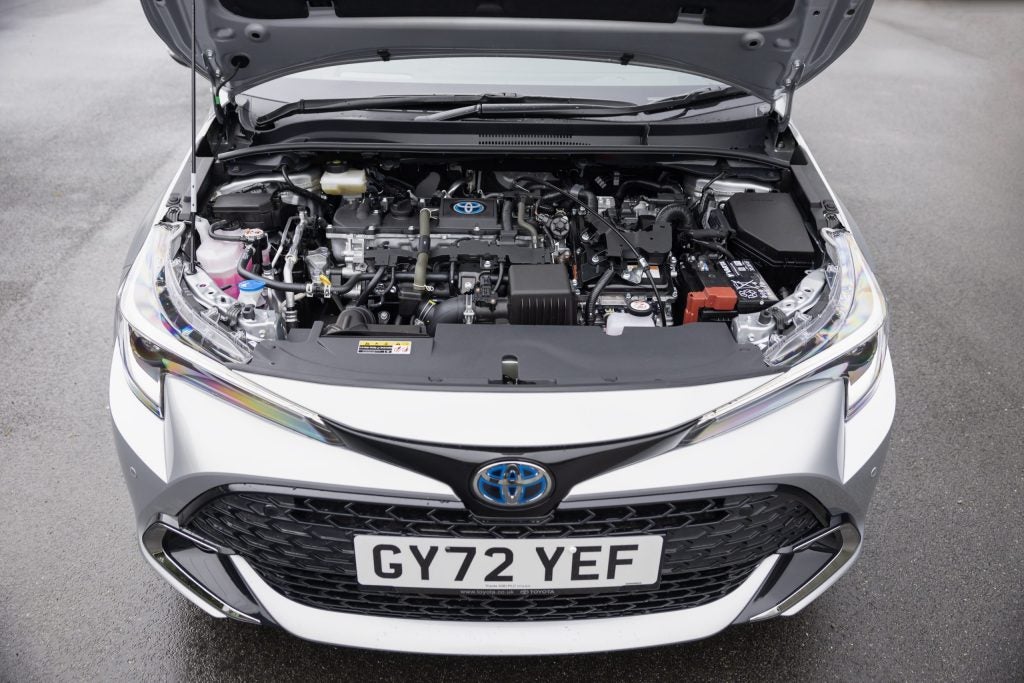 Hybrid battery
A new lithium-ion hybrid battery is smaller and lighter but has a higher output while weight has been reduced 14% and power output increased by 14%. An optimised cooling path helps prevent deterioration caused by temperature fluctuations and preserve battery life.
Improvements in driveability have been achieved by calibrating the throttle better to suit familiar driving scenarios, such as stop-start traffic and frequent changes in speed limits. The acceleration also adapts to up and downhill driving, synchronising the engine speed with the driver's inputs to give a more natural feel and easier drive. Running at lower rpm also makes the system quieter when driving at highway speeds.
Safety systems
The new Corolla has a new front camera that covers a much wider field ahead of the car, with extended reach both left/right and up/down. The distance of forward coverage of the front millimetre wave radar has been extended so it can detect obstacles closer to the front of the car than before. Motion 3D and enhanced Deep Neural Network tools have allowed for a wider range of potential hazards to be picked out, including motorcycles and roadside objects such as walls, guard rails, kerbs and utility poles.
This increased detection capability makes the Pre-Collision System (PCS) effective in more urban traffic scenarios, including recognition of potential head-to-head collisions. The Intersection Collision Avoidance can now identify approaching traffic across two lanes, as well as cyclists and vehicles approaching from the side.
Full Range Adaptive Cruise Control (ACC) has been revised to give faster response and to operate in a way that feels more natural to the driver. Thanks to earlier detection, when another vehicle enters the car's lane there is more gradual deceleration. The driver can select a longer vehicle to vehicle setting to establish a more comfortable gap and the ACC's curve speed reduction function is activated earlier, giving smoother speed adjustment when driving through a bend.
New systems have been added for safer overtaking: Overtake Prevention Support prevents unintentional overtaking on the wrong side of a vehicle (undertaking); and Preliminary Deceleration/Turn Signal Linked Control helps the driver safely rejoin the traffic lane at an appropriate speed and distance from other vehicles.
The Lane Trace Assist (LTA) has also been adjusted to operate with a more natural feel. It now recognises when the driver has moved out of lane while trying to avoid an obstacle (pedestrian or other road users) and temporarily cancels the Lane Departure Warning. Its lane-centring function has also been changed so that the car will follow a more natural-feeling, off-set line when passing parked vehicles and other roadside obstacles.
When the ACC and LTA are operating, an Emergency Driving Stop system will monitor driver inputs; if these stop (use of steering wheel, brake and accelerator) over a certain time, it will sound a warning and, if the driver doesn't respond, bring the car slowly to a stop and activate the hazard lights.
The Road Sign Assist has been improved so that the speed limiter can easily be adjusted to match traffic sign information.
Proactive Driving Assist (PDA) is a new function that provides a range of safeguards when driving in low-speed areas such as town centres. Obstacle Anticipation Assist detects obstacles such as parked vehicles, pedestrians and cyclists ahead at an early stage and provides steering and braking support to help the driver avoid approaching too close. Deceleration Assist provides smooth deceleration when the driver comes off the accelerator to slow down for a slower vehicle ahead, or when entering a bend. Steering Assist detects a bend ahead and adjusts steering force to help the driver adopt an appropriate steering angle.
Driving assistance
Excel grade models benefit from a Blind Spot Monitor and Rear Cross Traffic Alert with auto braking plus Safe Exit Assist. This uses the Blind Spot Monitor in the door mirrors to check for any traffic (including cyclists) approaching from the rear, flashing a warning light if anything is detected. If an attempt is made to open a door, further warning lights flash in the multi information display and a buzzer is sounded.
New electronics
The new Corolla's TNGA-C global architecture platform has enabled the installation of a new electronics platform. The updated Smart Connect+ system provides a faster, more responsive multimedia package that is future proofed with over the air updates to expand functionality or introduce new services.
A new 12.3-inch digital combimeter in the instrument cluster is standard on all versions and can be customised with several themes.